"Alumni Conversations" is an interview series initiated by Xiaoli Jin and Alice Chen, both of whom were admitted to Harvard Law School through the Junior Deferral Program. Xiaoli is currently working at a strategy and economics consulting firm and Alice is working at a financial sciences company. They are starting this series of blog posts to share advice and insight from HLS alumni.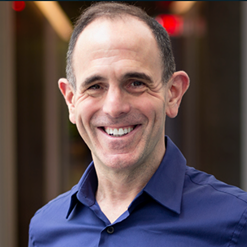 As a General Partner at Founders Fund, Keith tags himself as an entrepreneur, investor, and contrarian on social media. In a Zoom call with Keith and his Chief of Staff Matt Lanter, Xiaoli and Alice sought to trace Keith's entrepreneurial roots back to his time at HLS.
Thank you for taking the time to speak with us, Keith. Most people know you for your career in business and venture capital; not many people know that you also had a legal education. What made you decide to go to law school?
Actually, I had planned to go to law school since I was in the 6th grade. My parents also suggested that I go to law school as they discovered my talent in arguing. For example, my parents once banned me from watching TV in the evening. But immediately at 12:01 AM I would turn on professional wrestling. My dad was furious when he caught me watching TV, but I ended up arguing that he only banned me for the day before. So my parents thought that I would be a pretty good lawyer.
Everything from the 6th grade onwards was designed to optimize around the prospect of going to law school. I majored in Political Science, had a good GPA, and followed the pre-law track in college. I also started a number of student organizations on campus, gradually building up a well-rounded law school application. So it did not come as a surprise that I applied to law school: I was always interested in politics and public policy, and I thought that law school would be the trajectory to fulfill my interest.
Where did you see yourself immediately after you graduated from HLS? How has your career plan evolved over time?
Right after I graduated from HLS, I was still in this quintessential mindset of most law school graduates—finding a canonical job at a Wall Street law firm. To fuse together law and politics, I worked at the DC office of Sullivan & Cromwell, for proximity and access to people interested in politics and policy. I used the limited free time I had to meet people with common or compatible interests. This foreshadowed what I was about to do later in my career, almost 30 years after I graduated from HLS.
I had a couple of friends like Peter Thiel who also went to law school but did not practice law at all. Unlike them, I stayed in the legal industry for roughly four and a half years before transitioning to the business world (one year of clerking at the United States Court of Appeals for the Fifth Circuit and three and a half years of practicing at Sullivan & Cromwell). The reason was mostly because I enjoyed the major components of practicing law. Would it be a better use of my time had I left the legal industry earlier? Probably. But I enjoyed my experience with law and learned a lot of important lessons as well.
You said in one of your most popular tweets that the best predictor of a person's success is the innate ability to allocate time properly. We are impressed with your own time management skills manifested in how much you have been able to achieve across multiple different fields.
Yes, it is a rare skill to leverage time effectively. Most people systematically undervalue their time, but the most important resource you have in your life is actually your time. In fact, time is one of the scarcest resources you have, because it can't be replenished like most other resources. To properly use your time is the most effective way to lead you to success.
If you take people with similar backgrounds and skill sets and compare their life trajectories, you will often see a divergence in their chances of success, both in terms of their careers and personal lives. The number one variable that explains this difference has always been their instinct to leverage their time and their ability to apply their time to various important things in their lives.
I am quite ruthless about it: I gauge people this way; I judge my friends this way. Some people made a joke last year that they could use this criterion to guess who would get my birthday party's invite, and they were mostly right. As my friends know, I am pretty disciplined about time management: I always try to look for new tactics and new methods to better manage my time.
One of the things I do with executives I coach and mentor is a calendar audit. I will ask them to go to a whiteboard and write down their top three priorities. Next I will let them log into their calendar, and we will analyze how they spent the last few months of their time. Finally, we will map the way they spent their time against what they said their priorities are. It almost never maps. There is always some divergence. But they can use this technique to identify misalignment and spend time on more important things in the future.
What are some memorable experiences you had at Harvard?
I have a laundry list of things I did at Harvard that are very valuable to me. I spent my second year and a little bit of my third year doing the Ames Moot Court Competition. We got to the finals but unfortunately lost, which still kills me today. But I feel very fortunate that I got involved in that. For about three weeks during my second year, I remember flying around the country hectically interviewing for clerkships because the interviews weren't orchestrated. Fortunately, it worked out well for me—I wound up with my dream position with my dream judge. I also spent a lot of my third year serving as the local prosecutor. It was a program two days a week where I got to take on cases myself and prosecute criminals. Experiencing how the system works firsthand was a really exciting and enlightening experience for me.
From a classroom perspective, my most memorable course was—believe it or not—Evidence, partly because I worked as a research assistant for five different professors on projects all related to evidence. Other particularly useful or fascinating courses off the top of my head include Securities Regulation, Intellectual Property Law, International Law, and Bankruptcy. And I would not have been an effective clerk had I not taken Federal Courts and the Federal System. On a side note, had I known that for three and a half years my primary focus as a litigator would be antitrust law, I would have taken more courses related to that.
And then I remember how cold it was at Harvard…
Do you miss the coldness in Cambridge?
No. Oh my god no. Now all my vacations are to the warmest places on the planet without fail. The lowest temperature I'll tolerate is 75 degrees thanks to Harvard.
It sounds like you had a great experience at Harvard despite the freezing winters. Other than narrowing down your travel destinations, how has your Harvard Law experience served you in your career as a venture capitalist?
There are two main elements. One is the ability to combine business negotiations with legal negotiations. Because I understand both business and legal issues when I negotiate on behalf of the entity I'm working with, sometimes I trade business strengths for legal risks or vice versa. For example, being able to calculate what an additional liability protection is worth in business terms can be helpful. Similarly, some agreements are possible only after you overrule your own lawyers, basically telling them not to worry about a possible consequence with very limited practical implications. This is because you understand the issue well enough to calibrate its likelihood and implications by yourself.
Second, it is not accidental that many of my most successful investments and professional endeavors are in heavily regulated areas such as financial services and healthcare. Part of the reason for that is that I don't need to rely on other people's judgment about what is possible to do. For a typical business person without a legal background, lawyers are like a black box that comes back with an unquestionable "yes" or "no." It turns out that most laws aren't science—there is almost always a way to go from point A to point C with some creativity and enough time—so the ability to do legal analysis myself and push back pro legal advice allows me to take risks in a thoughtful, disciplined way. I'd look for investing opportunities where there are perceived legal risks because I know most people I compete with are going to be either terrified by the risks or confined by a well-trained lawyer's advice. Being able to leverage my legal background has been one of my competitive advantages in the investment world.