"Alumni Conversations" is an interview series initiated by Xiaoli Jin and Alice Chen, both of whom were admitted to Harvard Law School through the Junior Deferral Program. Xiaoli is currently working at a strategy and economics consulting firm and Alice is working at a financial sciences company.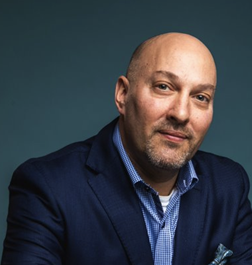 This week's installment of "Alumni Conversations" features Jeff Litvack '95, who spoke with Alice and Xiaoli from his office in Massachusetts. As CEO of Adweek, Jeff is normally based in Manhattan, but he left with his wife and two children earlier this year to give them more outdoor space during the quarantine.
Thank you, Jeff, for taking the time to speak with us. We know that you spent your undergrad at Wharton studying Finance and then worked at a strategy consulting firm for two years. What made you decide to go to HLS?
When I was a consultant at Mars & Co, I discovered the intersection between law and business. A number of assignments that I worked on slowed down because no one on the team understood the legal implications. I realized at that time that an understanding in law could help facilitate business transactions and make me a stronger executive. I came to the realization that with the business degree I already had from Wharton, getting an MBA would be redundant, while going to law school could be powerful. My belief was that law school would not only provide valuable legal acumen, but also expose me to new ways of thinking. Looking back, my time at HLS really did help my career and has made me a balanced leader.
We admire your ability to quickly establish effective leadership in multiple industries. What is your "secret sauce"? What role do you think your HLS education has played here?
There is no secret sauce. Hard work is always the key, and HLS instills a solid work ethic.
Beyond hard work, an effective leader is one who listens and builds relationships. With the legal skills you learn at HLS, you become a great advocate for your clients; yet advocates often don't listen. Advocates sell an idea at all costs. But to succeed in business and your career you need to do more than convince people that you are smart with good ideas. You need to build foundational relationships built on trust and mutual admiration. Based on my experience pre-law school, when I was at HLS I focused more on camaraderie than being adversarial—even if classroom experiences were pitting us against each other. The reason was that while litigation cases often have a winning side and a losing side, successful business deals require everyone to feel like they won; for a business deal to come through, both sides need to find a common ground. You should consider law school not only as a place to learn about law, but also as a place to practice building relationships with even the most adversarial of people.
In addition to relationship skills, the analytic and the problem-solving skills taught at HLS are also going to be very helpful to your career. While classroom case work may seem to be about the law, consider them instead as exercises in critical reasoning. Personally, I use the problem-solving skills I learned at HLS every day to help me to break down complex business problems into smaller parts and come up with viable solutions.
We notice that Adweek allows its audience to participate in a diverse range of activities, like Adweek Chat, Challenger brands, CMO Moves, and March Adness. What are your priorities in leading the company forward?
The biggest challenge for any company is going to be brand building. It is difficult to sell a product that people do not know, and it takes a long time to build a brand image. When I got to Adweek, I first focused on building and extending our brand, figuring out what we represent and what we stand for. I believe a modern media company will not survive if it is only about journalism and writing from an outsider's perspective. Instead, it has to be a part of the community it serves and actively connect with stakeholders in that community. That is what we do now at Adweek—as much as we report on the industry we are also a part of it, helping to make connections and solve problems.
Additionally, B2B news organizations need to go beyond today's breaking news to help their communities do their jobs better. We do this now by focusing on insight and foresight. For instance, if multiple agencies are all buying data companies, a reporter can write about the details on any one of the deals (a breaking news story), but an insightful story will focus on describing the broader view of the marketplace and analyzing the market trends. A report with foresight, on the other hand, will try to predict what will happen next. For a news media company that leads in breaking news, insight and foresight are invaluable to the stakeholders in the industry it covers.
What do you see as some exciting, new career opportunities for HLS students to explore?
My advice would be a little different from what you're asking for—whatever industry you do, find something you're passionate about. It's amazing how technology has changed our lives. There are so many things you can do now that we couldn't. My generation, for the most part, accepted traditional business models as they were and worked to conform and change them from within. You are a generation of disrupters who have proven that the traditional business models don't have to hold true: Uber revolutionized the taxi marketplace, and Tesla is pushing us to redefine cars and trucks. You should go after the career that you are passionate about, whether it be microfinancing, healthcare, or anything else.
Right. There are so many exciting things that we could potentially explore, but most of us only have two summers at law school. What should we do if we aren't sure whether we'll pursue a career in law or in some other industries?
First, be practical. If you have bills to pay, find a summer job that will help make sure that you're not spending the academic year concerned about your financial situation. Law, consulting, investment banking, or any of the big internet companies are going to be good in that sense. It's not too hard to get into consulting and investment banking as a law student because those industries are apt to recruit applicants from across the board. For other industries, a lot of times it'll probably be easier for you to get a summer internship with the legal department and then explore opportunities in other areas such as business development or business affairs, where having a legal background can become very valuable. That being said, even if you want to pursue a nontraditional career, you should spend at least a summer working in law to get practical experience to put up against your classroom learnings.
Second, find a job that will give you real experience, and get the most out of it by going beyond the assignments at hand. If you spent your summer at a law firm and want to look outside of law later on, you'll need to prove that you can think outside the box and solve problems. In the interviewing process, as an ex-consultant, I'm looking for people who can not only think at the detailed level but also at the strategic level, seeing the block from multiple angles. During one of my legal internships, I often picked up the phone at 5pm on a Friday and ended up working past midnight even though I was only a summer intern. I remember I was working on a debt deal. I was reading through two debt agreements for the same client and realized that the provisions and clauses in them were different. I was curious enough to go to the partner and ask him about the differences. The partner looked at me and asked me what I meant. I pointed at the differences, and he realized that I had a point. I went back, put the two agreements side by side, and marked them all up. The partner was amazed and praised me for going the extra mile. I didn't just do the task I was asked to do; instead I spent time thinking also about what the end goal was and if we were achieving it. And everyone wants to hire someone who both can do and can think.
On a side note, Adweek has unpaid internships in the summer and throughout the year. We're open to people from all areas. I welcome anyone to come work with me and see what it's like in the CEO's office.
What was your most memorable experience at HLS?
Most of my memorable experiences centered around being a part of the HLS Drama Society. It was about being a part of a group of students who could forget about the books, look at the other side of life, and just have fun. We did the annual parody where we made fun of the students and faculty. We would take a show, like My Fair Lady, and rewrite it, as My Fair J.D. [1994]. We also did The Rocky Horror Picture Show and renamed that one The Cocky Lawyer Picture Show [1995].
In my third year at HLS, the Drama Society decided to have a character that was me and they made fun of me. They ended up casting me, as me, because no one else could "do Jeff" properly. I remember the first night, I delivered my line and it felt a bit flat. The next night, I changed my intonation just a little bit and it had a huge effect on how people reacted—they laughed and it became fun. Understanding not just what you say but how you say it can impact your audience or listener is an absolutely incredible experience to have had. In fact, being a good actor can be very valuable to you whether you are a lawyer or business person.