Mark Richter is our newest team member, and we're so glad he's here. Read our conversation with Mark to learn a bit more about him.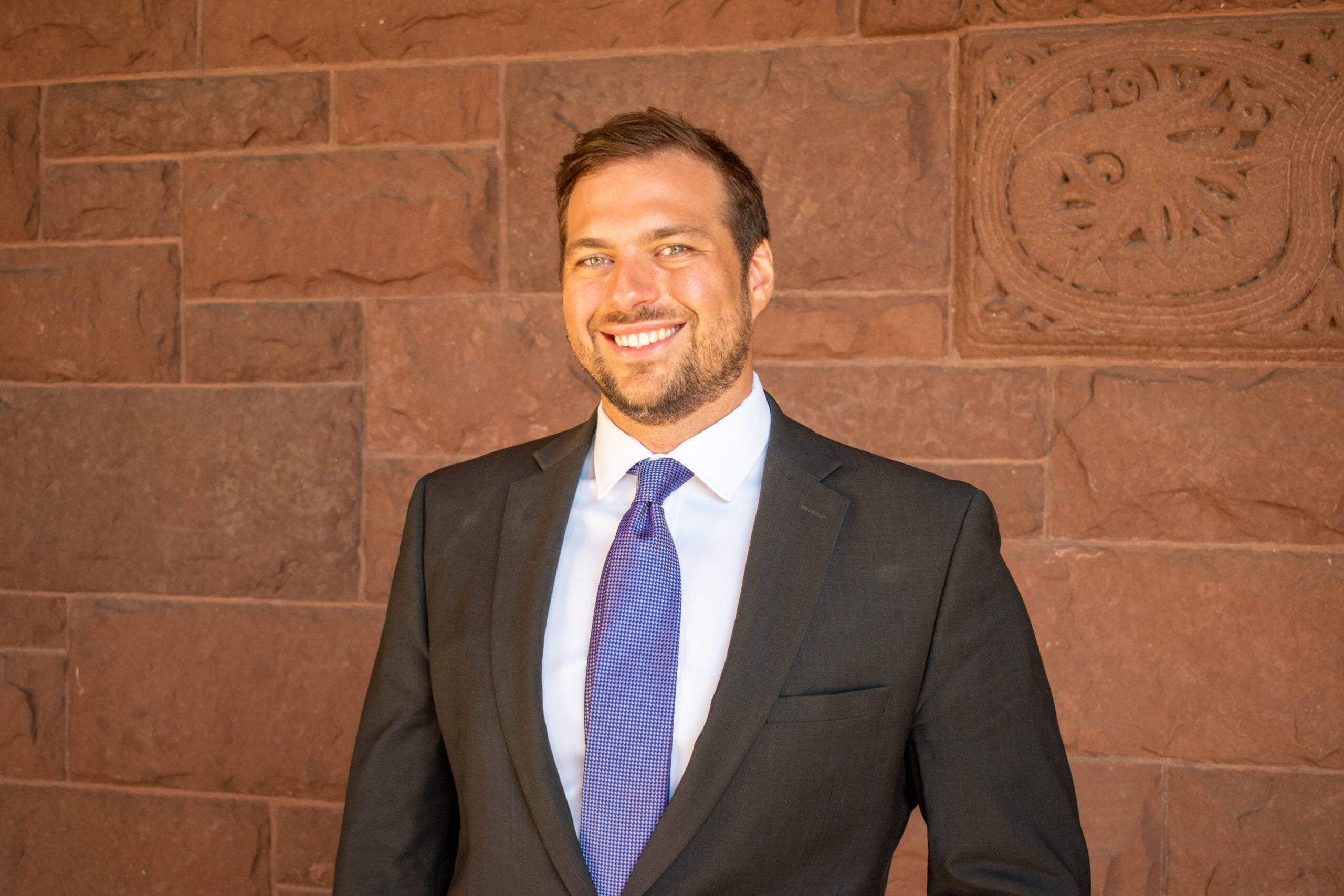 We are so excited to welcome you to the J.D. Admissions Office, Mark! To get started, tell us about your background and interest in education.
The short version is that I grew up in Brunswick, Maine, which is the home of Bowdoin College. Despite the fact that my parents didn't go to college, Bowdoin felt like home. I always felt welcome at Bowdoin, but I realized quickly upon enrolling that wasn't the case for everyone. My father was skeptical because he associated the college with immense wealth and privilege that we didn't have, and friends who had never been to Maine before sometimes found campus isolating and uninviting. My awareness of others' perspectives, combined with my own desire to make sure everyone felt at home in my "home" is what spurred my passion for higher education and admissions.
What are you looking forward to this upcoming admissions cycle?
Well, in addition to being inspired by countless applicants from all walks of life and all corners of the globe, I'm especially excited to visit Texas for my recruitment travel. I've never been to Texas, and I've received more food recommendations than I can count from current students at HLS.

Can you share with us an impactful or interesting admissions experience from your time as a higher education professional?
My most interesting admissions experiences have come from my recruitment travel abroad. For example, in Germany, public higher education is virtually free. The value of coming to the U.S. for undergraduate study – and paying for four years of it – is not inherent. Similarly, when I was in Jordan in 2016, students told me that their desire to study in the U.S. was contingent upon the results of the presidential election. As an American, it's easy to take for granted the way that our educational systems and structures work. International recruitment kept me grounded and helped me to steer clear of making assumptions. I revel in having my own preconceptions challenged and engaging differing perspectives about higher education.
Have you seen the field of admissions evolve throughout your career? If so, how?
Absolutely. I attended Bowdoin College and worked at Bates College, both of which have been test-optional for decades. At the time I was there, being test-optional was a rarity. Since the pandemic, though, most colleges and universities have at least temporarily adopted test-optional policies. In a similar vein, some law schools (like HLS) have begun accepting the GRE in addition to the LSAT. Tests have become flexible and administered online; colleges have removed supplemental essay requirements; application fees are being waived. Basically, I've observed systemic efforts to remove perceived barriers to the recruitment of a robust, diverse class of students.
You graduated from the Harvard Graduate School of Education (HGSE) and served as a Teaching Fellow throughout your time there. How has your time at HGSE informed your current work?
I used my time at HGSE to explore as much about higher education as possible. Actually, I didn't focus on admissions at all. I took modules on international higher education with professors from the World Bank and the University of Cambridge; I interned with the Collaborative on Academic Careers in Higher Education doing data analysis and survey design for universities across the country, and I conducted research at the intersection of law and higher education. I stay connected to HGSE through working as a Teaching Fellow for Dr. Houman Harouni, which has stimulated my thinking in countless ways.
What are some of the things you missed during your time away? How do you find community at Harvard?
I missed the chicken tenders at Gutman Library. Harvard has over 50 libraries, most of which are beautiful, but only one of which (to my knowledge) has chicken tenders.
It's easy to find community at Harvard. I've been here for three weeks and it's a running gag that I know half of the incoming 1L class already. Each school has its own distinct personality, but across the board, you'll find yourself running into the same friendly faces, all of whom are interesting and passionate in their own way.
You are not from Boston originally. Where else have you lived? Do you have any local recommendations to share?
I've lived in Cambridge, Maine, and Germany. I consider all of these places home in different ways. My favorite place to get off campus is Lamplighter on Broadway. It's a coffee shop in the mornings, and a brewery all day. It's a great catch-all for people who want to do some work, socialize, or something in between. I also encourage everyone to take a day trip to Maine. I've got a master list of places to see and things to do, and I'm always happy to share.
What do you do for fun?
I play golf as much as I can since those New England winters cut the season short. I also am an avid fan of European soccer, the NBA, and the NFL, so I spend a decent amount of time in front of the TV. When I'm not doing that, I like to try new restaurants, practice my German and Spanish (mostly through listening to reggaeton), bike through Boston, spend time with my friends and family in Maine, and make music that will never see the light of day.