Since 1993, Reginald F. Lewis Fellows have gone on to amazing careers in the legal academy. Among the alumni and alumnae of the program are tenured professors at the top law schools in the United States. The following table provides detailed information about the current work of former fellows.
2022-23 Reginald F. Lewis Fellow
Idriss Paul-Armand Fofana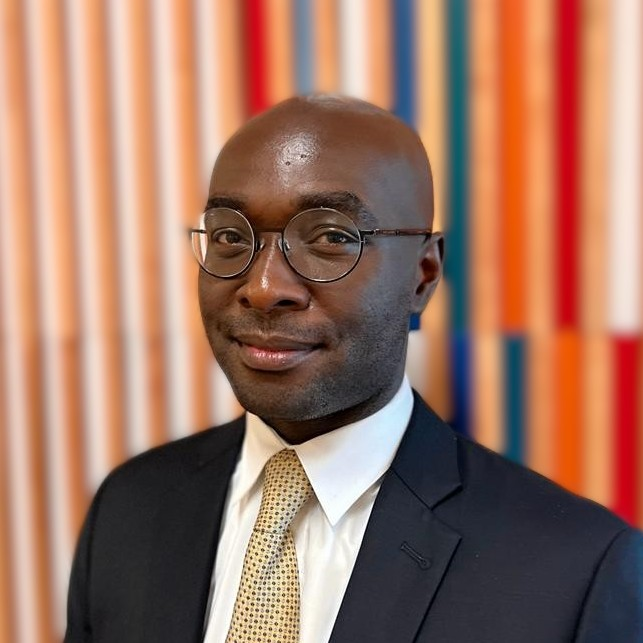 Idriss Fofana is the Reginald F. Lewis Fellow at Harvard Law School. He is a legal historian whose research examines the relationship between international law and global inequality. His scholarship explores African, Asian, and indigenous engagement with transnational legal regimes through subjects as varied as the state regulation of private property, non-discrimination standards, the law of treaties, and international labor migration.
Idriss is a PhD candidate in History at Columbia University. He earned his JD from Yale Law School and his undergraduate degree from Harvard University. He served as the Judicial Fellow for Judge Abdulqawi Yusuf, then president of the International Court of Justice. Idriss has participated in litigation and advocacy on matters of immigration, citizenship, and national security. He has also worked in the public international law and international arbitration practices of major law firms.
Idriss's work has appeared in the Journal of the History of International Law/Revue d'histoire du droit international, the Heidelberg Journal of International Law/ Zeitschrift für ausländisches öffentliches Recht und Völkerrecht, and the Yale Journal of International Law. His research has been funded by the American Society for Legal History, the Fulbright Student Scholarship program, the Council on Library and Information Resources, the Mellon Foundation, and the Social Science Research Council.
Idriss is licensed to practice law in the State of New York.
LEWIS FELLOW
FELLOWSHIP YEAR(S)
CURRENT POSITION
Chika Okafor
2021-2022
PhD Candidate in Economics
Harvard University
Zahra Takhshid
2019-2021
Assistant Professor of Law
University of Denver Sturm College of Law
Nikolas Bowie
2017-2018
Louis D. Brandeis Professor of Law
Harvard Law School
Duane Rudolph
2015-2017
Assistant Professor of Law
Peking University, School of Transnational Law
K. Sabeel Rahman
2012-2014
Associate Professor of Law
Brooklyn Law School
Abbye J. Atkinson
2009-2010
Class of 1965 Assistant Professor of Law
UC Berkeley
Vincent Chiao
2008-2010
Associate Professor
University of Toronto Faculty of Law
Eleanor Marie Brown
2007-2009
Professor of Law and International Affairs
Penn State Law
Hilary C. Robinson
2006-2007
Associate Professor of Law and Sociology
Northeastern University School of Law
Angela M. Banks
2004-2006
Charles J. Merriam Distinguished Professor of Law
Sandra Day O'Connor College of Law
Timothy William Waters
2003-2004
Professor of Law and Val Nolan Faculty Fellow
Indiana University Maurer School of Law
Gavin Clarkson
2002-2003
Owner/Managing Director
Native American Capital
Cristina M. Rodríguez
2001-2002
Leighton Homer Surbeck Professor of Law
Yale Law School
Laura Nyantung Beny
2000-2001
Earl Warren DeLano Professor of Law
University of Michigan Law School
Stephen M. Rich
2000-2001
Maurice Jones, Jr. – Class of 1925 Professor of Law
University of Southern California School of Law
Kenneth W. Mack
1999-2000
Lawrence D. Biele Professor of Law
Harvard Law School
Lino Mendiola, III
1998-1999
Partner, Co-Head of Global Energy
Eversheds-Sutherland, LLP
Marc Spindelman
1997-1998
Isadore and Ida Topper Professor of Law
Ohio State University Moritz College of Law
Ralph Richard Banks
1996-1997
Jackson Eli Reynolds Professor of Law
Stanford Law School
Alexa J. Smith
1995-1996
Director of Major Gifts
NAACP Legal Defense and Educational Fund, Inc.
Sydney Patel
1994-1995
Richard Thompson Ford
(Inaugural Lewis Fellow)
1993-1994
George E. Osborn Professor of Law
Stanford Law School