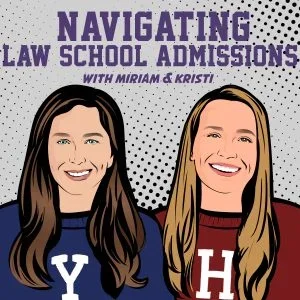 Happy almost-August! I'm thrilled to announce the launch of a new podcast, in collaboration with the Yale Law School admissions team. YLS admissions dean Miriam Ingber and I have teamed up to co-host Navigating Law School Admissions with Miriam & Kristi.
We might sit on opposite sides of the stadium at the Harvard-Yale game, but Miriam and I agree that all applicants should have access to straightforward, accurate, and candid advice. Our podcast aims to bring that advice to you, direct from the admissions officers who read your applications.
This fall, we will cover personal statements, addenda, letters of recommendation, and a whole lot more. And we have a few friends and colleagues joining us along the way.
Enjoy our trailer, and look out for each episode beginning in mid-August. Please be sure to subscribe wherever you listen to your favorite podcasts.
Do you have a question you would like us to answer on the podcast? Email jdadmiss@law.harvard.edu with the word "podcast" in the subject line. You can write your question in the email, or better yet, attach a recording if you would like to hear your voice on our show.