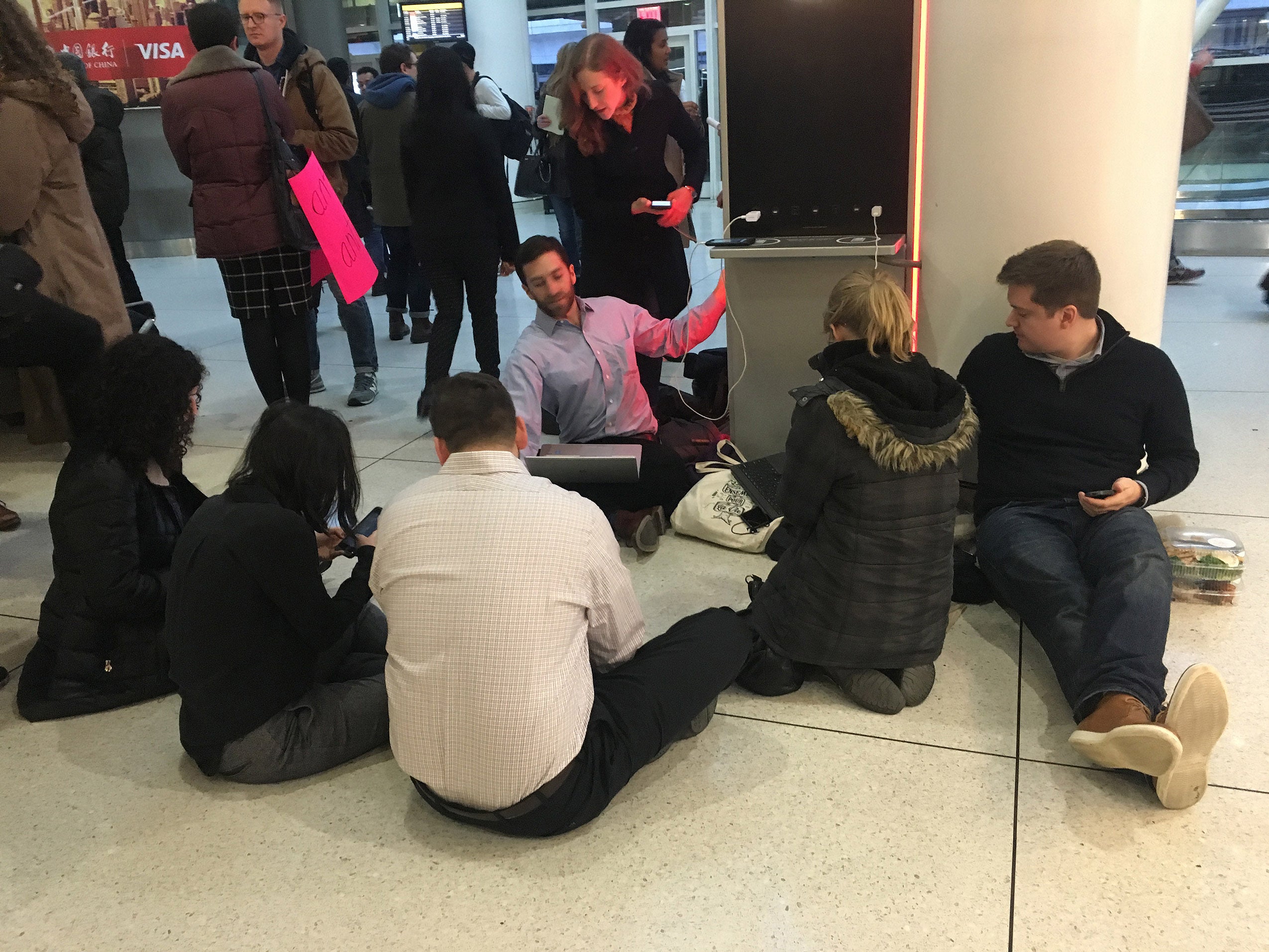 In the wake of the presidential election in November and after last week's executive orders by President Donald Trump restricting immigration, the Harvard Immigration and Refugee Clinical Program has been addressing the related legal concerns of Harvard students, faculty, staff, and affected individuals in the Commonwealth of Massachusetts. The clinic is also focusing on policy questions through litigation and legislative advocacy.
Days after the presidential election, over 300 Harvard Law School students, under the guidance of the clinic, quickly organized a coalition to work on projects ranging from support of undocumented members of the Harvard community to local community outreach and legal research, litigation support, and legislative advocacy.
In a letter sent to all HLS alumni and shared with the on-campus community today, Dean Martha Minow reported: "Students in our renowned Immigration and Refugee Clinic are working hard to assist hundreds of individuals who have been caught off guard by the executive orders restricting immigrants and refugees from seven predominantly Muslim nations. They are representing asylum seekers and other individuals applying for humanitarian protection, including individuals in detention and in removal proceedings. They are engaged in research and advocacy on refugee resettlement, including the Syrian Refugee Resettlement Project; research, litigation, and advocacy on sanctuary spaces and state and local enforcement measures at the intersection of criminal law and immigration law; and international collaboration, litigation, and advocacy relating to the Safe Third Country Agreement with Canada and other issues. They are also helping the sons and daughters — born in the U.S. — of undocumented parents who came to this country years ago, assisting through litigation, advocacy, and outreach to communities of people seeking to understand their rights in this rapidly changing legal terrain."
Immediately after the election, a team of HIRC students, under the supervision of faculty and staff, trained over 40 law students to assist with the filing of applications to renew Deferred Action for Childhood Arrival status. These law students, in collaboration with HIRC faculty and staff, then set up and ran a DACA renewal clinic at Harvard College, with the goal of filing as many DACA renewals as possible before the inauguration. Over 20 Harvard college students with DACA status attended the DACA renewal clinic and many followed up with HIRC afterwards to ask for individual consultations.
***
***
During December and January, HIRC faculty and students participated in a series of information sessions, support groups, and webinars for undocumented individuals and those with DACA status (known as "DACAmented"). Law students, supervised by the clinic, drafted answers to FAQs that have been posted on the Harvard University website.
On Jan. 23, 2017, with support from the University, immigration attorney Jason Corral joined HIRC to represent undocumented and DACAmented members of the Harvard community. Corral has a long history of work with the local immigrant community from his time in private practice, as well as at Greater Boston Legal Services and Catholic Charities.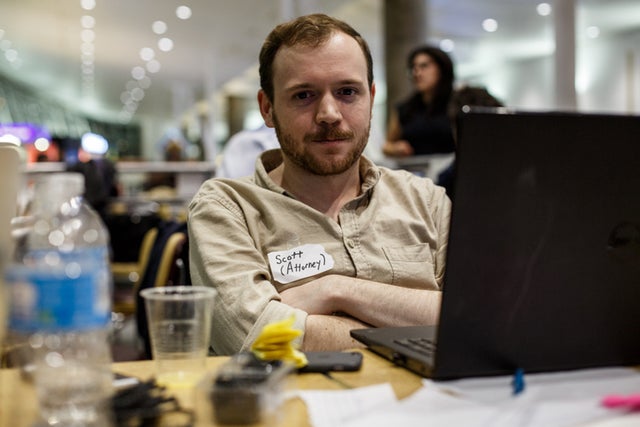 Since starting with clinic just ten days ago, Corral has conducted Know Your Rights presentations across the university and provided individual consultations with, and representation of, undocumented members of the Harvard community, in their applications for immigration protection. With University funding, HIRC will also be hiring a paralegal to work on this initiative. The support of the University has allowed HIRC social worker Liala Buoniconti to devote additional time to the project as well.
Following the election, Dean Minow provided emergency funding for a new HIRC clinical instructor to supervise immigration projects. Shortly thereafter, Cindy Zapata was hired to oversee this work. She interned with the Boston Immigration Court while she was a student at Harvard Law School and she has immigration advocacy experience in both a law school clinical setting and as a pro bono attorney. Today she and Corral participated in a town hall meeting to answer questions from members of the Harvard community.
The clinic's initiatives are designed to meet the immediate needs of the immigrant community both locally and nationally. For example, students have researched and drafted memoranda concerning constitutional challenges to a Muslim registry or ban, litigation strategies to remove the Safe Third Country Agreement between the United States and Canada, and the legality of municipal voting. Other law students have drafted a comprehensive toolkit for student organizers around the country who are advocating for sanctuary campus policies. Some students have jumped in on remote projects with nonprofit organizations working on family detention issues at the southwest border of the United States.
---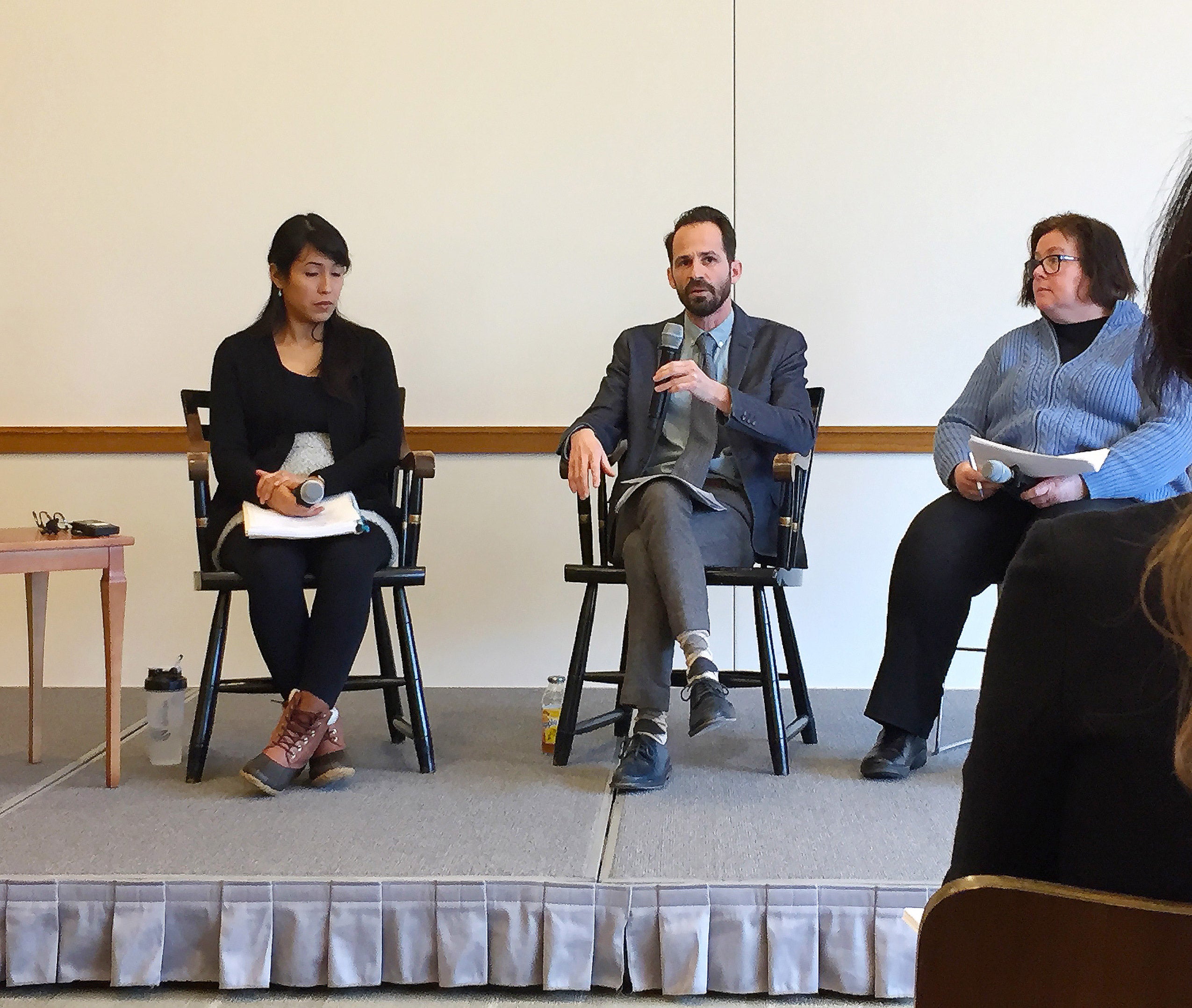 ---
HLS students also worked with congressional offices to research and draft questions for staffers relating to the confirmation hearings of President Trump's cabinet nominees and proposed anti-immigrant and anti-refugee resettlement legislation.
HLS students are also taking part in local initiatives including Know-Your-Rights and Safety Planning presentations for immigrant communities in the Boston area and policy advocacy in Massachusetts cities like Somerville and Chelsea that are considering expanding protections for their noncitizen residents. Additionally, dozens of students, speaking a wide range of languages including Spanish, French, Farsi, Arabic, Haitian Creole, and Mandarin, have signed up to interpret for HIRC clients seeking refugee and other human rights protections in the United States.
"We are a clinical program with deep roots in refugee communities, where our litigation and research work has its roots," said HLS Clinical Professor Deborah Anker LL.M. '84, HIRC's director. "So much of it has been initiated by our amazing students. We are so grateful to the Dean especially for support of our work."
Below is a summary of the initiatives the students have begun working on.
Collaborating with the ACLU and other national and local organizations on constitutional challenges to President Trump's Executive Orders.
Consulting with Canadian advocates and academics on challenges to the Safe Third Country Agreement following the issuance of President Trump's Executive Orders.
Researching potential legal remedies to anti-immigrant legislation or enforcement actions.

State vs. federal issues (e.g., sanctuary cities, use of local police to enforce immigration laws, etc.)
Due process violations (e.g., expedited removal, Fourth Amendment warrantless holds)
Anti-refugee resettlement legislation/policies
Muslim ban or registration (i.e., NSEER)

Drafting letters to Congress concerning Trump cabinet appointments.
Organizing an advocacy effort in Washington, D.C. to meet with congressional leaders about immigration policy.
Conducting a section-by-section analysis of anti-refugee legislation that could be reintroduced.
Cambridge municipal voting initiative research for the Immigrant Advocacy Group of Cambridge.
Conducting legal research and testimony concerning sanctuary cities and other immigration-related local ordinances.
Working with the national student movement to designate campuses as safe spaces by providing legal memoranda concerning the limitations of immigration enforcement measures on campuses.
Developing FAQs on the Executive Orders for the Harvard community.
Supervising, staffing, and training HLS students to participate in DACA Renewal Clinics at Harvard University and in the Boston, Cambridge, and Somerville communities.
Developing FAQs for undocumented/DACAmented members of the Harvard community.
Developing, organizing, and conducting Know-Your-Rights/Teach-In Sessions for members of the Harvard University Community.
Participating in events and panels on immigration law at Harvard University and in the Greater Boston community.
Developing, organizing, and conducting Know-Your-Rights Sessions for members of the Boston, Cambridge, and Somerville communities.
Staffing regular, walk-in office hours for Harvard University community members twice per week from 12:00pm to 1:00pm.
At the HIRC office hours: providing community members with information developed by HLS students about local and national legal resources and safety planning; answering frequently asked questions; and conducting individual consultations as necessary.
Training and supervising student interpreters who will be needed to interpret during KYR/teach-in sessions and office hours, and to translate safety plans and other materials.
Drafting op-eds, press releases, media interviews, etc. concerning immigrants' rights.
Partnering with local organizations to help lawful permanent residents apply for naturalization and voter registration once naturalized.
Supporting organizations helping families in immigration detention on the southwest border of the United States.
HIRC faculty, staff, and students launched these new initiatives on top of the on-going work at the clinic, representing hundreds of asylum seekers and immigrant clients in and out of detention, engaging in policy advocacy (including with the Syrian Refugee Resettlement Program funded by the Abby & Howard Milstein Foundation), and filing ground-breaking litigation before the circuit courts of appeal on behalf of women and children in refugee adjudications. They are also working on projects at the intersection of criminal law and immigration, including collaborating with the Criminal Justice Institute, filing amicus briefs in the First Circuit Court of Appeals, planning a litigation strategy guide for transgender women in immigration detention, and a practice guide for the Orleans Public Defenders Office concerning the immigration consequences of criminal convictions.