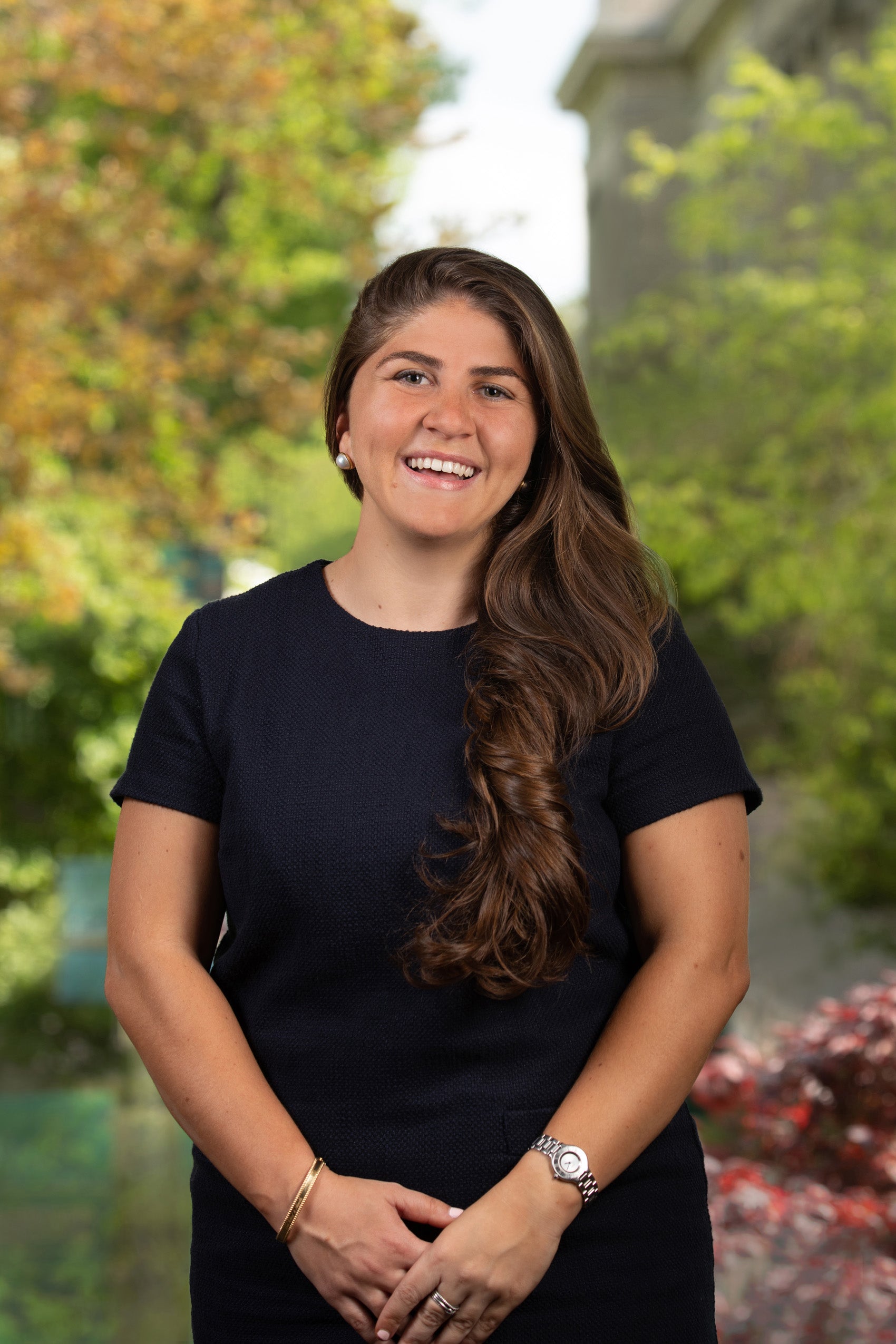 Anoush Baghdassarain '22
Andrew L. Kaufman Pro Bono Service Award
Anoush Baghdassarian '22 is the recipient of the 2022 Andrew L. Kaufman Pro Bono Award. Graduating with an unprecedented 4,000 pro bono hours during her time at Harvard Law School, Baghdassarian is a stand-out student in the clinical and pro bono community. The Andrew L. Kaufman Pro Bono Award is granted each year in honor of Professor Andrew Kaufman '54, who has been instrumental in creating and supporting the Pro Bono Service Program at Harvard Law School. The award is given to a J.D. student in the graduating class who exemplifies the pro bono public spirit and an extraordinary commitment to improving and delivering high quality volunteer legal services to disadvantaged communities. Read more
Gina Starfield '22
David A. Grossman Exemplary Clinical Student Award
Gina Starfield '22 is the recipient of the 2022 David A. Grossman Exemplary Clinical Student Award. She is celebrated for her outstanding contributions to the Harvard Immigration and Refugee Clinical Program, in both the Harvard Immigration and Refugee Clinic (HIRC) and the Harvard Law Immigration Project (HIP).
The award honors David Grossman '88, the late clinical professor and faculty director of the Harvard Legal Aid Bureau who devoted his life to the pursuit of justice. Throughout his professional life, Grossman strengthened partnerships within the community, served as a dedicated mentor to clinical students, and relentlessly advocated for social change. In Grossman's spirit, each year the award is given to a student who exemplifies excellence in representation and policy reform projects and brings a clear thoughtfulness and compassion to their practice. Read more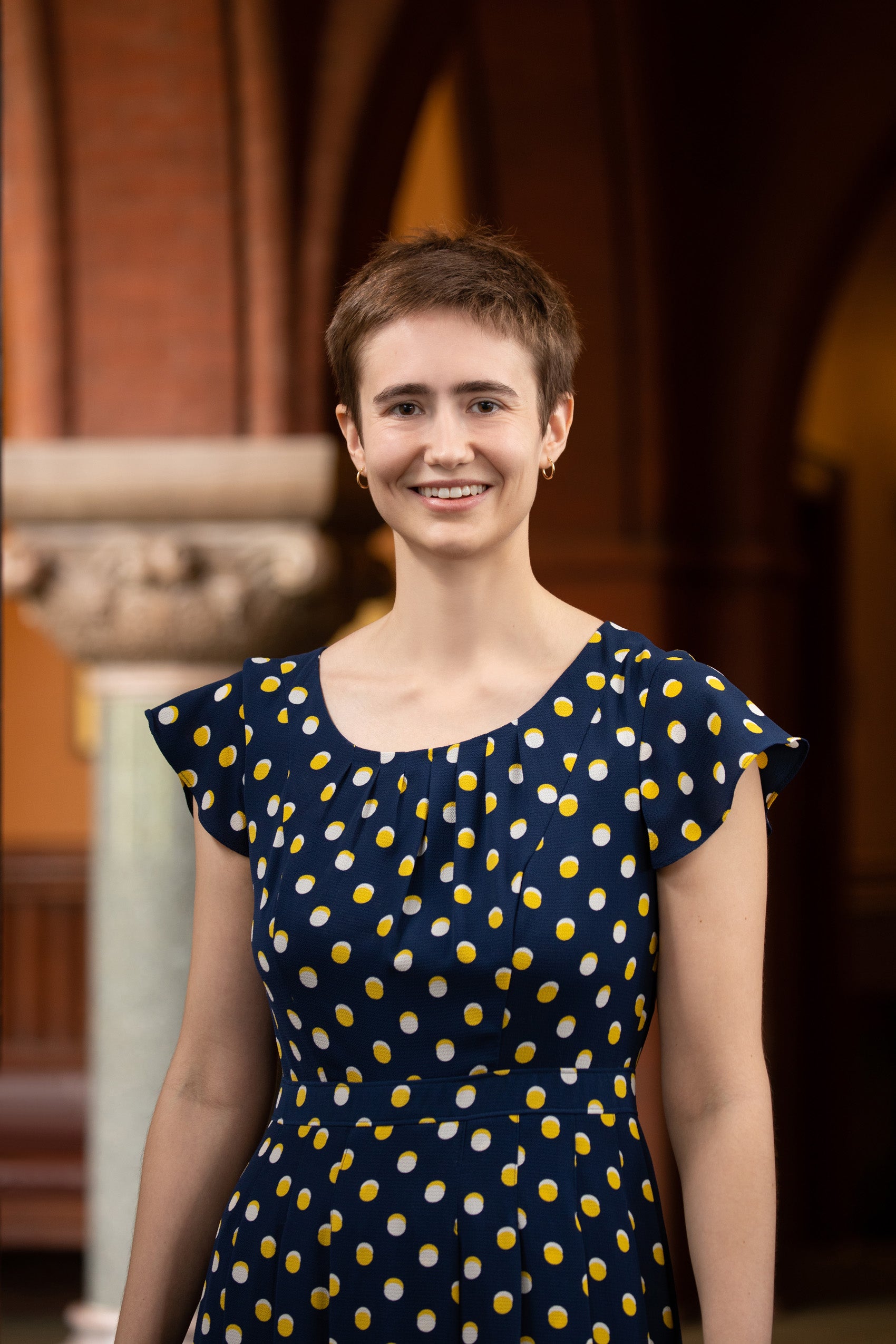 Liz Butterworth '22
Liz Butterworth is the recipient of the 2022 Gants Access to Justice Award. Butterworth is honored for her zealous advocacy for housing justice as a member of the Harvard Legal Aid Bureau (HLAB), the Tenant Advocacy Project (TAP), and Project No One Leaves (PNOL). Established to honor the late Massachusetts Supreme Judicial Court Chief Justice, Ralph D. Gants '80, the award recognizes a student who is dedicated to advancing access to justice and racial equity and has demonstrated leadership in helping to eliminate systemic barriers to justice. Read more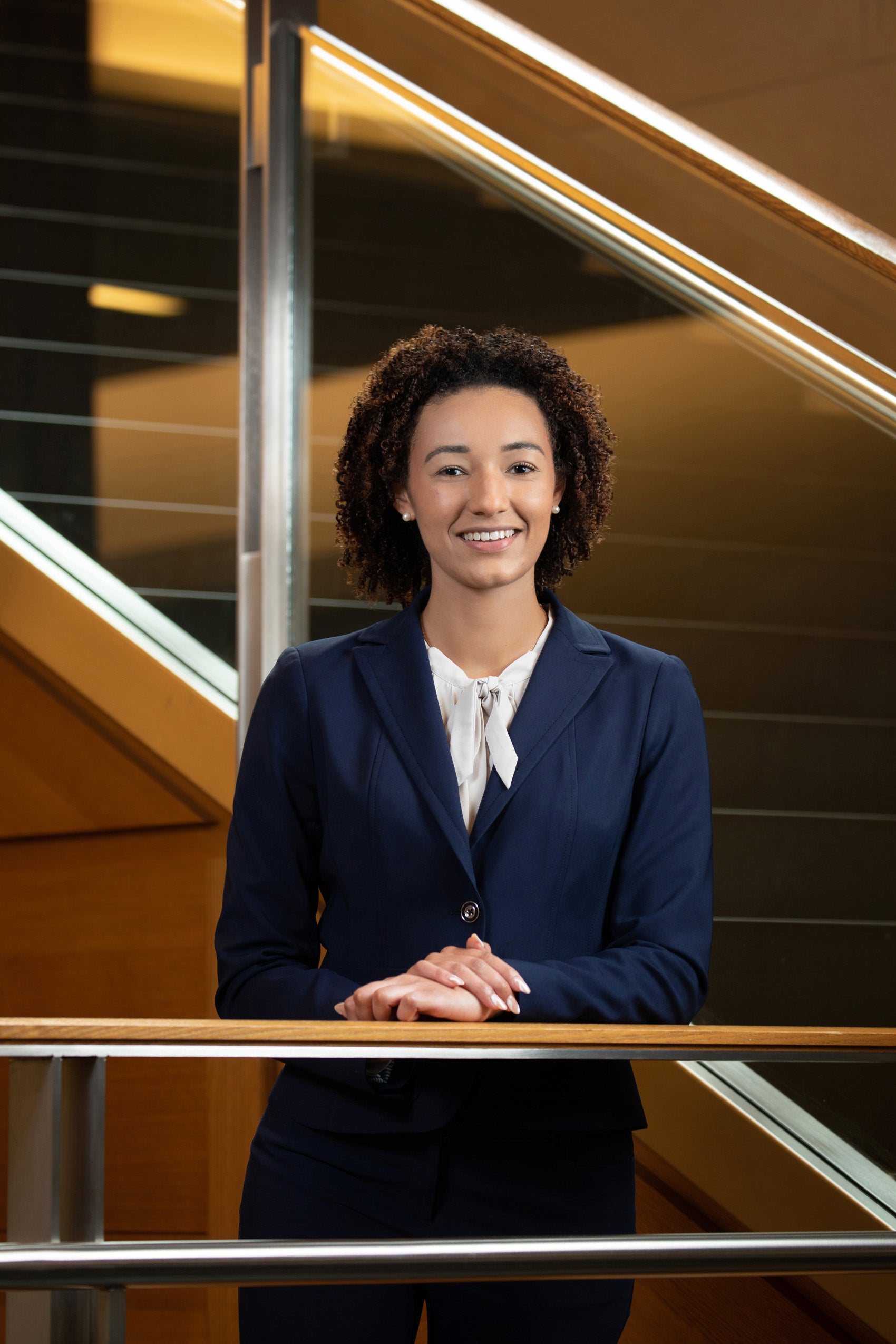 Brianna Banks '22
William J. Stuntz Memorial Award for Justice, Human Dignity, and Compassion
This year, Brianna Banks '22 was named the 2022 winner of the William J. Stuntz Memorial Award for Justice, Human Dignity, and Compassion. The Stuntz Award recognizes a graduating student who has demonstrated an exemplary commitment to those principles while at Harvard Law School.
Banks, who chose law school to pursue a career advocating for women who were victims of gender-based violence, was recognized for going above and beyond to advocate for women, particularly women of color, throughout her time at the law school. Read more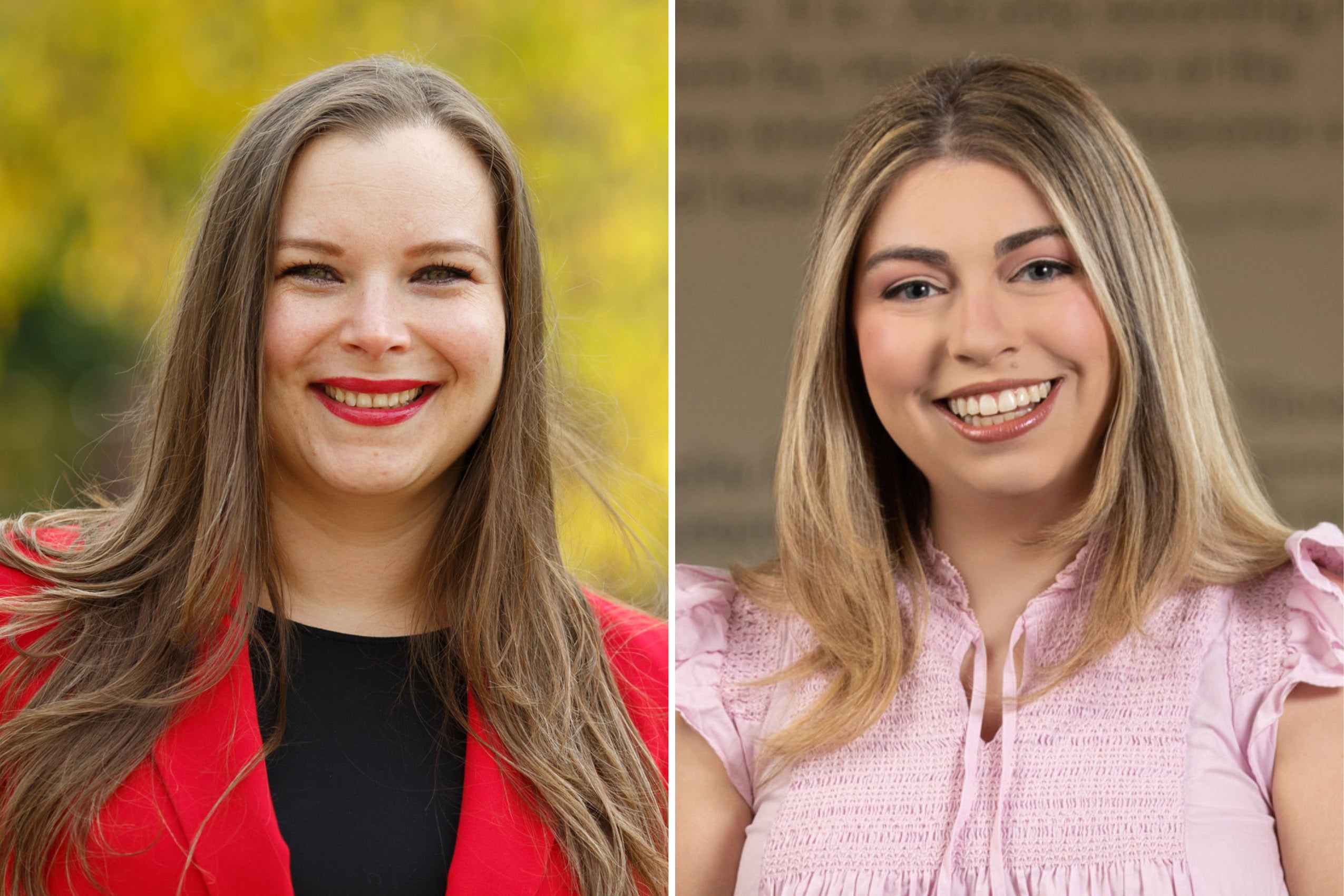 Emily Chazen '22 and Ivanka Canzius '22
Westfall Memorial Award: Emily Chazen and Ivanka Canzius
Emily Chazen '22 and Ivanka Canzius '22 are this year's recipients of the Westfall Memorial Award. Chazen was recognized for her noteworthy leadership and dedication to building a close-knit community within Section 2, and Canzius was recognized for her tireless commitment to fostering community within Section 6. Named in honor of the late Professor David Westfall '50, who taught at Harvard Law School for more than 50 years and served as an inaugural faculty leader for a first-year section, the award is presented annually to recognize student contributions to creating community within a first-year section and the wider class. Read more
Kareem Carryl '22
Frank S. Righeimer, Jr. Student Prize for Citizenship
Kareem Carryl is this year's recipient of the Frank Righeimer Jr. Prize. Described as a "devoted champion of students' interests," Carryl is being recognized for his leadership as president of the Board of Student Advisers and for his academic mentorship.
As Board of Student Advisers president, he served as the primary liaison between the board and the law school on all BSA-related matters. He was lauded by nominators for seamlessly leading the board through its return to campus after nearly two years of online instruction, and credited for his advocacy for special student resources and additional training for BSA members in matters of diversity, inclusion, and mental health and wellness to help meet the challenges students faced. Read more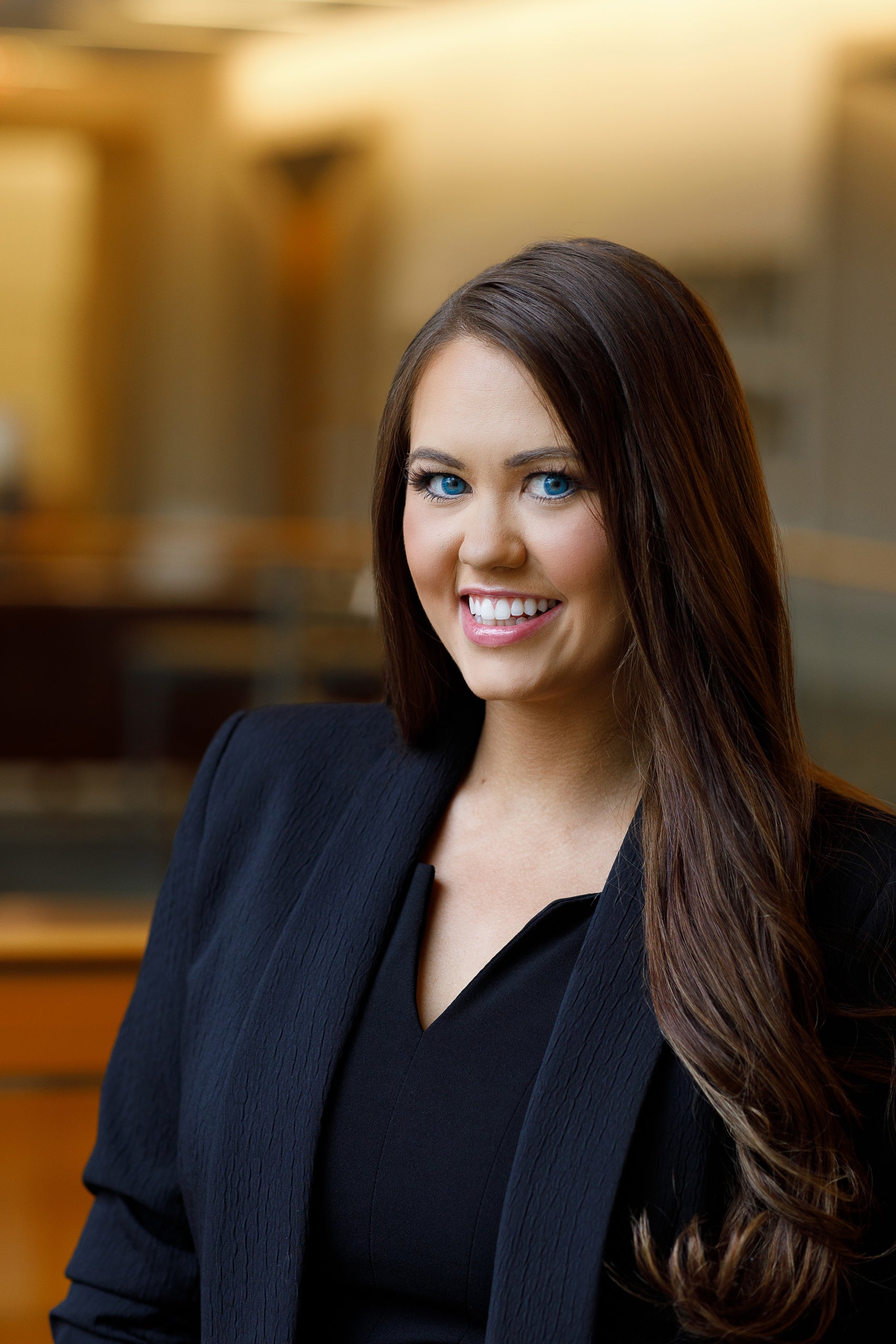 Cara Mund '22
Kristin P. Muniz Memorial Award
Cara Mund '22 is the winner of the second annual Kristin P. Muniz Memorial Award. Mund is recognized for her commitment to justice, her advocacy, compassion for her clients, and stellar representation of each of those clients.
This annual award honors the late Kristin P. Muniz, a former Harvard Law School senior clinical instructor, whose untimely death in 2020 was heartbreaking for everyone at the Criminal Justice Institute (CJI), her many former students, and her colleagues in the clinical and pro bono program. Read more
Henry Beshar '22 and Stacey Menjivar '22
Clinical Legal Education Association Awards
Henry Beshar '22 and Stacey Menjivar '22 are the recipients of the 2022 Clinical Legal Education Association (CLEA) Awards. The awards are presented annually to students from each law school for outstanding clinical coursework and contributions to the clinical community. Students are nominated by full-time clinical faculty at each law school with faculty who are members of CLEA.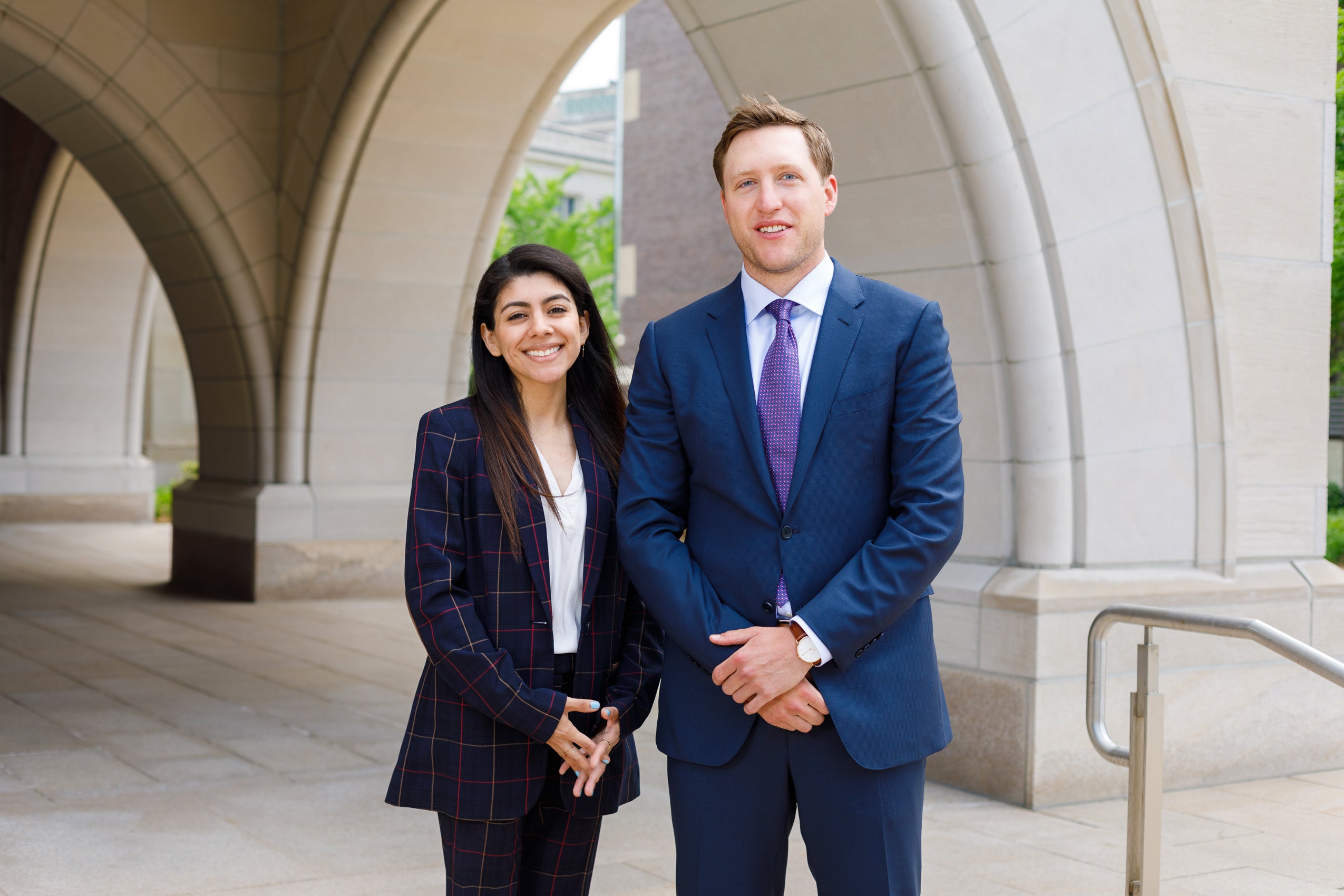 Henry Beshar is honored with the 2022 CLEA Outstanding Clinical Externship Student Award, recognized for his outstanding contributions to the Criminal Prosecution Clinic. Beshar participated in the clinic this fall and winter, in a placement with the Middlesex District Attorney's Office at the Malden District Court. In the clinic, Beshar tried five cases, in addition to conducting arraignments, bail hearings, and evidentiary motions. The clinic's director, Lecturer on Law John J. Corrigan, lauds Beshar's "commitment to integrity and ethical conduct."
Stacey Menjivar is honored with the CLEA Outstanding Clinical Student Award, in recognition of her significant contributions to the Immigration and Refugee Advocacy Clinic and the Cyberlaw Clinic.
Menjivar has been a part of the Harvard Immigration and Refugee Clinical Program (HIRC) since 2018, volunteering as an interpreter for Spanish-speaking clients. She joined the clinic as a student during the spring of 2021 and continued as an advanced student this fall. In the clinic, she has represented a broad variety of clients, preparing them for hearings, drafting affidavits, filing visas, and more. Read more
The Dean's Awards for Community Leadership recognize a number of graduating students who contribute time and energy to making the Harvard Law School community a better place through involvement in student organizations, community service groups, and individual efforts. This year, twenty-five students were recognized for their contributions to the HLS community during the 2021–2022 academic year. Read more
---