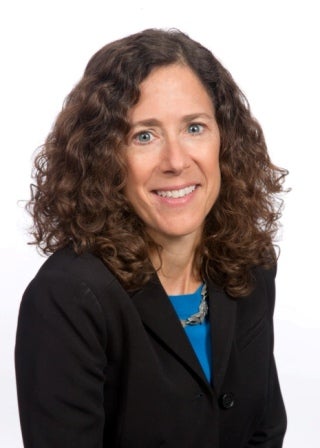 The National Association of Law Placement's Board of Directors recently recognized Alexa Shabecoff, assistant dean for public service in the Bernard Koteen Office of Public Interest Advising at Harvard Law School, with a Service Excellence Award for her ongoing commitment to developing resources for and sharing her knowledge with the NALP public interest community.
NALP is an association of over 2,500 legal career professionals who advise law students, lawyers, law offices, and law schools in North America and beyond.
As a longstanding member of NALP's Public Service Section, Shabecoff was recognized for "consistently going above and beyond the call of duty." Colleagues and Board members who have worked with Shabecoff for more than 20 years noted her longstanding willingness to share resources for the benefit of NALP's public interest community and students of all law schools. They also noted her willingness to share her knowledge as a speaker on panels, her regular contributions of job postings to NALP's PSJD database, and her readiness to serve as a tireless mentor to countless colleagues. Most recently, Shabecoff has also been instrumental in helping to secure public interest speakers for several NALP events, including the PSJD Mini-Conference and the Annual Education Conference.
Shabecoff has been with HLS' Office of Public Interest Advising since 1994 after having served as the Wasserstein Fellow-in-Residence at OPIA during the Fall of 1993. Before joining OPIA, Shabecoff worked for more than seven years as a legal services attorney in Boston and St. Louis. While in legal services, she specialized in housing law and participated in litigation, policy advocacy, and community education. She is a 1982 graduate of Brandeis University and a 1986 graduate of New York University School of Law, where she was a Root Tilden Scholar and Vice President of the Public Interest Law Foundation. During law school she worked for the ACLU Women's Rights Project, Office of the City Council President in New York, Legal Aid Society of New York, and Coalition for the Homeless.
NALP's Board of Directors reestablished the Service Excellence Awards Program in 2014.