On July 11, Harvard for the first time in the century-long history of the Republic of China welcomed a sitting president of Taiwan, hosting President Ma Ying-jeou S.J.D. '81 for a nostalgic visit to his alma mater.
Because Taiwan and the U.S. do not have formal diplomatic relations, President Ma's visits to the U.S. consist of stop-overs while transiting to other countries. Ma, who spent four years at Harvard Law School, wanted to revisit his old haunts, including the office where he completed his dissertation on the law of the sea with particular reference to the East China Sea, and the apartment building where he lived as a student nearly 35 years ago, according to Professor William Alford '77. Alford, who knew Ma when they were both students at HLS and who has stayed in touch since, served as his host at Harvard.
Over the course of a busy day, Ma had lunch at the Harvard Faculty Club with what he called three generations of HLS faculty leaders on East Asia, including Jerome A. Cohen, now at New York University School of Law, who served as director of East Asian Legal Studies at Harvard (EALS) in the 1960s and 70s, Professor Alford, the current director of EALS, and Assistant Professor Mark Wu, whose research focuses on international trade with an emphasis on Asia. They were joined by senior Harvard faculty specializing on China, including former Faculty of Arts and Sciences Dean William Kirby and Harvard School of Public Health Professor William Hsiao, several other scholars of East Asia and dignitaries, including Chairman Raymond Burghardt of the American Institute in Taiwan, previous representatives of the U.S. to Taiwan, and two members of Congress, Blake Farenthold of Texas and Stacey Plaskett of the Virgin Islands, whose districts have substantial ties to Taiwan.
After the lunch, Ma spoke at a small, invitation-only seminar with the scholars and nearly two dozen students on issues including the South China Sea, an area disputed by several jurisdictions, and on cross-Straits relations. Afterward, he enjoyed a tour of the campus and surrounding areas, including a brief visit to a tree near his old, university-owned apartment on Holden Green. There, he invited Shen Lyu-shun, Taiwan's representative to the U.S., and Professor Alford to hold hands and join him in hugging the old tree, as current residents of the apartment complex looked on in some confusion at the mass of black SUVs and the many different security forces that accompanied the delegation.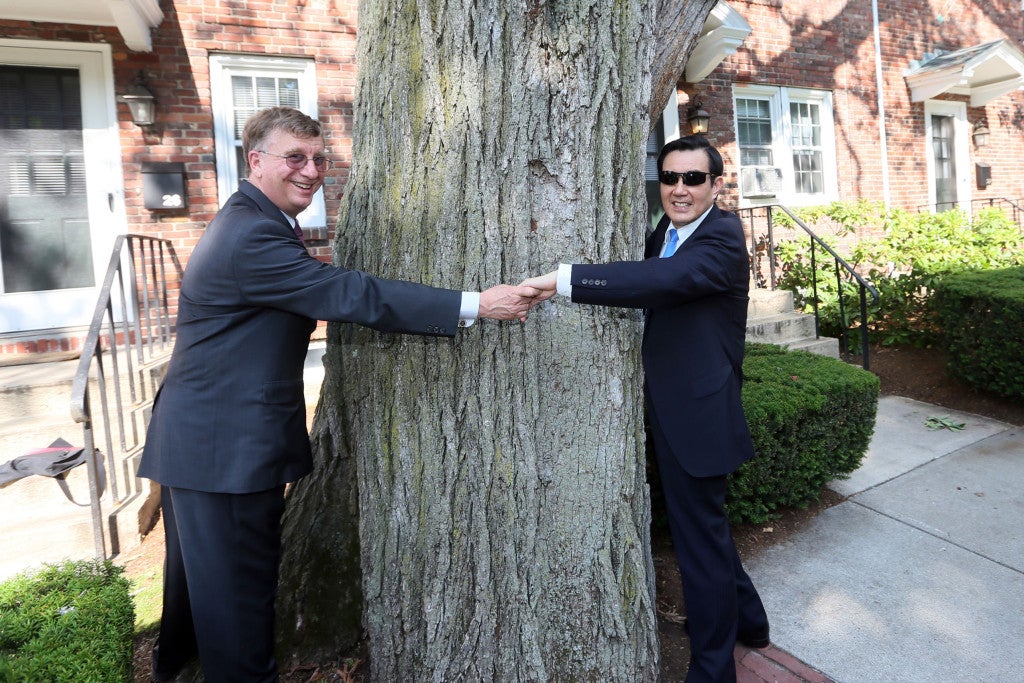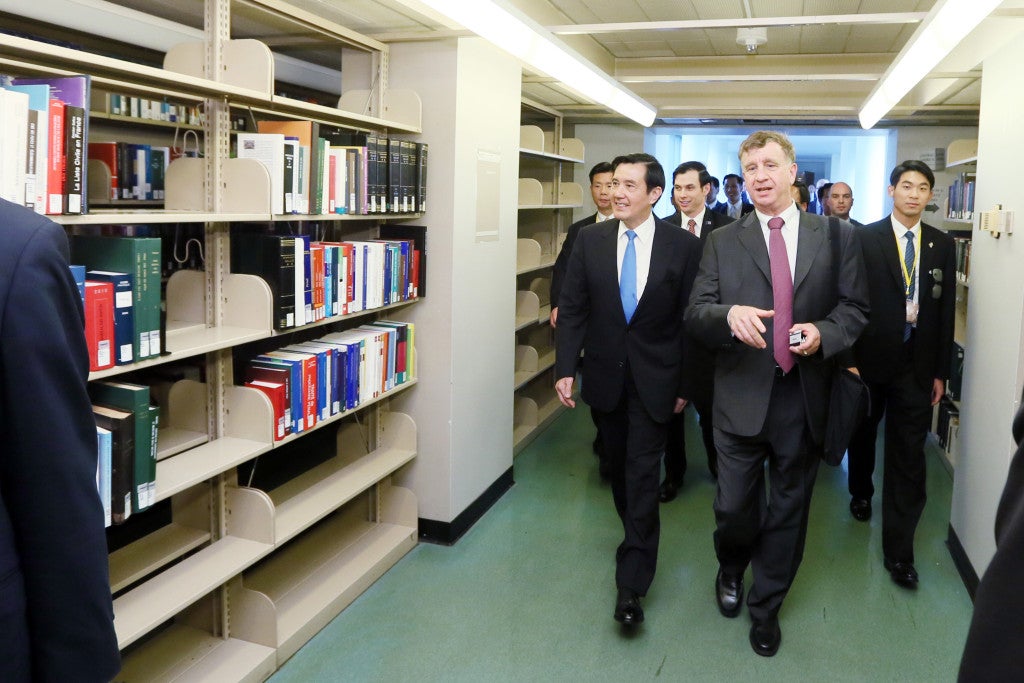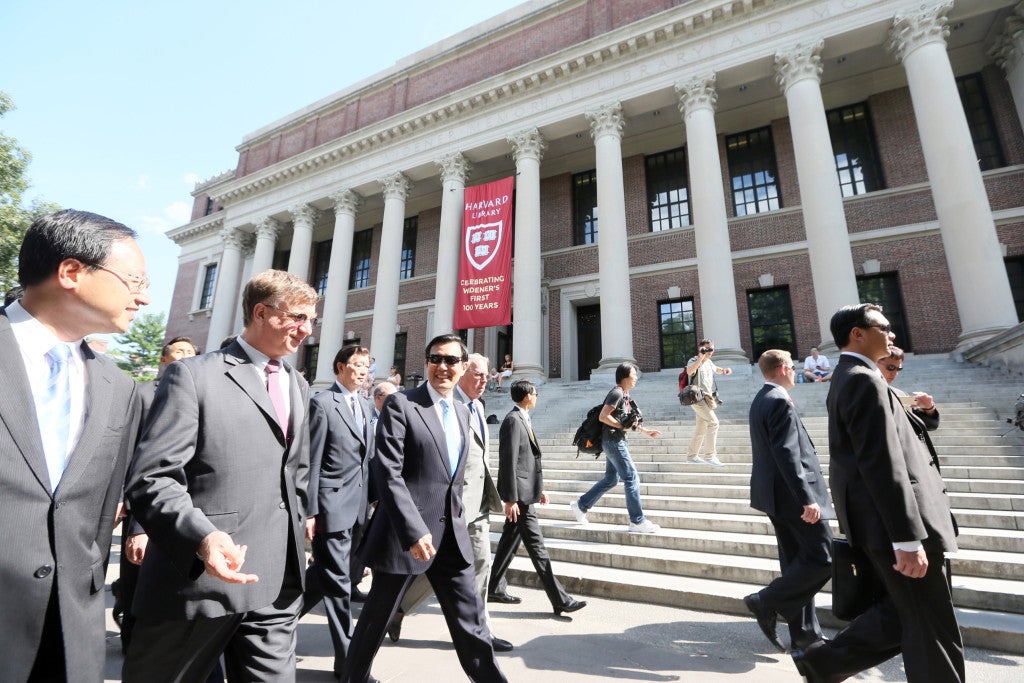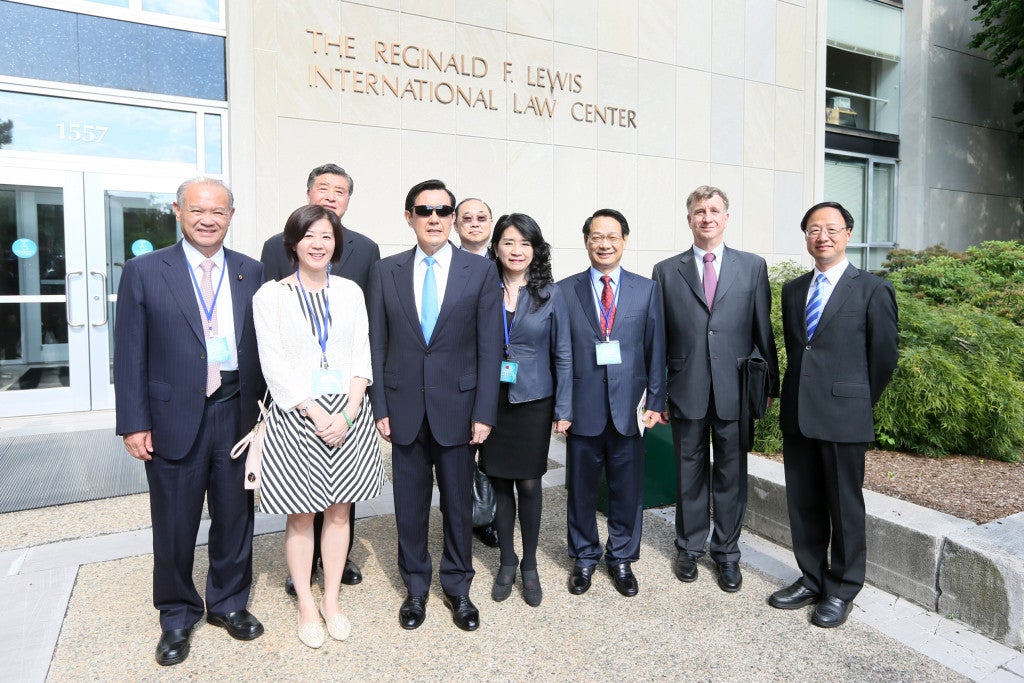 Ma, last visited Harvard nine years ago when he was mayor of Taipei, the capital of Taiwan, and more recently he "visited" electronically, engaging in a lengthy question-and-answer session with faculty and students. "The faculty and students asked pretty tough questions, and he was very gracious" Alford said, recalling the event. "It's a little hard to imagine an American president opening himself up for three hours of questions from foreign academics and students."
The brief visit to Harvard followed one made by Dean Martha Minow, Alford and a group of alumni from across Asia to see Ma in the summer of 2013. That visit also included a meeting with Annette Hsiu-lien Lu LL.M. '78, Taiwan's former vice president and a leader of the opposition Democratic Progressive Party, who spoke last year at HLS.
***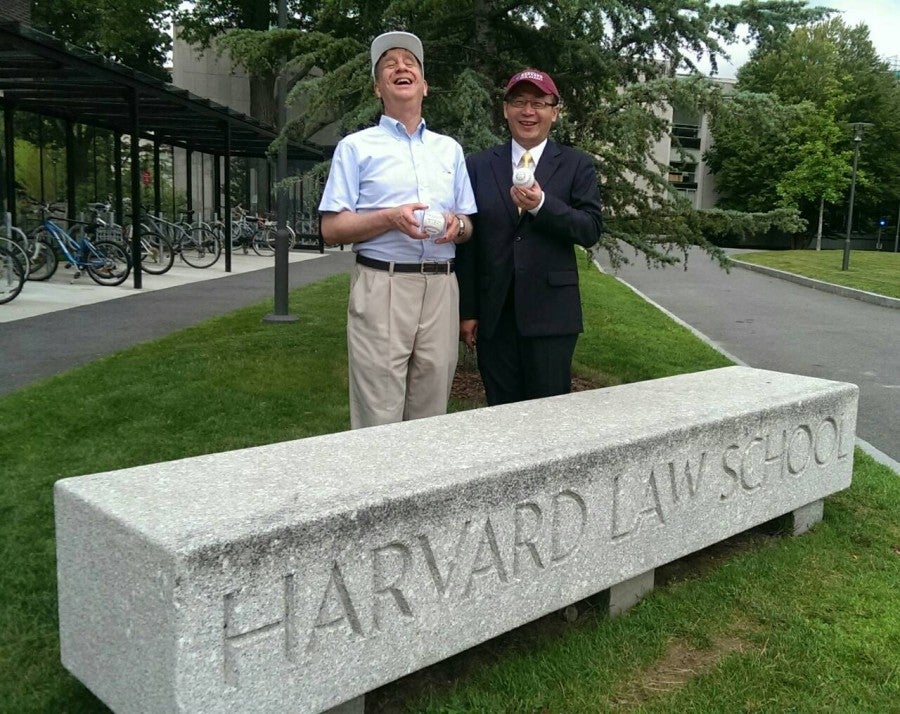 On July 15, HLS hosted its second visitor from Taiwan in one week, welcoming John C.Y. Wu LL.M. '97, the commissioner of the Chinese Professional Baseball League (CPBL). Wu's visit followed a trip to the Major League Baseball's All-Star Game in Cincinnati, played on July 14, where Wu was the guest of MLB Commissioner Rob Manfred '83.
According to Professor William Alford '77, who knew Wu when he was a student at HLS, the visit highlighted the span of Harvard's "global reach in sports." During his visit, Wu and Alford exchanged Harvard and CPBL baseball caps, and Wu invited Alford to throw out the first pitch at a baseball game when Alford visits Taiwan next spring.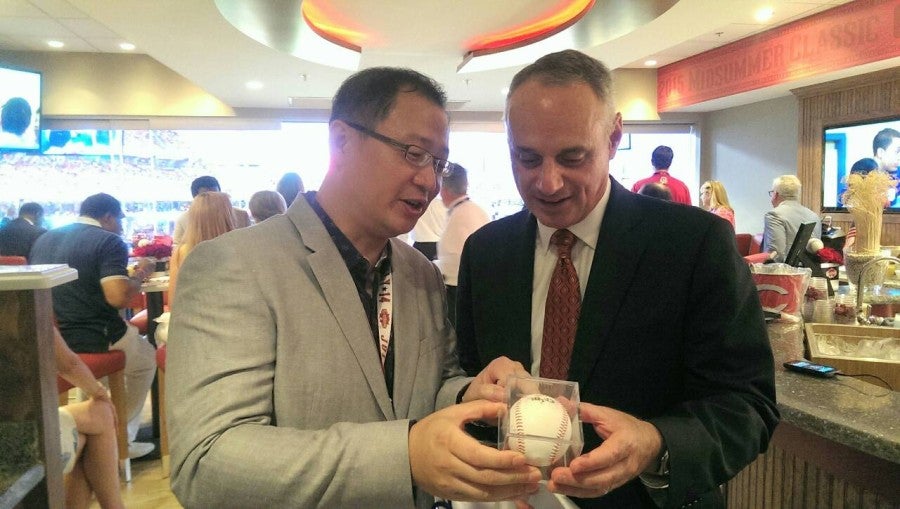 Baseball is one of the most popular sports in Taiwan, and the CPBL is the country's only professional sports league. The league is made up of four teams, some of which have sent baseball players to the U.S. Eleven players from Taiwan have played Major League Baseball, including Chien-Ming Wang, a pitcher for the Seattle Mariners, and Chin-Feng Chen, once an outfielder for the Los Angeles Dodgers and the first to play for the MLB.
Before becoming commissioner of the CPBL in February, Wu was a politician in Taiwan's ruling party, the Kuomintang (KMT), and a successful businessman.