Students from Harvard Law School's World Trade Organization Moot Court Team won the North American Round of the John H. Jackson Moot Court Competition. The competition took place in Washington D.C. on April 10 to 14.
The global John H. Jackson Moot Court Competition, formerly known as the European Law Students Association Moot Court Competition on World Trade Organization Law, marks its 17th year of competition this year.
This year's Harvard Law School team members were: Shuhao Fan '21, Erin Formby '20, Danica Harvey '20, and Shyiu (Jenny) Liang '21. Barbara Medrado '19 Kevin Gu '20 served as coaches. Professor Mark Wu served as faculty advisor.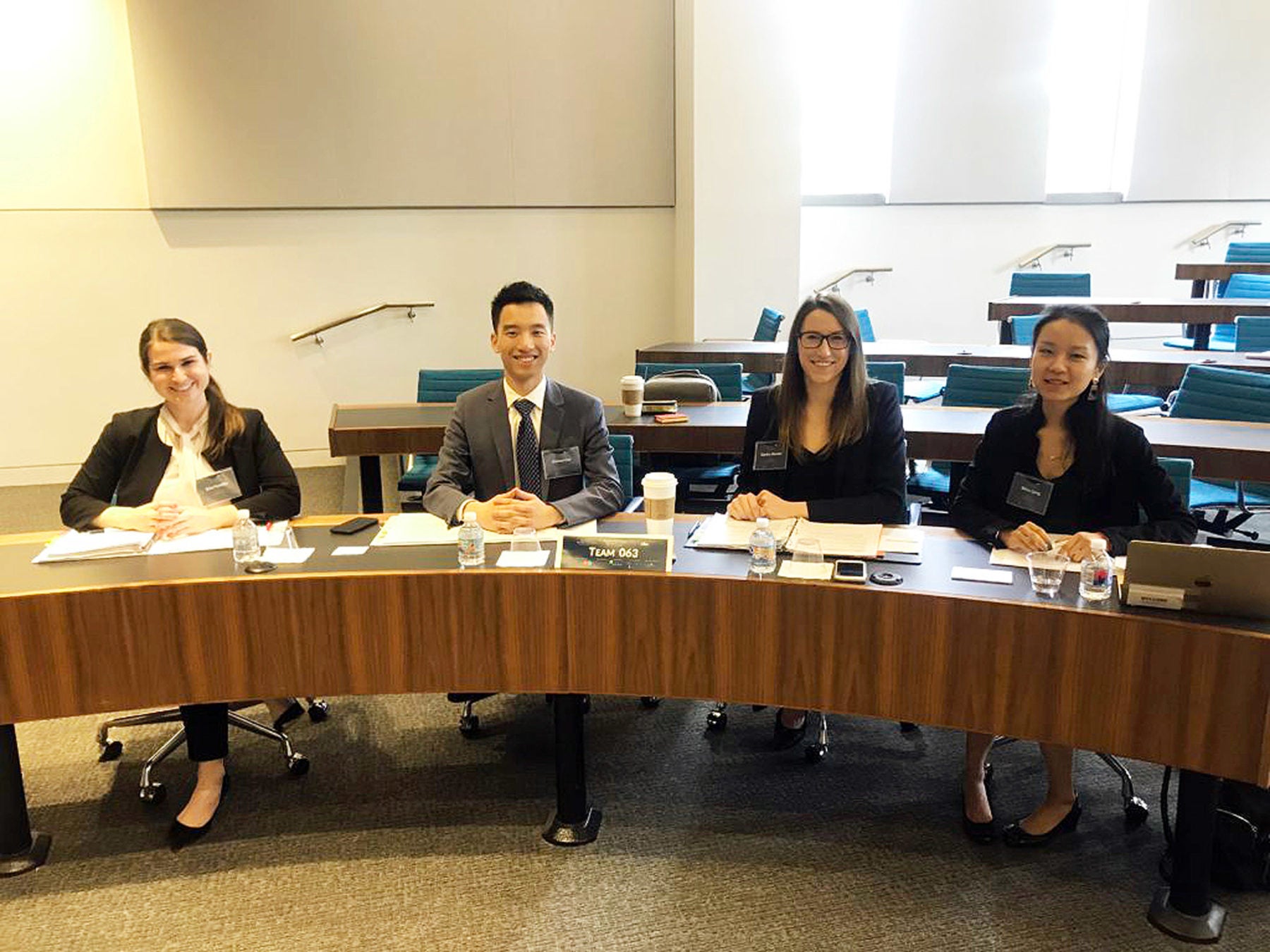 "Our team has poured a lot of effort into this competition over the past several months, so it was really exciting to put everything into action in DC," said Harvey. "We owe a special thanks to our student coaches and Professor Wu for their time helping us prepare."
The competition is a simulated hearing of the WTO dispute settlement system. The teams prepare and analyze a fictive case and present their arguments both for the Complainant and the Respondent in front of a panel which consists of WTO and trade law experts.
In this Regional Round, 13 university teams from countries such as the U.S., Canada, Mexico, Guatemala, Colombia, and Brazil participated this year. Harvard Law School competed against Georgetown for the final round.
Medrado, who was a member of last year's winning team, said: "This competition has been the most challenging and rewarding experience at HLS so far. Kevin and I were excited to remain involved with the WTO Moot Court Team and coaching this team has been a great experience. We believe our strongest asset is the team's strong alumni body who is willing to put in time in helping the team. As coaches, we were proud of how the team evolves throughout the preparation and during the competition. We are especially grateful for Professor Wu, whose time, guidance, and support was indispensable, and for our coaches and team members last year (Devony Schmidt '19, Zach ZhenHe Tan '19, Ryan Manucha '19 and Han Seul Yoon '20) who have a played a significant role this year as well. We look forward to the finals in Geneva."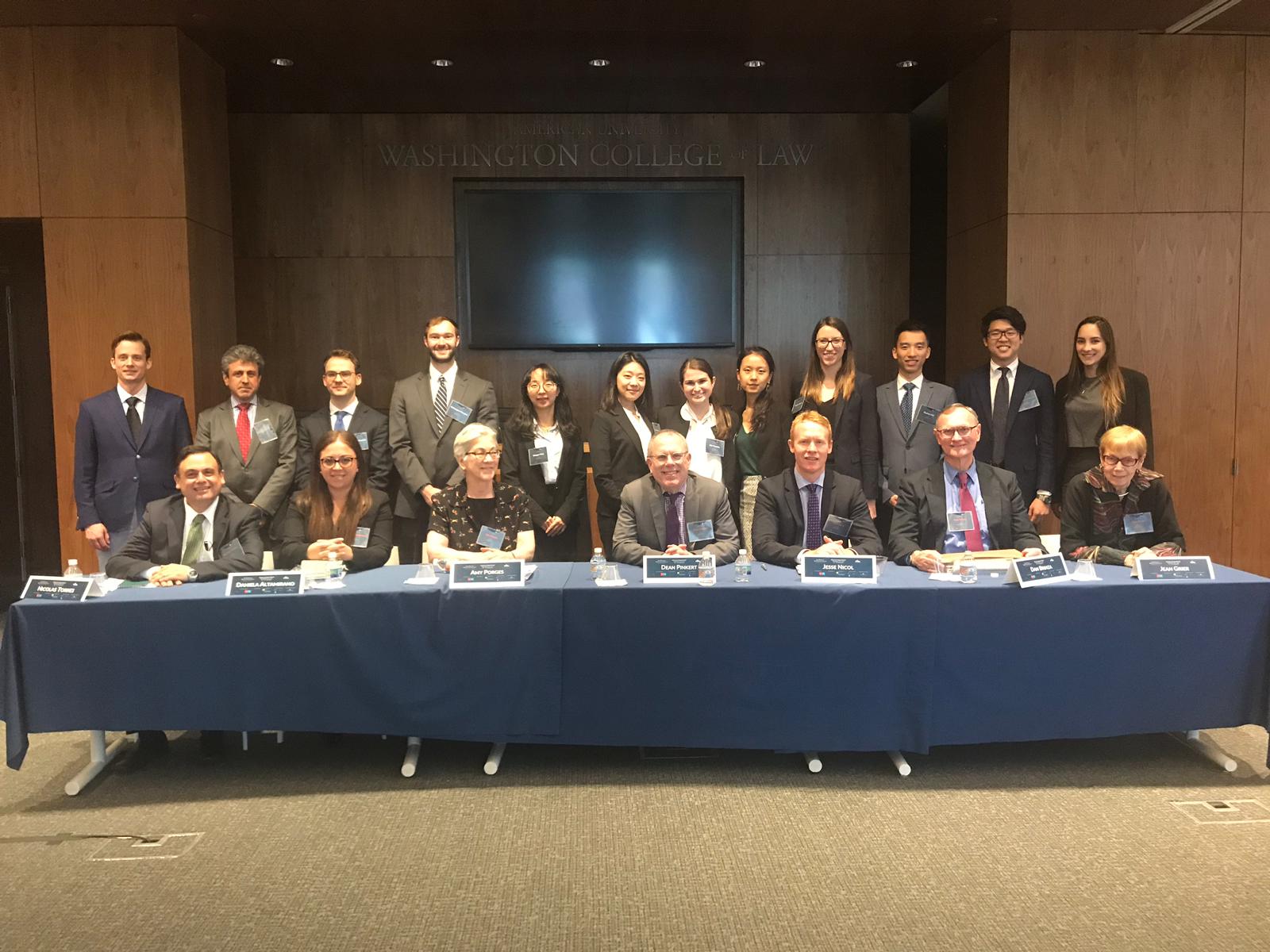 The Jackson Moot Competition annually draws participants from around the globe. This year, students from 90 schools on six continents are competing. The competition opens each September with the release of the case followed by regional rounds in Europe, Asia Pacific, Africa, and the Americas. The best 20 teams worldwide of the individual rounds qualify to participate in the Final Oral Round, which will take place in Geneva, Switzerland, in June.
The HLS team's success marks the seventh time in eight years that HLS has won the regional competition. Last year, Gu was awarded best oralist for the final round.
Conference organizers say the aim of the competition is to enhance knowledge of international trade law and WTO dispute settlement procedures, as well as "to enhance the capacity for meaningful engagement in multilateral trade in the long term."
The competition was renamed this year to honor Michigan Law Professor John H. Jackson, who was a legal giant in the field of international trade law. Jackson, who died in 2015 at the age of 83, is considered one of the chief architects of the World Trade Organization's dispute-settlement procedures. He taught at Michigan Law for 35 years and another 18 at the Georgetown University Law Center.
Each fall, interested Harvard Law students submit applications for a spot on the HLS WTO team and coaches host individual tryouts. This year's final team of four was selected in October. Former team members help with preparations by mooting the team.