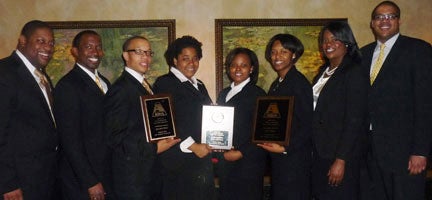 In January, two teams of Harvard Law School students won first place and second place at the Northeastern Regional BLSA Trial Advocacy Competition. The prestigious competition was held over three days, in Syracuse, N.Y. This is Harvard's second consecutive year winning first place at the competition.
Twenty trial advocacy teams from across the Northeastern Region competed. The two Harvard BLSA teams advanced undefeated to the final round—Harvard versus Harvard for the championship title.
The first place team consisted of Ieshaah Murphy '12, Julian Thompson '10, Nneka Ukpai '11, and Dominique Winters '10. The second place team consisted of Charles E. Redmond II '11, Anthony Hendricks '12, Etienne Toussaint '12, and Allison Reid '12. Reid secured a perfect score to win Best Advocate for the regional competition.
In an email exchange, the team said they owe a debt of gratitude to their "esteemed coaches," CJI Deputy Director J. Soffiyah Elijah and CJI Clinical Instructor Dehlia Umunna. "Without their dedication, patience, and hard work, this victory would not have been possible." The team also credited Professor Ronald Sullivan for "aiding both teams tremendously in preparation for motions arguments."
The mock trial in the competition involved charges of theft, theft of trade secrets, and breach of computer security against an industrial engineer. Murphy, Thompson, Redmond, and Hendricks represented the prosecution; Ukpai, Winters, Toussaint, and Reid represented the defense. The team members met weekdays and weekends to prepare for the competition.
Both Harvard BLSA trial teams will advance to the National BLSA Trial Advocacy Competition. That competition will be held on March 11, in Boston, where the top three teams from each of the six regions will compete for the national title.