At Harvard Law School on Jan. 29, the Harvard Association for Law and Business (HALB) hosted Kim Koopersmith, chairperson of Akin Gump Strauss Hauer & Feld, and Jami Wintz McKeon, chair of Morgan Lewis & Bockius, as a feature event in HALB's inaugural Women's Leadership Speaker Series. In a field where women are significantly underrepresented in positions of leadership, the event served as a unique opportunity to see two women firm chairs speak to their experiences. Koopersmith and McKeon interviewed one another about several topics, including their respective paths to managing global law firms, challenges they faced along the way, and their outlook on the rapidly changing legal market.
HALB began working on the Women's Leadership Speaker Series at the end of the 2016 – 2017 academic year, with the goal of featuring women leaders across business and law who could offer unique insights on their career paths, industries, and perspectives on leadership.
"We felt it was our responsibility to leverage HALB's platform to highlight some of the incredible women leaders in our field," HALB co-president Jianjian Ye '18 explained.
In a room of nearly 70 students, Koopersmith and McKeon started by explaining the beginning of their friendship. Koopersmith noted that she became chair of Akin Gump in 2013, one of only a handful of women leaders of large firms. "I anxiously awaited some word that there were other people like me," Koopersmith explained. Months later, "I was in the Moscow Airport…and I see…an update saying 'Jami McKeon elected chair of Morgan Lewis' and I thought, 'My dream has come true.' I am going to email her right now, and I am pretty sure because I am eight hours ahead, that I will be her first congratulations, which I was!"
Both noted that in the early days of their careers they had not aspired to such lofty roles, but that strong mentorship, coupled with their own enthusiasm and authenticity served as key drivers along the way. Koopersmith detailed how her initial outreach to Vernon Jordan Jr., her undergraduate commencement speaker and a famed member of the firm, quickly led to a friendship and mentorship that help grow her internal network and shape her career. Speaking about the power of authenticity, McKeon noted, "From the second you start any job you have to be yourself [because] being authentically yourself…captivates people." McKeon went on to highlight how her candid and personal style helped her build trust throughout her career, including in her current role as chair.
Reflecting upon the event, Elizabeth Ferrie '19 explained, "It was inspiring to have these two powerful women in the same room. Seeing them occupy such high-level positions, while maintaining down-to-earth personalities, made me feel optimistic about my own future."
In line with the series' title and core purpose, Koopersmith and McKeon also discussed characteristics of great teams, the experiences that prepared them for their current roles, and their outlook on some of the unique aspects of being a woman leader. Koopersmith offered specific examples of how being comfortable with personal topics and conversations assisted her in relating directly to her teams and communicating effectively. McKeon followed by noting that these kinds of differences were at the heart of why diversity is an imperative at Morgan Lewis. "It's not because we want more people of color, or more women, or more X, or more Y, it's that…the more diversity you have the better your decisions and the more interesting your environment."
Koopersmith and McKeon also emphasized the importance of resilience, balance, and positivity. Responding to a student question about difficult days, Koopersmith reassured, "There were many days I did not want to get out of the shower…that is normal." She added, "What I learned through experience, is that this really is a journey…There is a long arc to this career…and this is an incredible profession."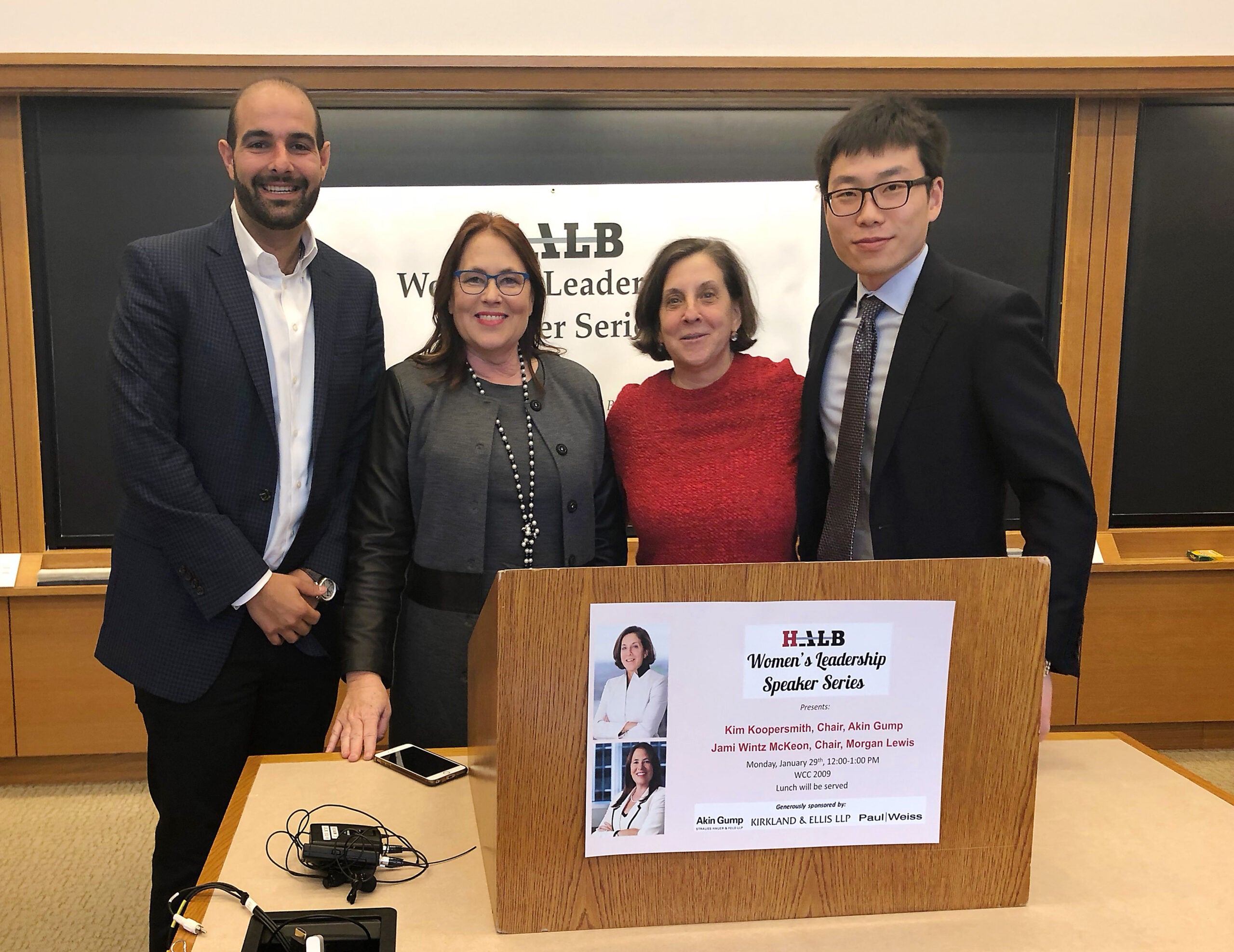 When summarizing the event days later, Kafafian, the event organizer, noted, "From the outset, there was something bittersweet about realizing that we had half of the women firm chairs in the AmLaw 100 in the room with us that day. It was both a wonderful reminder of how blessed we are at HLS to have access to such incredible speakers and leaders, as well as a glaring reminder of how far we still have to go. Interestingly, this acknowledgement is at the heart of what motivated the creation of HALB's Women's Leadership Speaker Series."
The 2017-2018 HALB Women's Leadership Speaker Series is sponsored by Akin Gump, Kirkland & Ellis, and Paul Weiss.