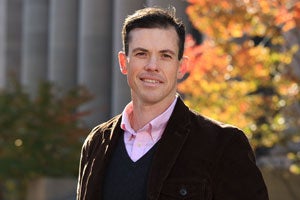 In his first tour of duty in Iraq, in 2007, Marine Capt. Courtney Walsh LLM '11 was one of two defense attorneys who represented Marines in Al Anbar Province charged with a range of infractions, from disciplinary violations to serious crimes tried in a court-martial. Walsh also handled basic civil legal matters for Marines that needed help, including family law matters, wills, and letters to creditors, "fan favorites," as Walsh puts it, adding, with a wry smile, "I was the most qualified divorce lawyer in Iraq."
His office? A wood shipping container that had hauled huge weaponry from the U.S., which they'd divided into three sections with plywood walls and a door cut into the container wall. "I had a desk," he says. "It was pretty good."
It was, says Walsh, "a terrific, terrific year. You cannot help but feel very unique, like you're doing some job that few lawyers or few Marines could do – and I also felt like I was sublimely using my law degree, to go to places that nobody could go or places where people who had this skill set couldn't get to, and provide a service people needed, and provide the best service I could."
After returning to the U.S. for a year and a half, at Camp Lejeune in North Carolina, where he worked on employment and labor law issues, and prosecuted workers' compensation fraud among civilian defense department employees, Walsh volunteered for a second tour in Iraq with Third Battalion, Ninth Marines, where he served as the battalion commander's legal counsel, assisting with rule of law and governance issues.
"You have a lot of very well-qualified judges in Iraq at the city and local level," Walsh explains. "The difficulty is that the police and other security forces were still having a hard time standing up, and the courts were having a hard time standing up as well." Issues like electricity and security of the court building itself posed significant challenges. His battalion was training the local security forces, and Walsh acted as a liaison for the local judges and prosecutors, helping solve problems such as how to develop evidence for cases. "It was great. It was phenomenal," he recalls.
Walsh wrote about that experience in his application essay for the LLM program at HLS, where, this year, he is one of four active duty military lawyers, including his longtime friend and fellow Marine Capt. Siddhartha Velandy. Walsh is concentrating in environmental law, taking a course on that topic this semester with HLS Professor Jody Freeman LLM '91, SJD '95. "What's interesting about the Marine Corps is that we manage vast pieces of federal land, and so we have a whole spectrum of environmental regulations and statutes" to adhere to, Walsh says. "We, as a service, take great care to maintain these lands in accordance with controlling authority, and this has driven the need to maintain an in-house environmental law capability in both the Marine Corps and the Department of the Navy."
Walsh is also taking two courses with HLS Professor David Barron '94, Lawyering for the President, and Local Government Law, as well as Privacy, Technology, and National Security, with Professor Philip Heymann '60. "The professors have treated me as a colleague. I think they've really been interested in my professional experience and background, and I include Dean Minow in that assessment," he says. The dinner Dean Minow held for the HLS veterans on Veteran's Day, he says, "had the feeling of an impromptu seminar," as Minow peppered the group with questions about their experiences and views on military and political issues.
"I knew that Harvard would be awesome on the conceptuals, the big ideas, but all three of my professors this semester have been real, practicing lawyers at the tip of the spear in their areas of the law, and at the highest levels of government" he says. "For instance, to talk through national security issues with Phil Heymann, you get a real window into what the briefing and decision making criteria would be like on these issues. That kind of decision making and leadership development is an added bonus that I did not necessarily anticipate."
Walsh grew up in Fort Lauderdale, Fla., and from a young age had two goals: to be a lawyer, and to be a U.S. Marine. He commissioned with the Marines while he was an undergraduate at the Citadel, completing Officer Candidate School after his junior year of college. After graduating in 2001, he went to law school at the University of Florida and became a member of the South Carolina Bar in 2004. After joining the bar, he attended the 6-month long Basic Officer Course for Marine lieutenants in Quantico, Va., and then took additional training in military law at the Naval Justice School in Newport, R.I., before heading to Camp Lejeune, where he served as a defense counsel, representing Marines and Sailors charged with various misdemeanor and felony level crimes at court-martial. It was there that he met and developed a friendship with Velandy, who was the Marine prosecutor in many of those cases.
Walsh is in Cambridge this year with his wife Maggi and two young children, and every morning, very early, he can be seen running along the Charles River. As active duty Marines, who this year are officially attached to 25th Marine Regiment in Fort Devens, Mass., Walsh and Velandy are required to stay physically fit, as well as to remain proficient with weapons and martial arts. All four of the military LLM students are attending HLS with tuition paid by the U.S. government, and a stipend for living expenses. For Walsh, who was separated from his family while he was in Iraq, this year is ideal. "Thanks to Harvard and the Marine Corps," he says, "we get to be here as a family and it's really a dream come true."
Next: Sylvaine Wong LL.M. '11, U.S. Navy, Lieutenant Commander »