Between 60 and 80 undocumented students are studying at Harvard, and though they're a small fraction of the student body, some could have their lives eventually turned upside down.
U.S. Attorney General Jeff Sessions had pegged March 5 as the end date for the Deferred Action for Childhood Arrivals (DACA) program, which legally shields young immigrant students from deportation. It has been unclear what the government would do after the deadline passes. However, the Supreme Court said on Monday that it would not rule on the administration plan to end the program. Since federal district judges in New York and California previously issued injunctions against its quick end, the March 5 date likely is now too soon for a program phase-out. Still, the students' worries remain.
To draw attention to the students' quandary, three Harvard professors and a Ph.D. student in African and African American studies launched the DACA Seminar, a series of events on campus aimed at sparking conversations about the future of DACA and immigration policy and reform, while working to understand the students' options.
***
On Friday March 2 the DACA Seminar series continues with "Legal Strategies for Fighting Back: A Conversation with Top Immigration Lawyers." The discussion will feature Sabrineh Ardalan and Deborah Anker, assistant director and director, respectively, of the Harvard Immigration and Refugee Clinic (HIRC); Mike Wishnie from Yale Law; and Dan Kanstroom from Boston College Law. HLS Prof. Christine Desan will moderate.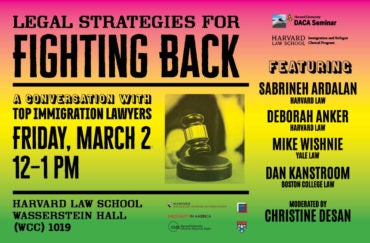 ***
The Gazette sat down with Roberto Gonzales, professor of education at the Harvard Graduate School of Education, author of the book, "Lives in Limbo: Undocumented and Coming of Age in America," and one of the organizers of the DACA seminar, to talk about his motivations and hopes for a DACA compromise.
(This interview came well before the Supreme Court decision that likely shifts the March 5 deadline, so some context is required for the following discussion.)
Q&A: Roberto Gonzales
What motivated you to launch a series of events about DACA and immigration on campus?
After Jeff Sessions announced the termination of DACA, I spoke with many students, young people, parents, and community-based organizations, and I received more than 50 invitations for campus visits this semester alone. But I wanted to do more and I wanted to do something on campus. I thought that one way to keep the conversation going on campus and in the broader community in Cambridge and Boston was to have a series of events between late January and March 5. I approached colleagues across the Yard, Kirsten Weld and Walter Johnson, who had participated in faculty events supporting our undocumented and DACA students last spring.
The three of us put our heads together and crafted the seminar. My idea initially in reaching out to them was to do a Harvard-wide event, in the spirit of One Harvard, and thinking about an issue that revolves around borders, I really wanted to dissolve any kind of borders on campus, so we're hosting events here at the Ed School, as well as across the Yard. We have events at the Kennedy School, the Divinity School, and the Law School, and we're sponsoring events with the Sociology and Anthropology departments, and with several centers on campus.
The DACA seminar includes talks by undocumented students and workers at Harvard, musical performances, and a conversation with Angela Davis. What do you hope to achieve with these?
The plan is to carry out a series of events with activists, organizers, thinkers, scholars, and to engage in a conversation building on the popularity of DACA. DACA is really in the mainstream, and after the government shutdown, many people are talking about DACA on campus and outside. But we wanted to build out from DACA to a larger set of issues, to pull people in around the conversation on DACA shutdown and what it means for young people and for our students. We also want to broaden the conversation about immigration enforcement, the ending of TPS [temporary protected status], the implications of our immigration policy on our students, our workers on campus, and our community more broadly. As scholars and teachers, our duty to our students and to our colleagues is really to open up a conversation and engage our community in dialogue around the many sides of this issue.
The seminar began on Feb. 1 and will end on April 17. What has been the response of the community so far?
It has been overwhelming. We had a kickoff event with Jose Antonio Vargas and Joy Reid, and about 300 people turned out. After that event, I received a dozen emails from colleagues who wanted to get involved. We're in a political moment when a lot of people want to do something. We feel a bit discouraged and powerless, especially our students, to really engage in the political debate, which often happens at the 30,000-foot level. That's why I think that bringing this down to a more local level helps a lot because people can tangibly engage with some of the top scholars and top leaders in the country and feel less helpless and more encouraged. It's been also really important that we involve those who are most impacted by this. Most of our events include undocumented or DACA-mented students.
What would you like to see happen at the local level in terms of DACA and immigration in general?
We hope this is a conversation that sparks action. We have between 60 and 80 undocumented students on campus who will be potentially very vulnerable if DACA is rescinded. We have a number of workers, custodian and janitorial staff, security guards, cafeteria workers on campus who are not only potentially parents of DACA beneficiaries, but also TPS holders. From a very local campus level, our community is being impacted centrally by some of the policy decisions made at a very high level. With the intellectual base of this campus, there is real potential to impact the public debate and policy at the K‒12 level, the higher education level, and also at the community level.
And what would you like to see happening at the national level?
Our real hope is that Congress acts on this issue and that they extend rights not only to DACA beneficiaries but TPS holders as well. Advocates are pushing to extend DACA; this is something that is being fought in the courts, and Congress is trying to pass some sort of a longer-lasting bill.
This is a critical time in this country around questions of immigration and questions of inclusion and belonging, and how we define membership. At the policy level, our hope is that our elected officials really embrace the value of immigrants to this country, and look at their contributions, not only to the economy but to their communities and to their families. We also hope that they recognize that extending DACA protections is the right thing to do. We know that there is a good possibility that, come March 5, there is no solution.
As I mentioned earlier, often the political debate happens at a great distance from most of us, and certainly that's the case for most of our students. But in the absence of any kind of federal immigration reform, we hope to engage people and our community around potential state legislation that might extend drivers' licenses and in-state tuition for undocumented students if DACA goes away. We hope to encourage more action at the local level, and that would also include on campus, and how our faculty and administration can extend additional services and resources, and how student peers and faculty can become advocates for those most affected.
What are the plans for March 5?
We've invited a number of artists, poets, and musicians on March 5 to perform and lead workshops at the Memorial Church. The workshops will take place during the day to bring people together — staff, faculty, students — and in the evening we'll have performances.
We're encouraging our colleagues on other campuses and the media to come out. We want to shine out a bright light on this day and draw attention to the reality of DACA.
The reality is that upwards of 800,000 young people benefited from DACA, and, come March 6, if nothing happens, on average about 1,100 young people a day would lose their status (if the program is not continued). Think about this population; 800,000 people is no small number. It's the population of medium-size cities. It's the size of Boston, Seattle, Baltimore, and Atlanta. And so, for us, we really want to draw attention to what is tantamount to a massive disenfranchisement of a group of young people who, over the last five years, have been participating at high rates in our economy, schools around the country, all sectors of the workforce, and the civic life of their communities.
---
This interview was originally published in the Harvard Gazette on February 23, 2018. It has been condensed and edited for clarity and length.