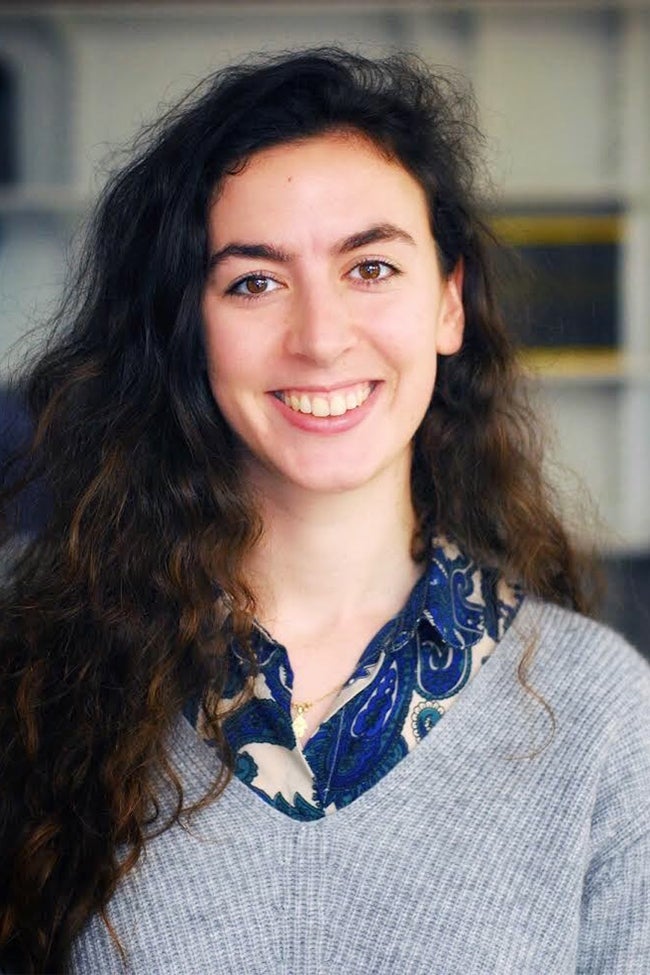 Between 2010 and 2014 in the eastern Democratic Republic of the Congo (DRC), rebels from the Nduma Defence of Congo (NDC) militia murdered, raped, and looted hundreds of civilians and forced children to become soldiers. In November 2018, the trial for war crimes and crimes against humanity against NDC's militia leader Ntabo Ntaberi, who goes by the war name "Sheka," commenced before the Operational Military Court of North Kivu.
As a 2018-2019 Satter Fellow in Human Rights, Anna Khalfaoui LL.M. '17 spent the year in the DRC working with the American Bar Association Rule of Law Initiative (ABA ROLI) to assist survivors and their lawyers through the trial, acting as a liaison in support of the justice system.
"After nine years, to finally have a trial that looks at these incidents is so important," said Khalfaoui, a British-trained French attorney who chose Harvard Law School for its human rights training. "Being part of the team supporting survivors who've waited so long to tell their stories is an incredible learning opportunity."
Khalfaoui also assisted survivors and their lawyers in the historic trial of militia leader Marcel Habarugira Rangira. With the support of a coalition of local and international actors, including ABA ROLI, Habarugira was convicted in February 2019 of the war crimes of rape and of conscription, enlistment and use of children as soldiers. The conviction for conscripting and using child soldiers was notably the first such conviction in the DRC.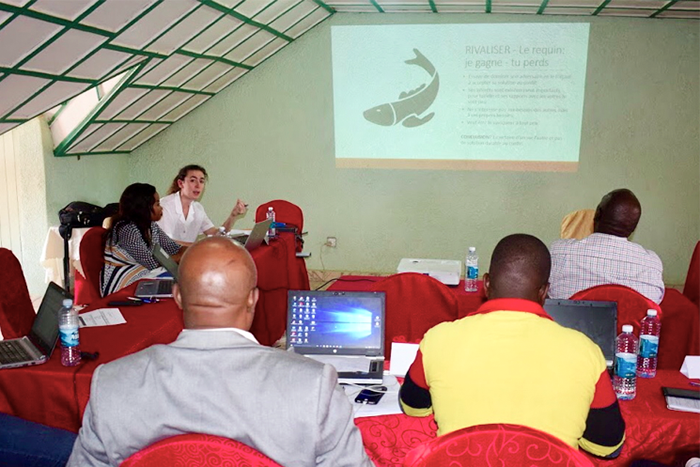 These cases are very challenging, Khalfaoui noted, explaining that there is tremendous pressure on survivors to recant their stories. Diverse actors, from the military justice and local organizations, to NGOs like ABA ROLI and the UN peacekeeping forces in the DRC have worked together to make these trials possible. They are nevertheless expensive, often lengthy, and incredibly complex. Given the instability and insecurity in Eastern DRC, these trials face critical challenges from the lack of an effective investigative and prosecutorial strategy to difficulties providing protection for the survivors and witnesses.
Still, Khalfaoui is determined to continue working on these important issues. "I think it's become clearer as I work on this trial that I'm more and more interested in doing direct legal work with people who are affected by human rights violations," she said. During her fellowship, Khalfaoui is also supporting ABA ROLI's early warning system for preventing atrocities, which allows people to alert security forces when there are signs of impending violence against civilian populations. The system, which is also being used in response to an Ebola breakout, is being expanded to new zones in Eastern DRC and to include conflict prevention activities to reduce community conflict.
After the fellowship, Khalfaoui plans to continue working on international human rights and international humanitarian law litigation.
The Satter Human Rights Fellowship is designed to support and promote human rights defense in response to mass atrocities. The fellowship is made possible by a generous gift from Muneer A. Satter J.D./M.B.A.'87. This profile is a preview of the 2018-2019 Human Rights Program Annual Report.
---
Related Reading
Congolese warlord convicted of war crimes with the help of ABA ROLI (ABA Journal, March 28, 2019)
Fighting Against Impunity in the DRC: Historic Conviction of an Armed Group Commander (ABA Rule of Law Initiative Blog, February 22, 2019)
The Curious Case of Civilians Working in Munitions Factories: Civilian Assumption of Risk in Armed Conflict and the United States' DoD Law of War Manual (The Military Law and the Law of War Review, 2017-2018 Volume 56, Issue 56/2)