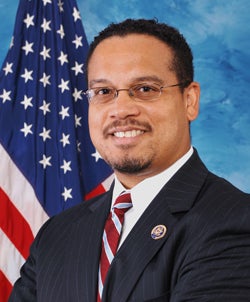 "Liberty and justice for all" and other quintessentially American ideals must be extended to Muslim-Americans in the face of anti-Islamic rhetoric in the nation, said Democratic Congressman Keith Ellison of Minnesota, the first Muslim to be elected to the United States Congress, during an event at the Harvard Law School on March 28.
Ellison, who practiced law for 16 years before entering public office, bookended his talk with a call to action, encouraging students and community members to stand up for Muslims in American who are being discriminated against by people "who assert boastfully things like the Declaration of Independence and the Pledge of Allegiance" yet have an "exclusive and limited" purview of who is included in them.
"Because the fact is when those words were said, when they were written, it's easy for us to sit back and say they weren't true," he said. "But I would submit to you that they weren't true, yet. And whether they will be true is up to us."
Ellison drew on his experience from a recent Congressional hearing called by Representative Peter King (R-NY) on the topic of Muslim "radicalization" in the US, where he cited the story of Mohammed Salman Hamdani, a Muslim-American first responder who was declared a "person of interest" after he was reported missing after the 9/11 attacks. Hamdani's body was later found at Ground Zero.
Individuals like Hamdani and their families should not have to fight to be included in phrases like "we the people" and "liberty and justice for all," said Ellison.
Comparing the challenges facing Muslim-Americans today to those experienced by other historically oppressed groups, Ellison argued that people have to fight against those "who believe there's no room in America for those who are Muslim." These individuals are not going to quit unless they are confronted, he said, and some people have to be willing to take risks to overcome them.
"There is no question that people who want to promote intolerance are busy, and they're going to use the instrumentality of the state, they're going to use the airwaves," he said. "But you cannot let them represent this country; you represent it."
Ellison added that "Muslims are about all of the things that we're about, (such as) family and economics," not religious extremism or intolerance. There is no reason to engage in extremism in the US, he said, thanks to the wide variety of venues and ways in which to express one's opinion and influence society. Advocates for the rights of Muslim-Americans must make this clear to the public and be ready to work with others who are "animated by the best ideals of this country."
"The challenges are in front of us, but we have got to do what is within our hands to do to combat it and to confront it, and in so doing, we're going to transform this whole society and we're going to remind this society what it really is all about."