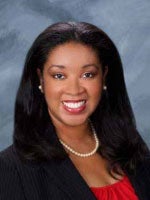 Adrienne Bradley '12 was named one of Latham & Watkins' 2011 Diversity Scholars in April. The Diversity Scholars initiative awards $10,000 scholarships to four second-year law students in the United States who intend to practice law in a global firm. The program is one of several firm initiatives designed to promote diversity and equal opportunity in the legal profession.
Bradley, who received her B.A. in economics from Harvard College, also has a Master of Public Policy from the John F. Kennedy School of Government, and a Master of Business Administration from UCLA Anderson School of Management.
Originally from Pine Bluff, Arkansas, Bradley most recently served as an economist for the Arkansas Public Service Commission, where she helped shape energy policy in the state by evaluating energy efficiency initiatives and analyzing cost allocations in utility rate cases. She has also served as the vice chair on the Central Arkansas Water Board of Commissioners.
Prior to her work as an economist, she consulted for Fortune 500 companies around New York City, with a focus on managing business unit mergers, creating strategic plans and standard operating procedures, and coordinating corporate information technology development. Bradley also worked as a policy analyst at the U.S. Office for Information and Regulatory Affairs in Washington D.C. during the administration of President Clinton.
Candidates for the Diversity Scholars Program submitted written applications, detailing academic and leadership achievements as well as their life and work experiences. The firm received more than 250 applications representing 103 US law schools.
"Year after year, the selection process is challenging because of the overwhelming response of deserving candidates," said Sharon Bowen, Co-Chair of Latham & Watkins' Diversity Committee. "This year's Diversity Scholars, as in years past, have demonstrated leadership, character and passion. Their stories are truly inspirational and help motivate our continuing efforts to support diversity in the legal community."
Latham & Watkins is a global law firm with approximately 2,000 attorneys in 31 offices all over the world. The firm works toward its diversity goals through a series of initiatives, including the Diversity Scholars Program, a range of mentoring and career development opportunities, and a noted initiative in support of women in business. In 2006, the firm launched an official initiative to help address the business challenges and opportunities unique to women lawyers and to existing and prospective women clients; the firm's Women Enriching Business (WEB) initiative creates broader networks and productive business relationships by promoting the long-term success of women via legal, educational and social events.