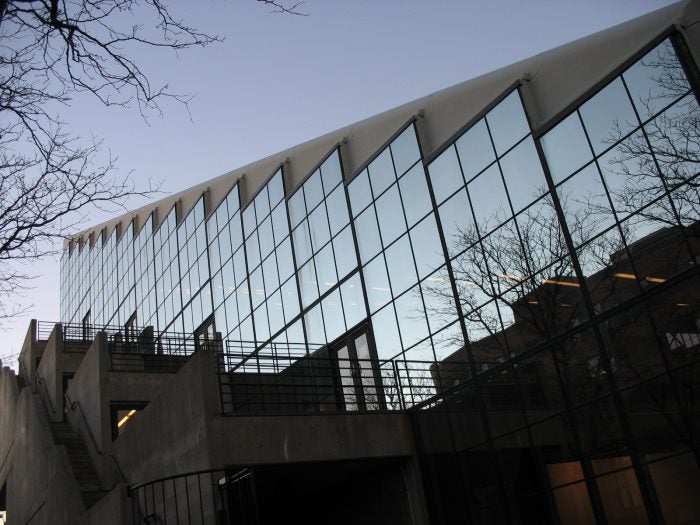 The J.D./M.U.P. joint degree program offer students the opportunity to receive two degrees in four academic years. Students will spend the first two years in full-time study at each of the two schools. In the third and fourth years students will be enrolled jointly at both schools.
Detailed program information can be found on the Academic Degrees Program page.
Please note that financial aid processes and funding will differ between schools.  Be sure to consult with each school's aid office when considering any joint degree program.
Financial Aid Information
Application Information

The Law School Student Financial Services Office will process your aid for the year you are full-time at the Law School and in the final two years of the joint program. The Design School will process your aid application for the year you are full-time at the Design School only. The chart below demonstrates the two possible scenarios for all four years of the JD/MUP program.

Scenario 1

| | | |
| --- | --- | --- |
| YEAR IN ATTENDANCE | SCHOOL IN ATTENDANCE | SCHOOL PROCESSING AID |
| Year 1 | Law School | Law School |
| Year 2 | Graduate School of Design | Graduate School of Design |
| Year 3 | Law School /Graduate School of Design | Law School |
| Year 4 | Law School /Graduate School of Design | Law School |

Scenario 2

| | | |
| --- | --- | --- |
| YEAR IN ATTENDANCE | SCHOOL IN ATTENDANCE | SCHOOL PROCESSING AID |
| Year 1 | Graduate School of Design | Graduate School of Design |
| Year 2 | Law School | Law School |
| Year 3 | Law School /Graduate School of Design | Law School |
| Year 4 | Law School /Graduate School of Design | Law School |

Your Student Budget

You will be charged 100% tuition and fees for the school at which you are enrolled full-time during the first two years. In your third and fourth years of the program you will be charged 75% HLS tuition and 25% GSD tuition as well as a $300 program fee correlated to the number of courses required for each degree. All charges and financial aid credits will appear on the same student account notice.  A sample budget is below for the 2021-2022 academic year.

| | | |
| --- | --- | --- |
| BUDGET CATEGORY | HOW TO CALCULATE | AMOUNT FOR 2021-22 |
| Tuition | 75% HLS | $50,790 |
| | 25% GSD | $13,105 |
| Books & Supplies | 75% HLS | $1,200 |
| | 25% GSD | $814 |
| Room/Board/Personal | Full HLS Room/Board/Personal | $27,923 |
| Fees | Full UHS Fee | $1,242 |
| | Harvard Student Health Insurance Plan* | $4,040 |
| | Joint Program Fee | $300 |
| Travel | Full HLS Travel | $1,675 |
| Total Budget | | $101,339 |

Budget Adjustments Due to Health Insurance Waiver

Please note that under Federal student aid regulations, an allowance for the Harvard Student Health Insurance Plan may be included in the student's budget only for students who enroll in the plan. For students who waive this coverage, the allowance will not be given and the total student budget will be reduced by the amount of the plan fee. Students may request upon appeal to have the documented cost of an alternate health budget insurance plan for which the student pays added to the student's budget.

Cash Advances and Refunds

If you are eligible for a cash advance or a refund, you will receive it after you have registered (and have completed your entrance interview – 1L's only). All cash advance and refund checks are mailed to the official address on file with the Registrar's Office unless you have direct deposit set up with the Student Receivables Office.

Summer Work Requirement

You will be held to the same summer work requirements as all other Law School Students. See the Student Contribution from Income section for details on the summer work requirement.

4th Year Exit Interview Requirement

Before graduating, you will be required to attend an exit interview with the Law School or the Graduate School of Design. Your exit interview will be held during your last semester at Harvard