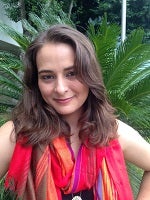 The Promise of Justice Initiative (PJI)
New Orleans, LA
Mercedes Montagnes (J.D. '09) has been awarded a seed grant to support her newly-established non-profit organization, The Promise of Justice Initiative (PJI), based in New Orleans, Louisiana. PJI advocates for humane, fair, and equal treatment of individuals in the criminal justice system including the abolition of the death penalty In Louisiana, which has the highest incarceration rate in the United States, conditions for inmates often fail to meet basic constitutional standards; PJI works to address these conditions through targeted impact litigation, individual representation, and policy reform. For example, in the organization's first year, it successfully challenged excessive heat on death row and compelled Louisiana to disclose its execution plan in the wake of drug shortages. In the future, PJI will bring broad-based challenges to create an even greater impact, particularly in the area of the provision of health care to inmates across the state.
Since 2012, Mercedes has worked at the Capital Appeals Project (CAP) in New Orleans where she is now the Deputy Director. Mercedes started at CAP on a Harvard Law School organization-based fellowship. Before she began at CAP, Mercedes served as a law clerk to Judge Carl J. Barbier of the U.S. District Court Eastern District of Louisiana in New Orleans and to Judge Roger L. Gregory of the U.S. Court of Appeals Fourth Circuit in Richmond, Virginia.
Mercedes has shown a passion for the criminal justice system since her time at Harvard Law School, where she worked as a student attorney for the Massachusetts Prisoners' Legal Services and the Criminal Justice Institute. She was also the President of the Harvard Law and Policy Review, contributor at Warren Reports and Talking Points Memo Café, Vice President of the American Constitution Society, and coordinator for the Hurricane Katrina Legislative Tracking Project. She also received multiple honors, including the Vorenberg Fellowship and the Myer Dana and Etta Dana Scholarship.
As an HLS student, Mercedes completed three summer internships including: the law offices of Robert McDuff in Jackson, MS; Akin Gump Strauss Hauer & Feld in Washington, DC; and the Orleans Public Defender in New Orleans, a city which would soon become her home and the home of PJI.
Mercedes graduated from Barnard College in 2005 with a B.A. in Urban Studies.