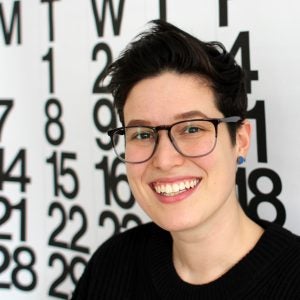 Graphic Advocacy Project (GAP)
Brooklyn, NY
The Graphic Advocacy Project (GAP) is located in Brooklyn, NY. Hallie founded GAP because she believes the legal profession's monopoly on legal expertise is antithetical to a just and democratic society. GAP redistributes legal knowledge using visual communication tools, including comics, graphic design, and animation. In partnership with social justice legal advocates, GAP creates graphic explanations of law that engage, inform, and mobilize.
Hallie came to Harvard Law School with every intention of becoming a civil rights litigator. She served as a co-Editor-in-Chief of the Harvard Civil Rights-Civil Liberties Law Review, participated in the capital punishment clinic, and spent her summers interning at Americans United for Separation of Church and State and the ACLU Center for Democracy. She drew comics as a diversion for herself and her classmates—some of which ended up in the Harvard Law Record—but she never thought art would be an integral part of her legal career. Then, as a 3L, Hallie joined Professor Jim Greiner's Financial Distress Research Project as its first "artistic research assistant." She began to understand that visual communication could transform legal advocacy.
After graduating, Hallie clerked for the Honorable Roger L. Gregory on the U.S. Court of Appeals for the Fourth Circuit. She then spent a year at the ACLU of Massachusetts as a legal fellow and cartoonist, where her work focused on police accountability, privacy and technology, and freedom of speech and protest. Since founding GAP in 2016, Hallie has created visual explainers of school disciplinary rights, voter identification laws, bankruptcy proceedings, bail bonds, and numerous other legal concepts.
Hallie graduated from Brown University in 2009. Her comics appear in Comics for Choice and Notorious RBG: The Life and Times of Ruth Bader Ginsburg.