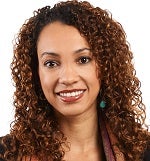 Essie Justice Group
San Francisco, CA
Gina Clayton (J.D. '10) has been awarded a seed grant to establish Essie Justice Group in San Francisco, California. Essie Justice Group will work nationally to engage women with incarcerated loved ones, creating a community in which women are united, trained, and empowered to advocate against mass incarceration, which negatively impacts the financial and psychological well-being of the women the criminal justice system often leaves behind.
After graduating law school, Gina won an Equal Justice Works Fellowship to represent low-income women in eviction cases at the Neighborhood Defender Service of Harlem ("NDS"). At NDS, Gina designed and established the Housing Defense Project, which seeks to curb the impact of criminal justice policies that threaten eviction of families following criminal arrest, charge, or conviction. Gina's time at NDS helped her to realize "that mass incarceration was the most significant generator of the barriers standing before women and families of color in the U.S. today." It is with this belief, years of experience in the field of criminal justice, and the inspiration of her great-grandmother Essie Bailey, that Gina was motivated to start Essie Justice Group.
Gina spent two years as a board member on the NAACP National Board of Directors, after having served as the President of her university's chapter of the organization. Then, during her time at HLS, Gina became involved in several activities on campus; she served as Co Editor-in-Chief of the Harvard Civil Right-Civil Liberties Law Review, Social Justice Chair of the Harvard Black Law Students Association, and student attorney for the Harvard Criminal Justice Institute. She also completed a term-time internship with the Southern Center for Human Rights in Atlanta, and summer internships at the United Nations International Criminal Tribunal for the Former Yugoslavia in The Hague and the Public Defender Service in Washington, DC.
After finishing her Equal Justice Works Fellowship in New York City, Gina moved to South America to study Spanish. She then returned to the U.S. and has moved to San Francisco, CA to build Essie Justice Group.
Gina graduated cum laude from the University of Southern California in 2006 with a B.A. in American Studies and a minor in Education. Gina has also been awarded a 2014 Soros Justice Fellowship and a 2014 Echoing Green Global Fellowship to support her work with the Essie Justice Group.