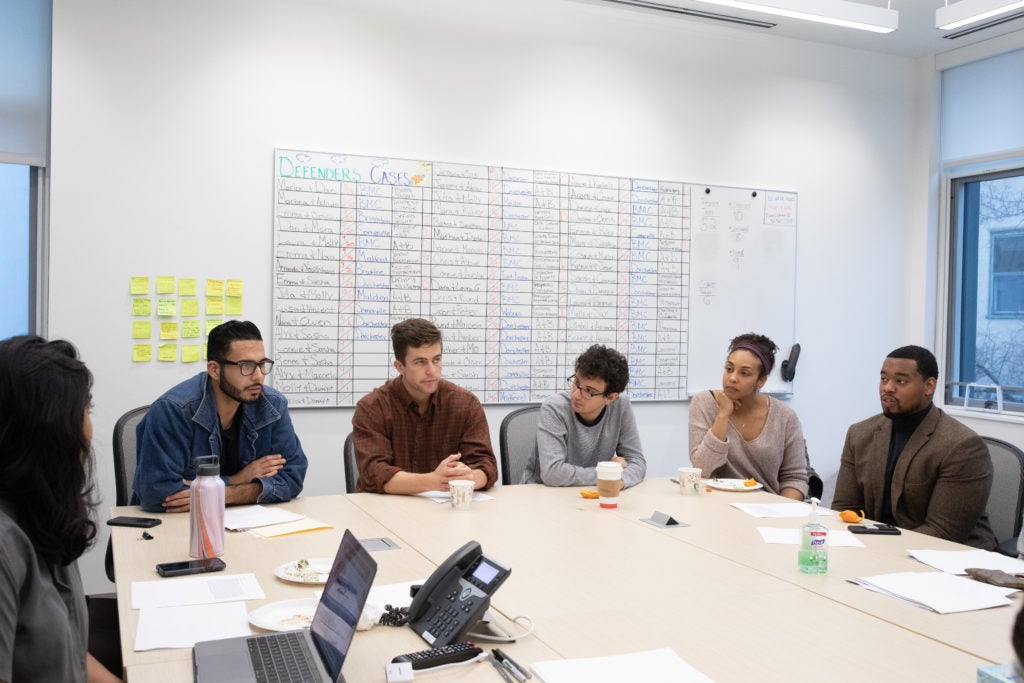 Harvard Law School has 11 Student Practice Organizations (SPOs) providing opportunities for students to gain practical legal experience under the supervision of a licensed attorney.
While students do not receive academic credit for participating in SPOs, their volunteer hours can count towards the HLS 50-hour pro bono graduation requirement starting first day of classes, 1L year.
Student Practice Organizations are run by a student board, where 2L and 3L students assume leadership positions. Everyone, including LL.M. students, is welcomed and encouraged to participate in SPO practice. While membership is open to all HLS students, applications may be required to due attorney supervision capacity.
View the SPO Skills Matrix and SPO Opportunities for Practice 23-24 to learn more about the specific skills and time commitment in each SPO.
Sign Up for SPOs
SPO
How to Apply
Application Deadline (Fall 2023)
Events (Fall 2023)
Harvard Defenders
http://bit.ly/DefendersFall2023
September 13
Harvard Law Entrepreneurship Project (HLEP)
Students attend the Fall Client Pitch, on Saturday September 16.

New Member Application Form Due September 17: https://docs.google.com/forms/d/e/1FAIpQLSdiL2KOHGOhRpnv1qocK7reuOxMeJfJsy6STpTWdCYe_-A8qg/viewform
September 17
Newsletter: Students can sign up for mailing list to learn about upcoming events here: hlep.org

Fall Project Cycle Training Dates:
Monday, September 18th from 12:30 pm – 1:30 pm OR
Tuesday, September 19th from 12:30 pm – 1:30 pm
(Attend one)
Harvard Mediation Program
Application Deadline: September 12th

Our application can be accessed on our website here: https://clinics.law.harvard.edu/hmp/training/
September 12
ADR Night: 9/12
Harvard Prison Legal Assistance Project (PLAP)
Commitment Deadline: Sept. 10 for returning members; Sept. 17 for new members
New members can sign up at this link: https://forms.gle/ptnQMeFraDzaM4BR7
September 17
Open House in WCC 5107 on September 14, 11am-2pm. Come for free pizza and snacks and to get to know more about PLAP!
HLS Advocates for Human Rights (Advocates)
September 18th
Info session:
Wednesday, September 13,
12:15-1:15 pm
WCC 3018
HLS Immigration Project (HIP)
Application Deadline: September 15th

https://forms.gle/UuwcdwNasuwAKrfi6
September 15
Welcome Picnic: September 11 from 12:30-1:30 , Cambridge Common Park
HLS Mississippi Delta Project (MDP)
Please sign up for our email list here. We will send out an application later in September, and MDP projects will begin in October. We review applications to place applicants on project teams, and we encourage anyone interested to apply.
Interested new students can email our co-chairs with any questions.

Marisa Wright and Naomi Jennings
mwright@jd24.law.harvard.edu
njennings@jd24.law.harvard.edu

MDP All Team Kickoff Meeting: TBD (end of September or early October)
HLS Negotiators
No application required.
Simply sign up to attend our three-hour
basic training via the Negotiators email
hlsnegotiators@gmail.com
Negotiators will also be accepting sign ups
at the Students Activities Fair
ADR Night: 9/12

Project No One Leaves (PNOL)
No application is required to canvass. To join our Board, please email adelong@jd24.law.harvard.edu.
Please join us for an Info Lunch on Friday, September 15 at 12:20 on the 1st floor of 23 Everett St.! We will be sharing info about our canvasses and hearing from housing justice organizers at City Life Vida Urbana. RSVP here: https://forms.gle/KAraiELbveiFVB9D8.
Recording Artists Project (RAP)
Fall Training is mandatory for all students even if they only plan on joining in the spring.
Tenant Advocacy Project (TAP)
Thursday, September 21 at 11:59 PM
In-Person Info Session:
Wednesday, September 13 at 12:30 PM in WCC 3019 (Lunch Provided)

Virtual Info Session:
Monday, September 18 at 7:00 PM (Zoom Link: bit.ly/TAPFall2023)
Watch the 2023 SPO Panel to hear from SPO student leaders about the organizations' work and experiences:
Explore the SPOs
Running an SPO
If you're a student running a Student Practice Organizations, you can find information on policies, budget, technology, and more in this section.