Roadmap: Housing advocacy; community lawyering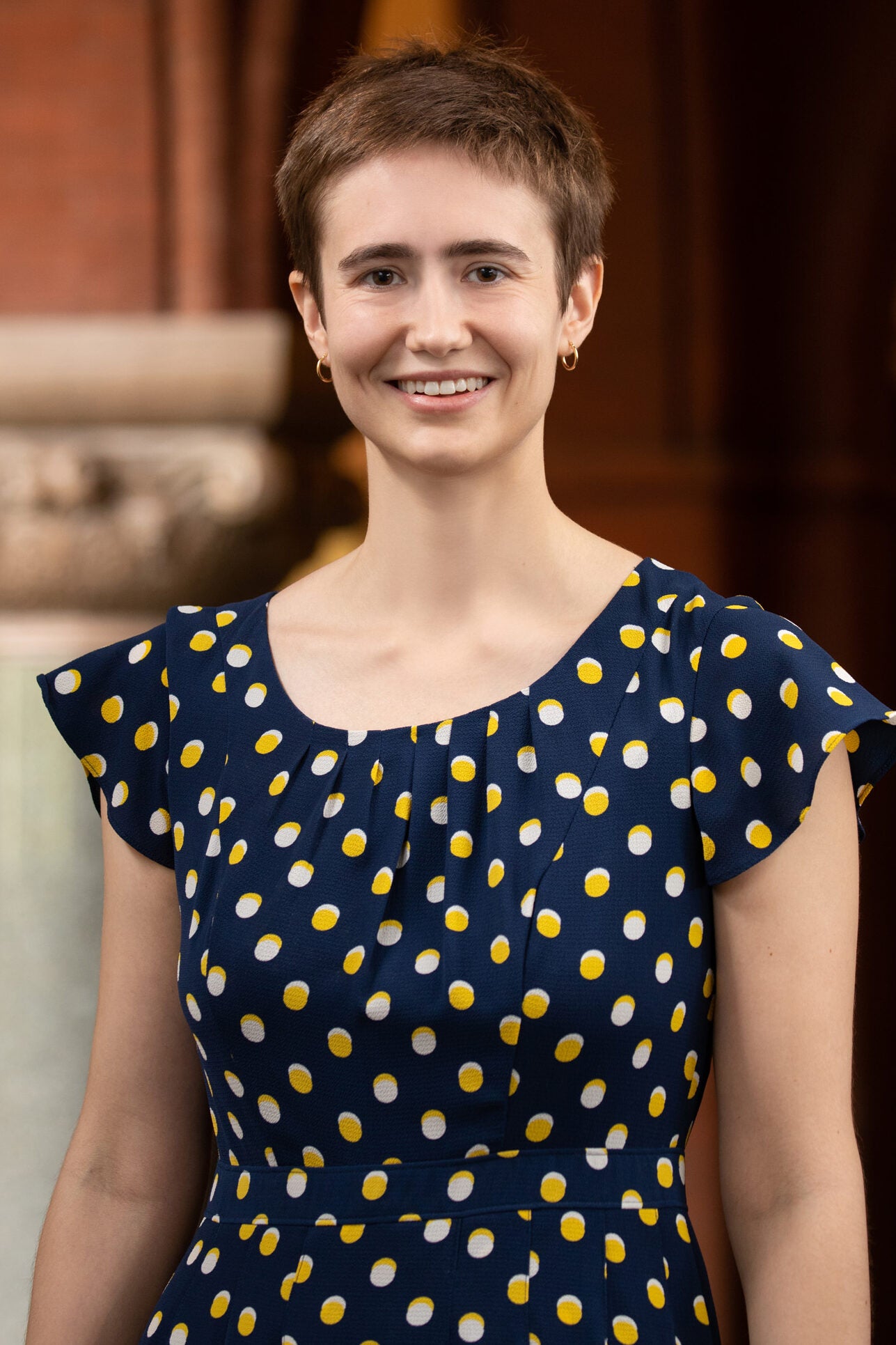 A former classics teacher, Liz Butterworth came to Harvard Law with extensive academic credentials and experience.
Liz, who grew up in Auburn, Massachusetts, went to Princeton University, where she earned a bachelor's degree in classics. As the salutatorian for the Princeton Class of 2012, she delivered a speech in Latin at Commencement. She then pursued master's degrees in comparative and international education (2013) and Latin and Greek Languages and Literature (2014) as a Rhodes Scholar at the University of Oxford.
Prior to enrolling at Harvard Law School, she worked for four years at Hunter College in a variety of positions, including as a fellows program coordinator and an adjunct lecturer in classics.
I've learned so much from my instructors, and especially from my classmates, about how to use my legal training to support movements that center the leadership and power of communities most impacted by injustice.

Liz Butterworth '22
1L
Student Practice Organizations
During her time at Harvard Law School, Liz contributed more than 2,000 pro bono hours as a member of two student practice organizations (SPOs), the Tenant Advocacy Project (TAP) and Project No One Leaves (PNOL). Each year, Liz accepted new leadership positions within the SPOs, becoming a trusted mentor that fellow members looked to as a model of professionalism and thoughtfulness.
As a member of TAP, an SPO that provides advocacy for current and prospective public housing tenants and mobile voucher holders in the greater Boston area, Liz spent two years on the intake committee and served as a team leader during her 3L year.
As a member of Project No One Leaves, a canvassing group that partners with community organizers to connect low-income and oppressed communities to resources that build community power and provide opportunities to protect and assert residents' rights, Liz gave legal advice at weekly meetings, working side-by-side with local residents in their fights against eviction, and in partnership with the local tenants' rights group, City Life/Vida Urbana.
Liz says that TAP and PNOL gave her a space to foster her interest in fighting for justice on individual and systemic levels. "I've learned so much from my instructors, and especially from my classmates, about how to use my legal training to support movements that center the leadership and power of communities most impacted by injustice," said Liz.
Summer
During her 1L summer, Liz served as a legal intern for Massachusetts Advocates for Children.
2L
As a 2L, Liz joined the Harvard Legal Aid Bureau (HLAB), where she spent two years taking her dedication to housing justice to new heights. As a member of the housing unit, she served clients of all backgrounds and ability levels, embodying the role of community lawyer.
Esme Caramello '99, clinical professor and faculty director of HLAB, said: "It is possible that Liz arrived at law school this talented, but it is also possible she got this good because of the sheer volume of client work she has volunteered to do," citing Liz's "patience, emotional maturity, and respect for the client's agency."
"She was one of the busiest student attorneys at HLAB, while also serving on its board," said Caramello. "She volunteered consistently as a limited assistance attorney at both weekly City Life/Vida Urbana meetings and the Attorney for the Day table at the Eastern Housing Court. She would also frequently be the person to step in to cover others' housing cases or take a new case for which no one had volunteered."
Liz said: "I am so grateful to have had the opportunity to work with organizers and tenants at City Life/Vida Urbana as they fight displacement — for me, this has been by far the most meaningful part of the past three years. And TAP, PNOL, and HLAB have been my sources of community on campus since 1L year."
Summer
Liz served as a summer legal intern for Alternatives for Community and Environment.
3L
As a 3L, Liz served as co-president of HLS Advocates for Education.
At graduation, Liz was named the recipient of the 2022 Gants Access to Justice Award, in honor of her zealous advocacy for housing justice as a member of HLAB, TAP, and PNOL. Liz's nominators lauded the extraordinary dedication, empathy, and humility that she brought to her client-centered work.  
After HLS
Post-graduate fellowship
After graduation, Liz joined the AARP Legal Counsel for the Elderly as an Equal Justice Works Fellow, fighting to preserve safe and affordable housing for low-income older adults in Washington, D.C., through direct representation, outreach, and systemic advocacy, with a focus on building capacity for self-advocacy and collective action.