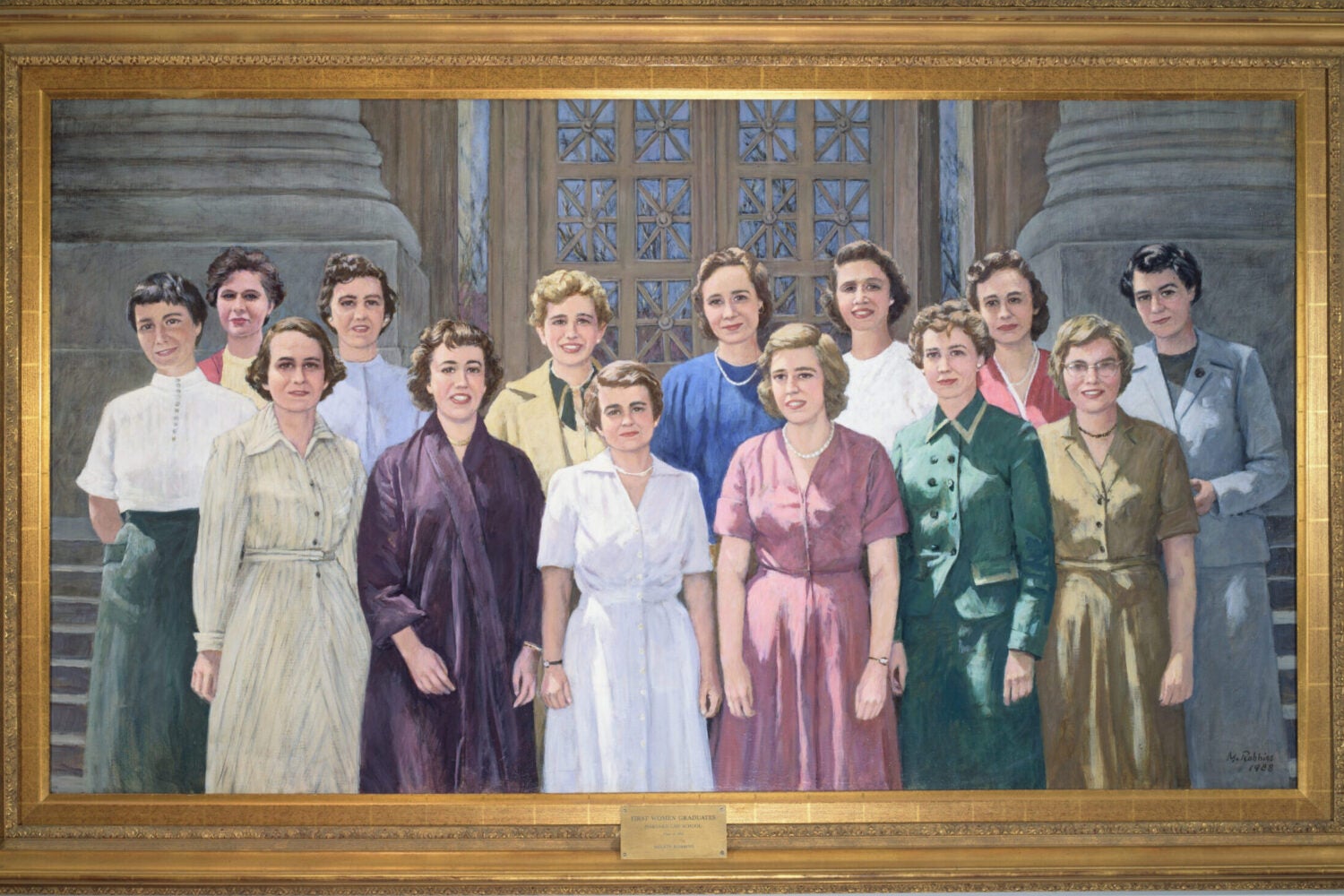 The Art & Visual Materials Collection documents the legal profession and the history of the law, as well as the history of the Harvard Law School, its students, and faculty with paintings, sculpture, photographs, prints, drawings, and artifacts. In addition to the approximately 300 painted portraits and sculptures of legal luminaries, the Art and Visual Materials Collection contains over 50,000 historic photographs, 6,000 prints, and objects.
What started as a project to create a Museum of the Law by Dean Roscoe Pound (1870-1964) and Librarian Eldon Revare James (1875-1949) became a world-class collection used by researchers, students, educators, filmmakers, and authors across the world.
Legal Portrait Collection
At the heart of the Legal Portrait Collection is the "Basic Collection," which consists of approximately 300 painted and sculpted portraits of significant figures from the Anglo-American legal tradition. Aside from subject matter, the collection is also notable for the artists represented, including Gilbert Stuart, Robert Feke, Ellen Emmet Rand, Simmie Knox, Eleanor Platt, and others.
The Legal Portrait Collection also includes approximately 4,000 portrait images of lawyers, jurists, political and legal thinkers dating from the Middle Ages to the late twentieth century. Most of the prints, drawings, and photographs depict legal figures prominent in the Common Law. However, a significant number document jurists and legal educators associated with the Canon and Civil Law traditions.
Photograph and Print Collections
The collections of prints and photographs are mixed media collections that have been organized around certain subject areas. They consist of over 50,000 images representing the full range of historical and contemporary photographic and printing processes. Portrayed are current and past faculty members, alumni/ae, class groups, Harvard Law School buildings, U.S. Supreme Court Justices, and notable criminals.
Collection highlights include:
Oliver Wendell Holmes, Jr.
Harvard Law School Buildings
The print collection of over 6,000 items includes such diverse materials as the famous "Spy" prints of legal figures, cartoons by Honoré Daumier, and eighteenth and nineteenth century British satirical prints. Subjects depicted include famous trials, prisons, court architecture, legal costume, and portraits of important legal figures.
Collection highlights include:
Vanity Fair Caricatures
British Satiric Prints
Poster Collection
Memorabilia Collection
The memorabilia collection includes historic furniture, artifacts from the legal profession; personal items from HLS faculty and other prominent legal figures; and objects of interest from famous trials. Some of these items can be seen in temporary exhibitions, and a few are on display in the Library's main reading room and the Caspersen Room.
The following are examples from this unique collection of artifacts:
Explore the Art & Visual Materials Collection
Portions of the collection are digitized and can be explored in HOLLIS Images, Harvard Library's image catalog.
A small number of collections have online finding aids, accessible through HOLLIS for Archival Discovery.