Roadmap: International human rights; legal philosophy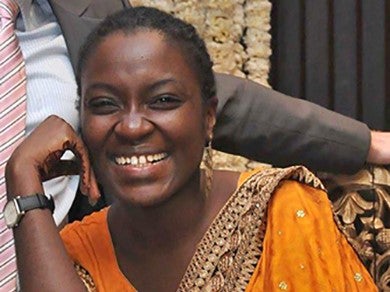 Nanjala came to HLS seeking exposure to litigation and to deepen her understanding of advocacy for marginalized communities. Her courses at HLS dealt with international law, human rights, and law and social movements. She spent one summer conducting work on death penalty cases in the U.S. and another assisting victims of sexual violence in Haiti. Nanjala took advantage of HLS' exchange program and spent a semester at the Graduate Institute of International and Development Studies in Geneva, Switzerland. Both there and at Harvard she further developed her interest in legal philosophy to better understand the ethical frameworks and moral responsibilities underpinning international legal advocacy. Following graduation, Nanjala accepted a position with Catholic Relief Services in Madagascar. Today, she is an independent writer and researcher based in Nairobi, Kenya; her work focuses on the intersections among technology, media and society.
My summer work in Haiti forced me to think very critically about what it means to be an advocate. It made me realize the importance of stepping back so that the groups that you're advocating for can have their say. Marginalized groups know what they want and from whom; our job as advocates is simply to articulate that, as accurately and respectfully as possible.

H. Nanjala Nyabola
1L
Coursework
Nanjala's interest in international human rights was an outgrowth of her experience growing up in Nairobi, Kenya, and her previous work with refugees. With degrees in refugee and forced migration studies and in African studies from the University of Oxford, where she had been a Rhodes Scholar, Nanjala was eager to add a legal framework to her existing knowledge. In the spring of her 1L year she enrolled in Public International Law. She also took Lawyering for the President to gain a sense of the practical challenges of the legal profession.
Student Organization
Nanjala joined the Harvard African Law Association. Her involvement with the organization continued over her three years at HLS and included helping to organize the group's study tours to Kenya and Senegal.
Summer
Since her prior study and work had been outside the U.S., Nanjala spent her first summer working for the Northern Virginia Capital Defender's Office. She conducted legal research on death penalty cases and concluded "It was one of the best professional experiences I've had. I learned about the enormously difficult context in which public defenders work in the U.S., and the amazing dedication that many of them have."
2L
Coursework
In the International Human Rights Clinic and its associated seminar, The Promises and Challenges of Disarmament, Nanjala considered the role of treaty law. She learned procedure and developed practical skills through Evidence and the Trial Advocacy Workshop. Law and Social Movements provided critical perspective for thinking about the challenges of marginalized groups while Philosophical Analysis of Legal Argument proved helpful in understanding legal reasoning and how to break down judgments.
Winter Term
Nanjala wrote a paper on the topic of non-American social venture funds seeking to incorporate in the United States, expanding her knowledge of tax law while retaining a focus on non-profit organizations.
Summer
Nanjala spent her second summer again advocating for marginalized communities. She secured HLS Summer Public Interest Funding and an HLS Human Rights Program summer fellowship to work with a small organization in Haiti, the Bureau des Avocats Internationaux (BAI). After an intensive class in Creole, she began work with BAI's Rape Accountability and Prevention Project. Nanjala was involved in collecting information and developing strategy for litigation as well as working directly with rape victims, most of whom were children.
3L
Summer Abroad
Nanjala went straight from Haiti to Switzerland, where she spent a semester abroad at the Geneva Graduate Innstitute (formerly the Graduate Institute of International and Development Studies). Being in Geneva enabled Nanjala to study a different side of advocacy, seeing up close the high-level agencies and organizations dedicated to humanitarian work, and taking classes on very specific aspects of international law. Particularly valuable in examining her Haiti experience was International Law in Domestic Courts, which explored the varying procedures and effects of treaties. In The Human Rights Obligations of Non-State Actors she debated with classmates from all over the world and noted "…when you have a group like that, talking about international law, you really get a unique experience — it shows you that some things are very culturally specific." International Diplomatic Law exposed Nanjala to the nature of dialogue with a government. Her other courses included State Contracts in International Arbitration and Judicial Interpretation and Legal Reasoning. The semester abroad also enabled Nanjala to increase her French language proficiency.
Winter Term
Nanjala remained in Geneva to work on her winter writing project under the supervision of Clinical Professor Deborah Anker. Her paper proposed a new, more humanitarian approach to refugee status determinations that would draw on interviews and testimony.
Coursework
Returning to HLS, Nanjala took advanced French to maintain proficiency gained in Switzerland. For Philosophy and Literature: The Problem of Consent she wrote a paper on the philosophical dimensions of law, and commented "I think the time abroad forced me to take a step back and really consider the macro-dimensions of the work we do as international advocates." She also took Indigenous Peoples in International Law for perspective on the role of protected groups.
After HLS
Joining an International NGO
Nanjala accepted a position in Madagascar as an international development fellow with Catholic Relief Services, undertaking community organizing in the mining population as well as liaising with government officials and mining companies to draft a document that represents the needs of all involved.
Research and Writing
Today, Nanjala is an independent writer and researcher based in Nairobi, Kenya; her work focuses on the intersections among technology, media and society. Nanjala has been a research associate at the Oxford Internet Institute and the Berkman Center for Internet & Society, among other institutions, and has worked as a research lead on other projects, on human rights broadly and digital rights specifically, around the world.