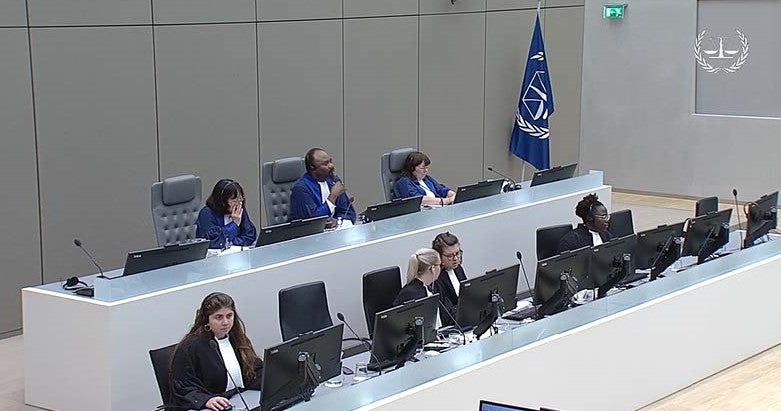 An update: The case approaches final arguments
Anoush Baghdassarian has been working within the International Criminal Court's Trial Chamber on the Al Hassan case, in which the de facto head of the Islamic Police has been charged with alleged crimes against humanity and war crimes that took place in Timbuktu, Mali in 2012.
Baghdassarian has been engaged in a variety of assignments for the Chamber, which will lead, most significantly, to helping to prepare the final judgement for the case. She works with a team of legal officers as well as the three judges in the Chamber: Judge Antoine Kesia-Mbe Mindua (the Democratic Republic of the Congo), Judge Tomoko Akane (Japan), and Judge Kimberly Prost (Canada). Baghdassarian has been with the team since September, so she has been in the courtroom and assisting with trial proceedings during the final segment of the trial, in which the defense has presented its witnesses and evidence.
The ICC is a hybrid of civil and common law systems, so "evidence and procedural rules are a mix and it's fascinating to see those differences play out," she notes. Beyond helping with trial matters, she has been involved in assessing and processing evidence, providing legal memos to the team, and conferring with the judges with issues, such as witness credibility, evidentiary matters, and legal questions, that arose during the trial.
Baghdassarian will be present in late May, when the Court hears closing statements in The Prosecutor v. Al Hassan Ag Abdoul Aziz Ag Mohamed Ag Mahmoud, which will be public and can be followed online. She will then participate in deliberations with the judges and be involved in drafting sections of the final judgement, including issues of first impression.
---
Anoush Baghdassarian '22 is descended from survivors of the Armenian Genocide of 1915-1916 who built new lives in Argentina, Uruguay, Egypt, and Greece. From writing a play to teach her high school classmates about the Genocide, to the clinics, courses, and internships she has undertaken during law school, her heritage has inspired her to focus her academic career and her professional goals on transitional justice and international criminal law. As the 2022-2023 International Legal Studies Post-Graduate Fellow, she will bring her knowledge, her skills, and her passion to her 12-month placement at the International Criminal Court.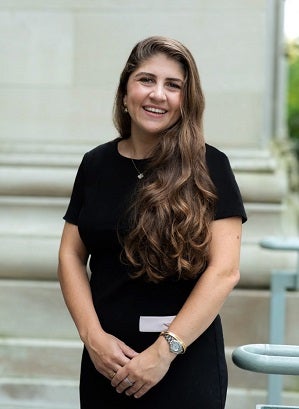 The Court, headquartered in The Hague, investigates and, where warranted, tries individuals charged with genocide, war crimes, crimes against humanity, and the crime of aggression. Her work there will focus on analyzing evidence, addressing complex questions of law, and drafting opinions for matters currently being addressed in the Trial Chambers of the Court, including alleged crimes committed in Sudan, Mali, and the Central African Republic.
Baghdassarian earned a bachelor's degree in psychology, Spanish, and genocide/Holocaust studies from Claremont McKenna College and a master's degree in human rights studies from Columbia University. Before enrolling at HLS, she co-founded the Rerooted Archive, a collection of testimonies, photos, and documents designed to preserve the language, customs, culture, and history of the minority Christian, Syrian-Armenian population displaced by conflict in Syria. Baghdassarian has shared their testimonies with the UN's International, Impartial and Independent Mechanism on Syria and with NGOs in Europe that are working on justice efforts. She also served as an advisor to Armenia's Permanent Mission to the United Nations on issues including sanctions, counterterrorism, migration, and refugees.
"There are many avenues for justice for survivors of mass atrocity, and one of the tools is the law. As a descendant of genocide survivors, I am committed to combatting impunity for atrocity crimes and redressing harms through victim-centered transitional justice. It will be an immense privilege for me to learn from this essential institution and to contribute to its work through this fellowship."

Anoush Baghdassarian
Baghdassarian came to HLS to focus on building her skills, from legal writing and presenting motions in court to interviewing victims and mapping harms and actors. As a student attorney in the International Human Rights Clinic, she drafted a brief on crimes against humanity in The Gambia, working with information provided by the country's Truth, Reconciliation and Reparation Commission. Later, as the co-president of HLS Advocates for Human Rights, she led a team of HLS students to draft a report alleging Azerbaijan's violation of international treaties in its treatment of ethnic Armenians during the recent conflict between the two countries. And through internships, she has also addressed accountability procedures, the death penalty, human rights abuses, national security, and genocide involving countries around the world.
Her year at the International Criminal Court will be a capstone for all that she has learned and accomplished to date, and a compelling opportunity to begin exploring a career in international criminal law. After her fellowship, Baghdassarian will undertake a clerkship with a judge on the U.S. Court of Appeals, Second Circuit, and she hopes to work as an international criminal prosecutor after that.
The International Legal Studies Post-Graduate Fellowship is designed to support graduating HLS students or recent graduates who will be clerking or interning at an international or foreign regional/supranational court or tribunal. Visit the International Legal Studies Post-Graduate Fellowships web page to learn more.
Photo: Lorin Granger/HLS Staff Photographer