Photo Gallery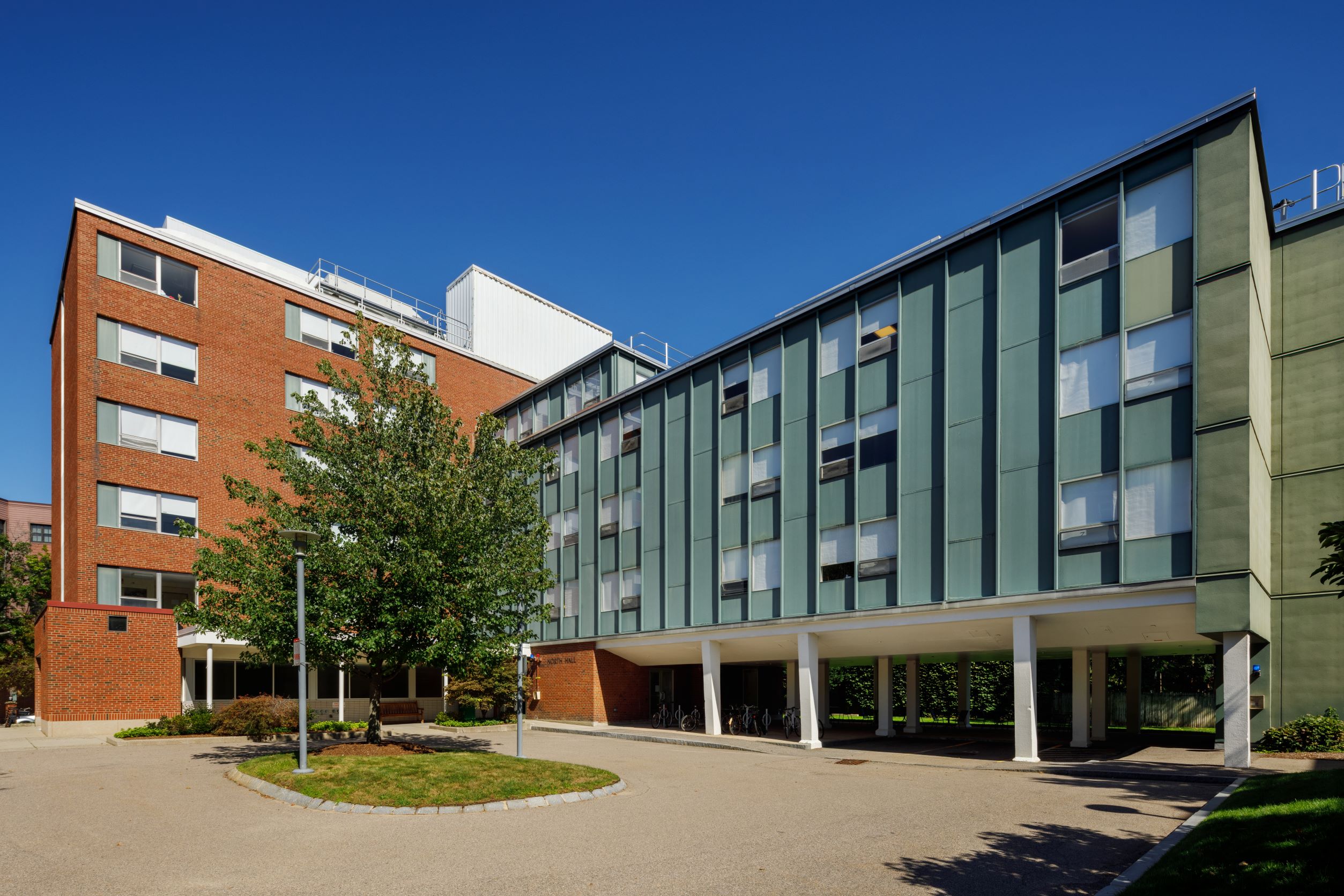 *Please note rooms shown have been decorated for presentation purposes. The bedding, pillows, towels and all decorative housewares seen in these images are NOT included in the room. Please see What to Bring for a suggested list. Please see below for a list of items included in each room.
North Hall, a converted hotel consisting of 112 single dorms, is located two blocks north of the Law School campus. Because every North Hall dorm has a private bathroom, residents have a great deal of privacy. All floors are coed, and most have a kitchen on the floor. There is a large lounge on the first floor where students can socialize, watch TV, or study.
Advantages to Living in North Hall
All bedrooms have private bathrooms
Two blocks north of the HLS campus
North Hall Room Types
| ROOM TYPE | TOTAL ROOMS* | APPROX. SQUARE FOOTAGE |
| --- | --- | --- |
| Small single w/private bathroom | 19 | 175-198 sq. ft. plus private bathroom |
| Standard single w/private bathroom | 85 | 210-249 sq. ft. plus private bathroom |
| Large single w/private bathroom | 6 | 250-325 sq. ft. |
| Single in a two-bedroom w/semi-private bathroom | 2 | 210-250 sq. ft. plus shared living room and semi-private bathroom shared with suitemate |
*NOTE: This table provides the number of room types in each residence. It DOES NOT reflect the number of rooms that may be available.
---
Furnishings and Amenities of North Hall
Full size bed in standard and large room types
Extra-long twin size bed in small single room types
Desk and rolling desk chair
Round table and chair available only in standard and large single room types
Dresser
Nightstand (not available in small single room type)
Wall bookshelves
Closet
Waste basket & recycle bin
Private bathroom (sink, shower, toilet)
Individual control of heating/air conditioning in line with the HLS Temperature Policy
Wireless internet access
Residence Amenities
Communal kitchens on floors two through five
Communal kitchens are equipped with these appliances; refrigerators, electric stove/oven, microwave ovens, toasters and water filtration units
Communal kitchens are also equipped with basic cooking/food prep items; pots/pan, cooking utensils, measuring cups, cutting boards, and oven mitts
Resident lounge/communal bathroom located on the first floor
Laundry facility located on the first floor
Located directly on Massachusetts Avenue and MBTA bus line
Floor Plans and Details
Tour North Hall
Ready to explore North Hall? Click one of the buttons below to take a virtual tour!
Different view options:
In the lower left of the image, you can select the "View Dollhouse" icon to see a three-dimensional image of the space, or the "View Floorplan" icon to see a two-dimensional layout. From either of these views, select the "Explore 3D space" icon, in the shape of a person, to return to the tour.