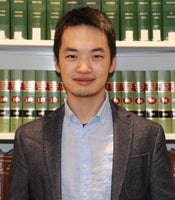 Guanchi Zhang
S.J.D. 2023
gzhang at sjd.law.harvard.edu
Dissertation
City Unbound: The Political Economy of City Territory in China, 1949-2012

My dissertation provides a comprehensive analysis of China's territorial reforms from 1949 to 2012, focusing on how the Chinese state has attempted to "get the city territory right." It draws on original archival research, including published and unpublished government documents, local gazettes, and memoirs of central and local leaders, as well as extensive fieldwork in China from 2017 to 2020. I contend that the size, boundaries, and spatial organization of Chinese cities fundamentally impact the extent to which local states can control their populations and resources and their ability to compete and collaborate.
Territorial reform is a dynamic instrument for the Chinese state to navigate political-economic challenges. Nevertheless, historical reforms may incrementally constrain the adaptability of China's territorial systems.
Fields of Research and Supervisors
Decentralization and Local Governance with Professor Gerald Frug, Harvard Law School, Principal Faculty Supervisor
Chinese Law and Legal History with Professor William Alford, Harvard Law School
Chinese Politics and Society with Professor Elizabeth Perry, Faculty of Arts and Sciences, Harvard University
Additional Research Interests
Local Government Law
Property
Political Geography
Urban Politics
Law and Political Economy
Education
Harvard Law School, S.J.D. 2023
Harvard Law School, LL.M. 2016 (requirements fulfilled, degree waived)
Peking University, China, LL.M., 2015
Peking University, China, B.Ec., 2013
Peking University, China, LL.B., 2013
Academic Appointments and Fellowships
Harvard University, Fairbank Center for Chinese Studies, 2021-2023, Graduate Student Associate
Harvard Law School, 2018, 2022, Comparative Law: Why Law? Lessons from China, Teaching Fellow
Harvard University, 2020, Sociology 1141: Contemporary Chinese Society, Teaching Fellow
Harvard Law School, 2017-2018, Graduate Program Fellow, LL.M. Advisor
Harvard Law School, 2016-2017, F. Y. Chang Scholarship
Representative Publications
"Rescaling the Socialist State: Territorial Politics and City-Region Restructuring in Maoist China." Political Geography, Volume 102, 102846 (2023).