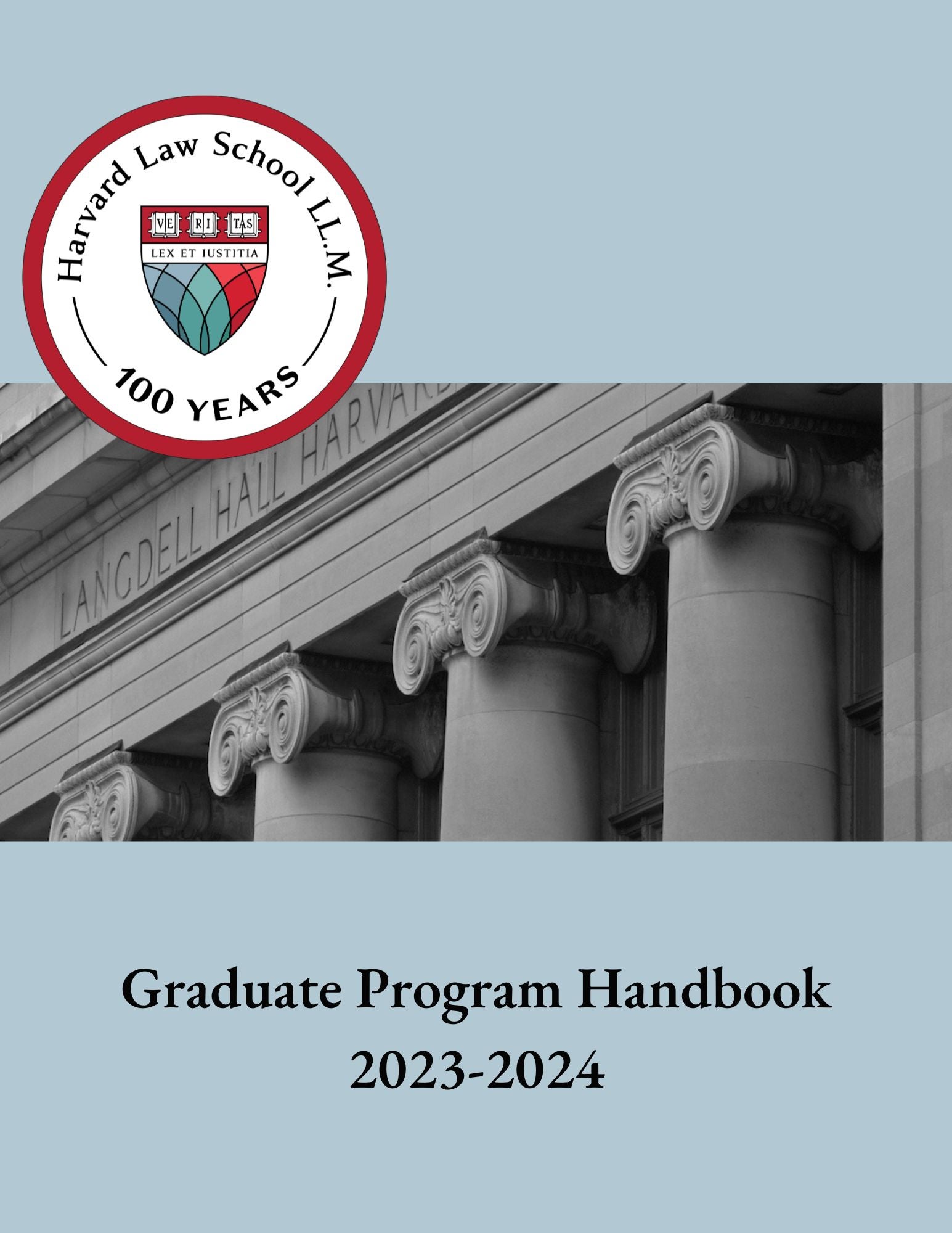 Student Accounts and Expenses
Student account notices for the 2023-2024 academic year were sent by the Harvard University Student Accounts Office to students at their Harvard Law School email addresses in July. For LL.M. students, the charges on their account include the following items:
Tuition
Student Health Services fees and Student Health Insurance Plan fees
Activities fee
Residence hall (fall semester fee) or first months' Harvard University Housing rent (if any), together with any associated insurance and/or meal plan charges
For 2023-2024, tuition for the whole year and fall mandatory fees (as well as rent, if any, billed for fall residence hall or affiliated housing) must be paid in full before LL.M. students will be permitted to register for the fall semester. LL.M. students will also be responsible for spring mandatory fees and their spring semester residence hall fee or monthly Harvard University Housing rent when it is billed. S.J.D. students are billed by semester.
After the initial account notice, students will receive periodic emails when charges, credits, or payments are posted to their account. No account notices will be sent if the student's account has a zero balance and there is no activity for the applicable period. It is the student's responsibility to pay any outstanding balances by the due date and to keep their account current. No diploma will be awarded to any student who has failed to pay all student account charges by the date especially established for graduating students.
Sponsored Billing
Students who have a sponsoring organization that will be paying Harvard University directly for all or part of the student's tuition and fees must complete and submit the Third-Party Billing Form (available on the Admitted Students website). The student's sponsor will receive a separate billing statement and payment instructions from Harvard University's Third-Party Billing Office. Students are responsible for paying the items on their student accounts that the sponsor will not be paying. In addition, if the student's sponsor fails to pay the agreed-upon amount, the student is responsible for paying all charges remaining on the student's account before the end of the academic year. Third-Party Billing Forms should be sent to:
Graduate Program Financial Aid
Harvard Law School
Graduate Program, WCC 5005
1585 Massachusetts Avenue
Cambridge, MA 02138
Email: GPFinaid@law.harvard.edu
Financial Aid Credits
Students who have accepted a scholarship and/or loan from the Graduate Program or the Harvard University Committee on General Scholarships may deduct the amount of any such financial aid when paying their student bill, unless this amount is already reflected on the student account under the heading "Anticipated Financial Aid."
Note: Students who have accepted financial aid from any non-Harvard sources may not deduct any part of such aid from their amounts due (unless the financial aid will be paid directly to Harvard by a sponsor who has submitted a Third-Party Billing Form; please see information on sponsor payments above).
Each student who accepts a student loan as part of their financial aid package must attend a loan information session during Orientation. International students with student loans may also need to present their passports, visa documents, and local identity cards (e.g., driver's license or national identity card) to comply with verification requirements.
Health Insurance and Dental Insurance
All registered students are automatically enrolled in the University Health Service Plan. The total fee, which includes access to services provided by the University Health Clinic, Blue Cross/Blue Shield insurance coverage, and prescription drug coverage, is $5,528 for the 2023-2024 academic year.
The Health Services fee is mandatory and cannot be waived by any student in 2023-2024. The Massachusetts Division of Health Care Finance and Policy has issued regulations that set the minimum standards for a student health insurance program. To waive participation in the Harvard-sponsored Blue Cross/Blue Shield insurance plan, students located in the Cambridge area must show that you have alternative health insurance that is comparable to these minimum standards (and foreign insurance typically does not satisfy this requirement). Further information regarding these standards and waiver eligibility is available at hushp.harvard.edu/waiving-health-insurance-coverage.
To apply for a waiver online, please carefully review all information and follow the instructions available at hushp.harvard.edu/waiver-eligibility-application.
Insurance coverage for a spouse and other dependents is also available if you specifically apply for such coverage within the open enrollment period (i.e., before August 31, 2023 for the fall term, and before February 28, 2024 for the spring term). For more information, please visit hushp.harvard.edu/student-dependents. Enrollment forms for dependents are available at hushp.harvard.edu/student-dependents or at the Health Clinic located in the Smith Campus Center, 75 Mt. Auburn Street, Cambridge, MA 02138.
Payment of Student Accounts
All students are expected to pay amounts due on their student accounts on a timely basis. No diploma will be awarded to any student with an outstanding balance. In some cases, the actual degree will be withheld until the balance is paid in full.
Any student who leaves the university with an amount due on the student account that is unpaid for 60 days or more may be subject to collection activities. The costs associated with collecting an unpaid account will be added to the student's outstanding debt and must be paid in full.
Student bills may be paid online or by money order, check, Western Union, or Flywire, but not by cash or credit card. All payments are to be made in U.S. currency. Checks must be drawn on a U.S. bank (or a bank with a U.S. branch indicated on the check) and made out to "Harvard University," with your name and Harvard student identification ("HUID") number clearly written on the check.
For more information about the acceptable forms of payment, please visit sfs.harvard.edu/methods-payment.
Harvard University accepts international wire transfers through Convera and Flywire. Both Convera and Flywire offer various payment methods, a wide range of international currency options, competitive exchange rates, and the convenience of paying through a local bank. There are no transaction fees from Harvard University's bank, though your bank may charge a fee. Links to the Convera and Flywire payment pages for Harvard University are under "International Wire Transfers" at sfs.harvard.edu/methods-payment.
Important Tax Information for Foreign Students
If you are a foreign student and you receive a scholarship from a U.S. source, you may be subject to a 14% withholding of U.S. federal income tax on the amount of your scholarship that exceeds tuition and mandatory fees. However, if you come from a country that has a tax treaty with the United States, you may be exempt from such tax withholding. (Note that tax withholding is not necessarily the amount of tax you owe — even if tax is withheld, you may not actually owe tax and may receive a refund and, conversely, even if tax is not withheld, you may actually owe tax when you file your tax return.)
For more information on tax withholding for foreign students, please visit: sfs.harvard.edu/information-foreign-students and hio.harvard.edu/tax-filing-information. The Harvard University Financial Services (UFS) Office helps international students determine their tax residency status and apply for tax treaty benefits. Please contact the UFS at nratax_ufs@harvard.edu with any questions about tax residency or tax treaties. Please note that although a tax treaty may exempt your scholarship (and/or earnings, if any) from tax, you are still required to file an income tax return (report). (You will receive more information about this from the Harvard International Office.)