Professor Alvin C. Warren, Jr.
Ropes & Gray Professor of Law
Director, Fund for Tax and Fiscal Policy Research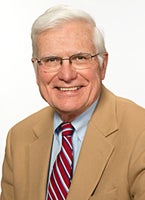 Alvin C. Warren is the Ropes & Gray Professor of Law at Harvard Law School, where he has taught tax law and policy since 1979. He is the founding director of the HLS Fund for Tax and Fiscal Research, which was organized in 1985. Prior to coming to Harvard, Professor Warren was a member of the law faculties of the University of Pennsylvania, Duke University, and the University of Connecticut. He has also been a Visiting Professor at Stanford and Yale. Professor Warren received a B.A. in English (magna cum laude, Phi Beta Kappa) from Yale University in 1966 and a J.D. (with honors, Order of the Coif) from the University of Chicago Law School in 1969. He is the recipient of a Guggenheim Fellowship and of teaching awards at Harvard, Pennsylvania and Connecticut.
Professor Warren has been active in professional organizations concerned with tax law and policy. He is the author of a study on corporate tax integration published by the American Law Institute. At the American Bar Association, he has been a member of the Council of the Section of Taxation and Chair of its Committee on Basic Tax Structure and Simplification. He is a past Chair of the Section of Taxation of the Association of American Law Schools. In 2016, Professor Warren received the National Tax Association's Holland Medal, which recognizes lifetime achievement in the study of the theory and practice of public finance. He is a member of the Connecticut and Pennsylvania bars.