Resurgence of Māori Law: the Constitutional Transformation Movement in Aotearoa New Zealand
March 30, 2023
12:30 pm - 1:30 pm
This event has passed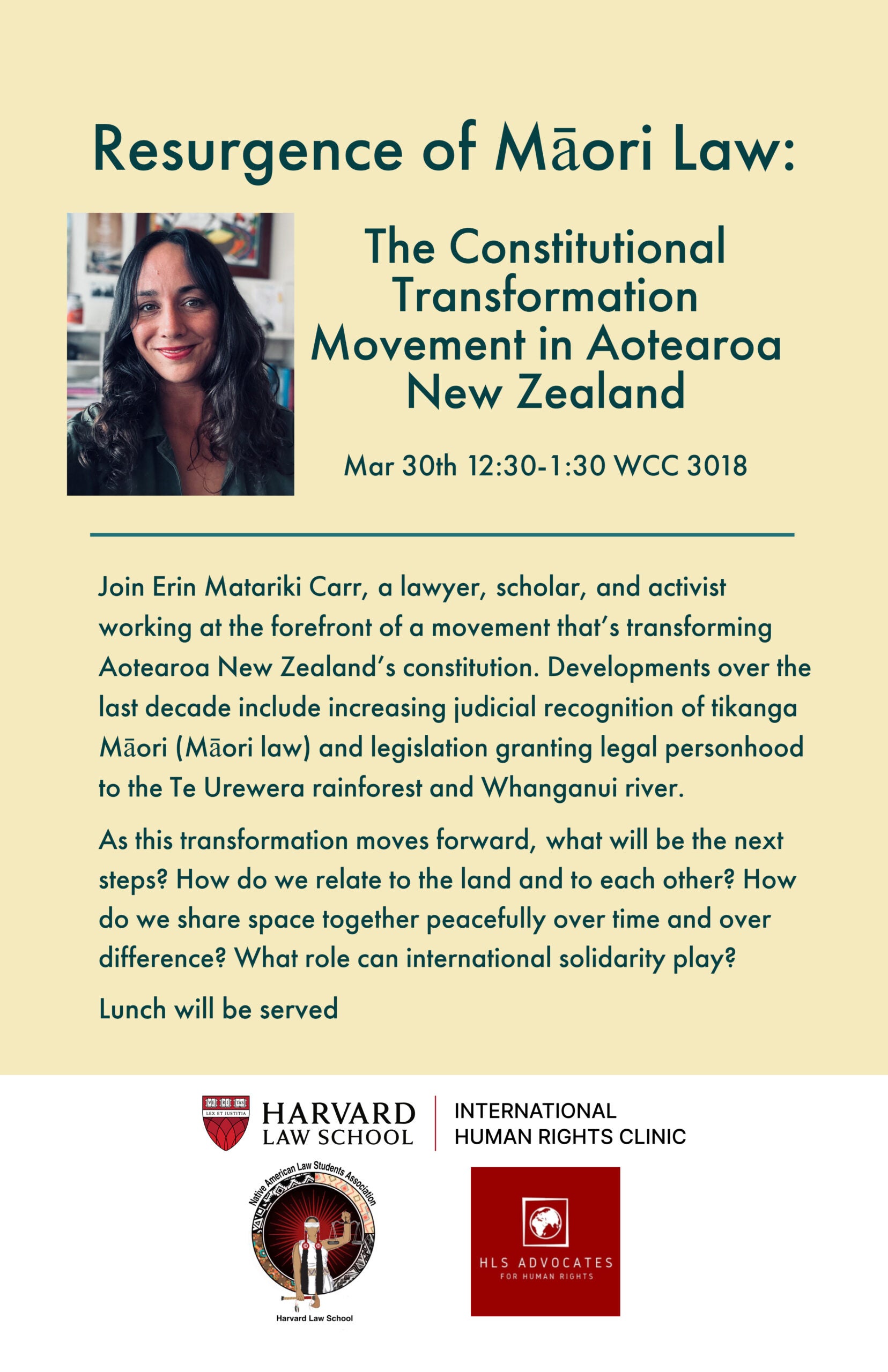 Since the "Māori Renaissance" era of the 1960s-1980s, Aotearoa New Zealand's constitution and law has been in slow transformation as Māori law has resurged and with greater recognition within the settler colonial legal system. Now in 2023, we are in a fascinating time. The controversial Treaty of Waitangi Settlement process, which seeks to settle historical claims by Māori nations against the Crown (New Zealand Government) for breaches of Te Tiriti o Waitangi (the Treaty of Waitangi), a foundational constitutional document, is edging towards completion; its impact to date has transformed the landscape of Crown-Māori relations politically and economically. In a series of cases over the last decade, the New Zealand Supreme Court has confirmed the judiciary's recognition of tikanga Māori (Māori law) as its own independent system that is in dialogue with New Zealand's common law. And legislative innovations including the legal personhood of Te Urewera rainforest in 2014 and Whanganui river in 2017 are carving out new space to imagine a future of true transformation towards a constitution that honors Te Tiriti o Waitangi. At the heart of this discussion is how do we relate to the land, and to each other? And how do we share space together peacefully over time and over difference? In this lunch talk, we will go through this history, look at this emerging era of Māori law, and discuss the role of international solidarity; how a rising tide floats all boats.
Erin Matariki Carr (Ngāi Tūhoe and Ngāti Awa), a lawyer, scholar, and activist working at the forefront of this transformation, will lead this conversation. Matariki is the Co-Lead for RIVER (Revitalising Indigenous Values for Earth's Regeneration) and co-Manager of Te Kuaka NZA, an NGO aimed at informed public debate relating to Aotearoa New Zealand's place and foreign policy in this changing world.
This event is hosted by the International Human Rights Clinic, and co-sponsored by HLS Advocates and the Native American Law Students Association.
Add to Calendar
March 30, 2023, 12:30 pm - 1:30 pm