Pivoting from Biglaw: Alternative Career Pathways of HLEP Alumni
March 9, 2023
12:30 pm - 1:30 pm
This event has passed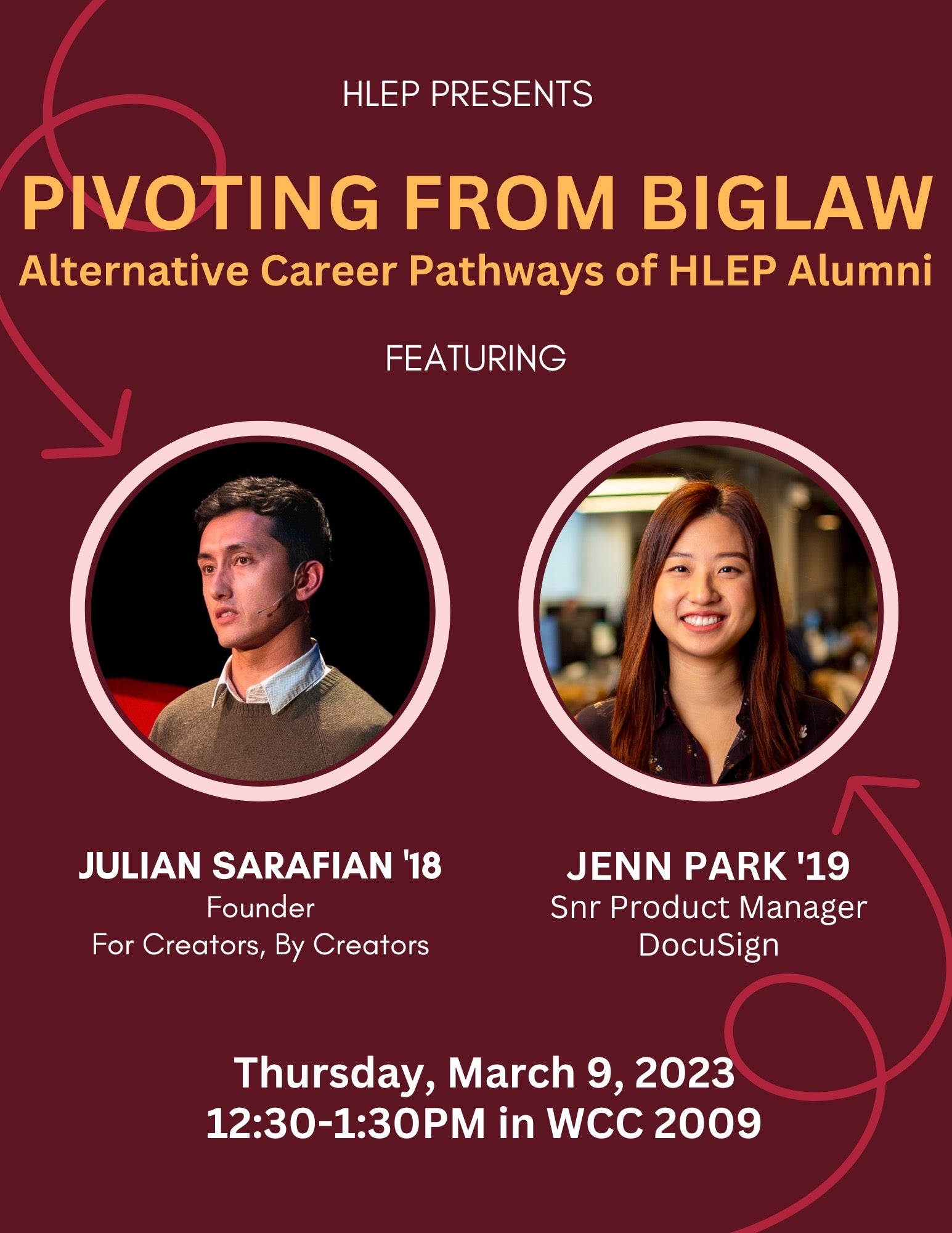 Join us for an engaging and insightful discussion on career options beyond Biglaw, featuring two of our HLEP alumni active in legal tech and content creation. In this career panel, our alumni will share their experiences and provide valuable advice for law students looking to explore alternative career options. This panel will provide you with valuable insights and practical tips for finding your niche and building a fulfilling legal career. Don't miss this opportunity to learn from successful legal professionals who have charted their own course and found success outside of the traditional Biglaw model.
This event is hosted by the Harvard Law Entrepreneurship Project (HLEP). Lunch will be provided. Please RSVP at: https://forms.gle/uHpJp7LwdZ7PWrxp9.
Panelists Bio
Jenn Park '19 is a Senior Product Manager at DocuSign where she builds AI products for lawyers. After graduating from Harvard Law School, she began her legal tech career as a Legal Engineer at Ironclad, a contract management software startup backed by Y Combinator and Sequoia Capital. Jenn is a passionate advocate for law students pursuing non-Biglaw careers and regularly coaches lawyers wishing to break into the legal tech industry.
Julian Sarafian '18 is a 2x TEDx speaker who advocates for mental health on social media and runs his own law firm For Creators by Creators PC, the premier firm focused on representing content creators and social media influencers. Prior to his advocacy work he worked at Wilson Sonsini as a corporate associate. You can reach him at julian@juliansarafian.com.
Add to Calendar
March 9, 2023, 12:30 pm - 1:30 pm