Massachusetts Supreme Judicial Court Adams Pro Bono Awards Ceremony
October 26, 2022
4:00 pm - 5:30 pm
This event has passed
The SJC Standing Committee on Pro Bono Legal Services works to promote volunteer legal work in Massachusetts to help people of limited means in need of legal representation, in accordance with Rule 6.1 of the Massachusetts Rules of Professional Conduct for attorneys. The awards ceremony is one of many activities celebrating and building support for pro bono legal work in Massachusetts during the month of October, a month officially proclaimed Pro Bono Month by Governor Charlie Baker. The American Bar Association has also proclaimed a National Celebration of Pro Bono during the week of October 26-30, 2022. 
Harvard Law students who have recently completed 50 or more hours of pro bono work according to the Committee's criteria will be celebrated and included on the Honor Roll. 
This event is a part of Pro Bono Week 2022: Protect! Participate! Pro Bono! hosted by the Office of Clinical and Pro Bono Programs.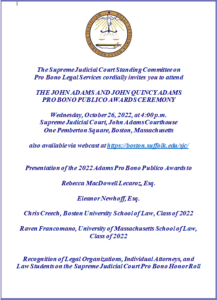 Add to Calendar
October 26, 2022, 4:00 pm - 5:30 pm