Judge Robert Lecourt: The Man Behind Europe's Legal Revolution
November 9, 2023
12:15 pm - 1:15 pm
This event has passed
Hauser Hall; 102 Malkin Classroom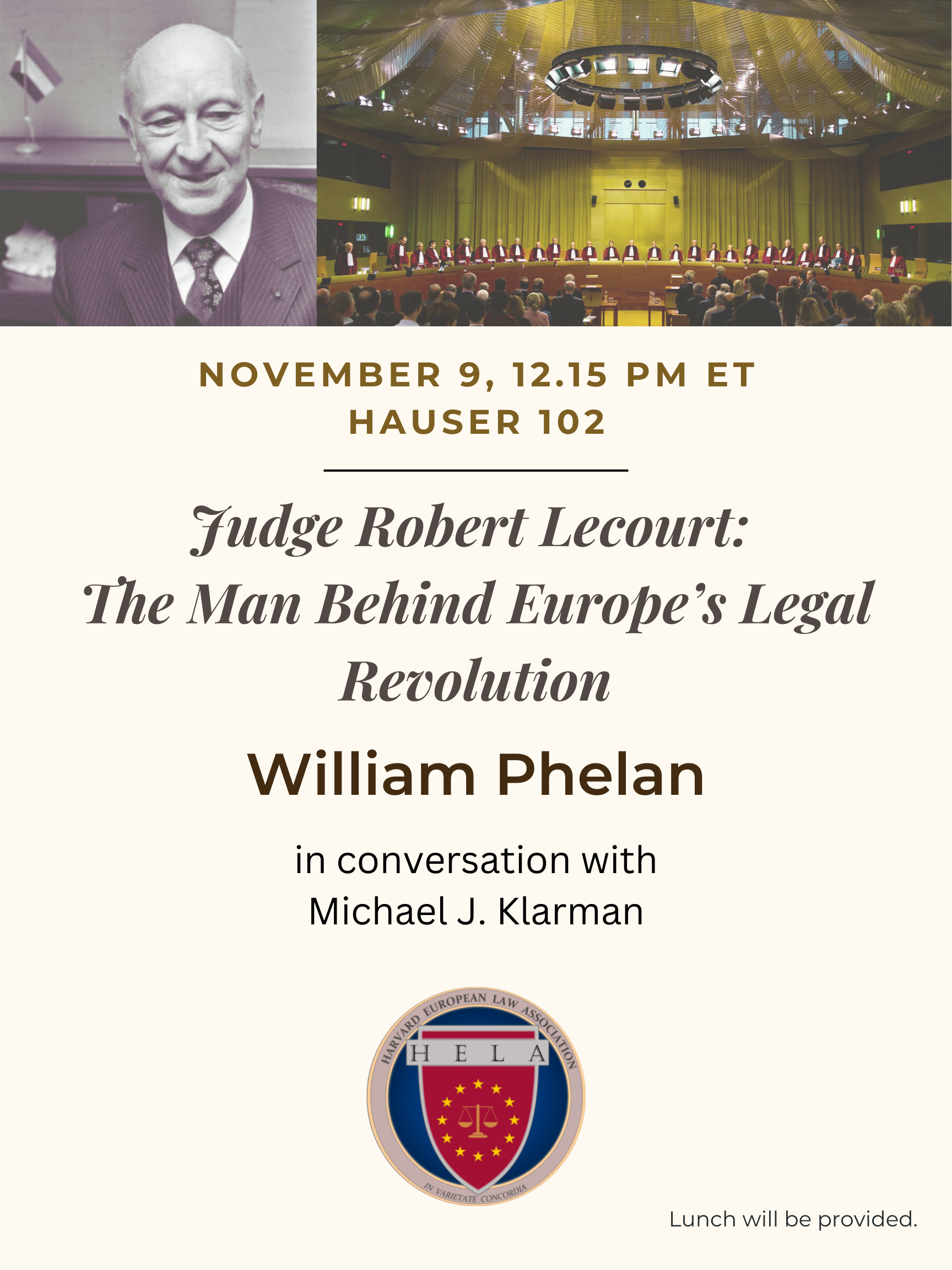 Are you interested in the history and politics of European law? Do you want to learn more about the influential figures and ideas that shaped the legal landscape of the continent? If so, you won't want to miss the next HELA event!
HELA is hosting a talk by Professor William Phelan, Associate Professor of Political Science at Trinity College Dublin and a Visiting Scholar at Harvard, who will share his insights on the life and work of ECJ Judge Robert Lecourt. Lecourt was a key player in the "legal revolution" that transformed Europe's legal system and challenged the sovereignty of national parliaments. He was also involved in the adoption of Article 49-3 of the French Constitution, a controversial provision that allows the government to bypass parliamentary approval on certain bills.
Professor Phelan will discuss how Lecourt's vision of "effectiveness" guided his judicial activism and his impact on European integration. He will also examine the parallels and contrasts between Lecourt's legacy and the current state of EU law and politics. His talk will be followed by a response from our own Professor Michael Klarman, a leading scholar of constitutional law and history.
Professor Phelan is the author of Great Judgments of the European Court of Justice (Cambridge, 2019) which was included in "Legal Books of the Year 2021" by leading German law journal, JuristenZeitung, and in JHH Weiler's "10 Good Reads" for 2020 in the European Journal of International Law also at https://www.ejiltalk.org/10-good-reads-part-2/
This is a rare opportunity to hear about the foundational era of the European Union, and to compare it with the US experience. Lunch from Sweetgreens will be provided.
Add to Calendar
November 9, 2023, 12:15 pm - 1:15 pm