Investor-State Dispute Settlement Five Years Post-Achmea: Implications for the US and the EU, and the Future of Investment Arbitration
March 27, 2023
12:15 pm - 1:15 pm
This event has passed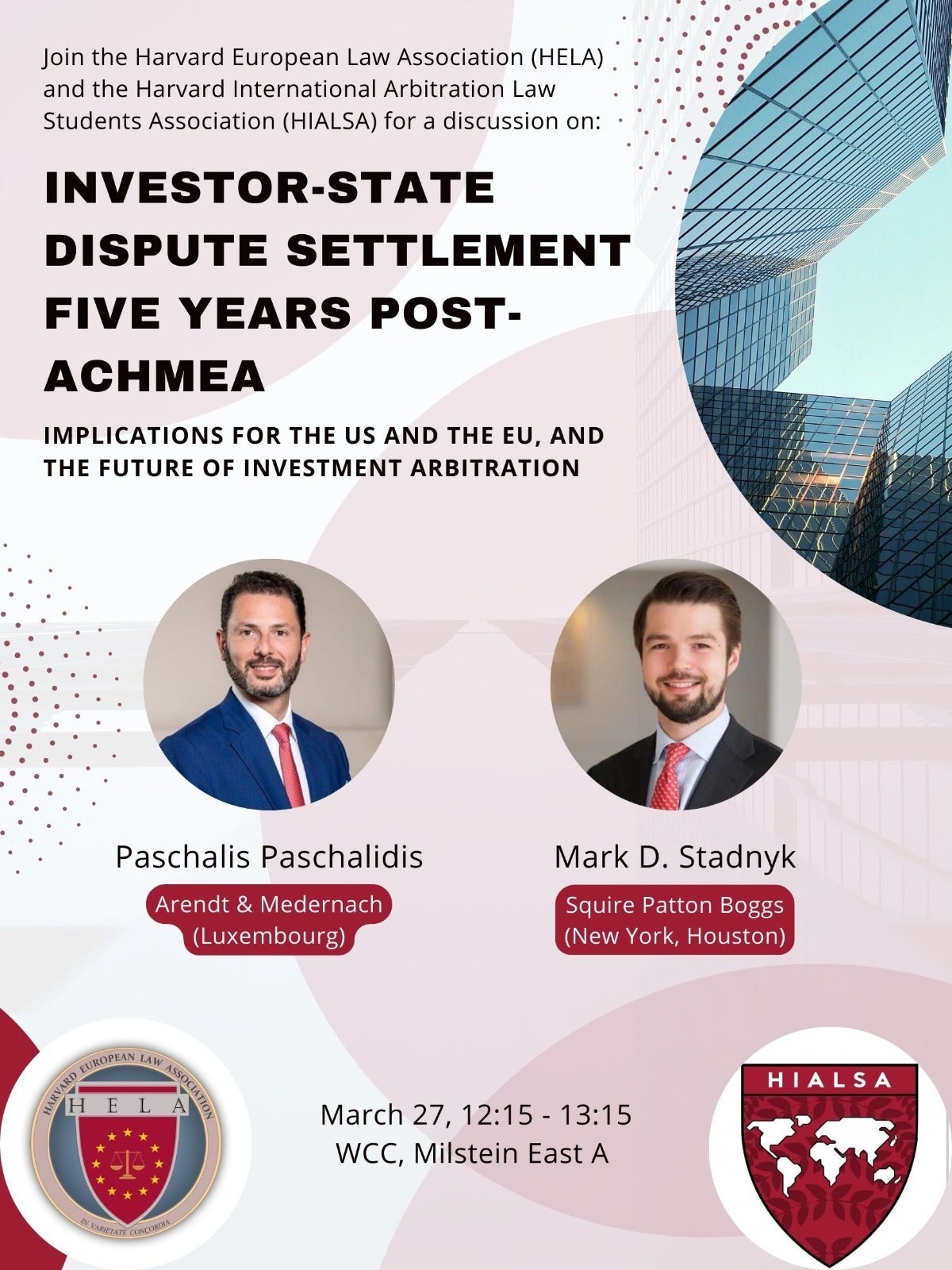 Join the Harvard European Law Association (HELA) and the Harvard International Arbitration Law Students Association (HIALSA) for a discussion with Paschalis Paschalidis and Mark Stadnyk on investment arbitration from a U.S. and European perspective. The discussion will shed light on the resolution of international investment disputes and the enforcement of arbitral awards in light of recent developments in the United States and the European Union. Lunch will be served!
Paschalis Paschalidis is a counsel in the Litigation & Dispute Resolution practice of Arendt & Medernach (Luxembourg). He acts as counsel in commercial and investment treaty arbitrations under a variety of arbitral rules, as well as an arbitrator. He also acts in enforcement proceedings and other arbitration-related matters before the Luxembourg Courts. Recent mandates include the representation of Luxembourg investors in proceedings initiated by the Kingdom of Spain to restrain the enforcement of ICSID awards in the US and elsewhere, and of Ioan Micula and others in proceedings initiated by Romania to challenge the recognition of an ICSID award in Luxembourg. Paschalis formerly served as référendaire to First Advocate General Melchior Wathelet at the Court of Justice of the European Union as well as senior associate at Shearman & Sterling and counsel at Gaillard Banifatemi Shelbaya Disputes. Paschalis is an associate professor of law at the University Lyon III "Jean Moulin" where he teaches EU and international investment law.
Mark Stadnyk is an HLS alum (LL.M.'11) and partner at Squire Patton Boggs in Houston and New York focusing on international commercial and investor-state arbitrations. He serves as counsel in international disputes involving a wide range of sectors, institutions, arbitral rules, and treaties. He has represented major publicly traded companies and sovereign states in a diverse range of international arbitrations and litigations. Recent mandates include representation of the Republic of Kosovo, the Slovak Republic, the Republic of Croatia, the Palestinian Authority, and other sovereigns in investment arbitrations concerning energy, telecoms, microfinance, and other sectors.  Mark has also acted for the European Commission, itself acting as a representative of the European Union, as amicus before the D.C. Circuit concerning enforcement of a US$365 million arbitral award, Micula et al. v. Romania, No. 19-7127 (D.C. Cir.). Mark frequently speaks and writes on international legal matters and works with the New York International Arbitration Center to maintain its Case Law Library. He previously practiced in the international arbitration team at law firms in Paris and Houston.
Add to Calendar
March 27, 2023, 12:15 pm - 1:15 pm