Halfway through Harvard celebration for 2Ls and LLMs
February 9, 2023
6:00 pm - 8:00 pm
This event has passed
Calling all 2Ls and LLMs!
You are officially Halfway Through Harvard!
Celebrate with your classmates on Thursday, February 9th, from 6:00 pm – 8:00 pm in Milstein East.
Light refreshments and hors d'oeuvres will be served. Business casual attire is encouraged.
Organized in partnership with the Dean of Students Office, the Graduate Program, and Student Government, we are excited to acknowledge this special milestone with you.
Please RSVP here.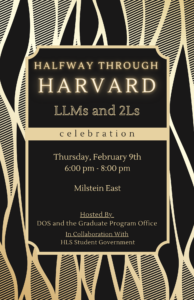 Add to Calendar
February 9, 2023, 6:00 pm - 8:00 pm