Festivities@4: Harvard Staff Art Show Opening Reception
March 16, 2023
4:00 pm - 5:30 pm
This event has passed
Langdell Hall; 231 Fishman Reading Room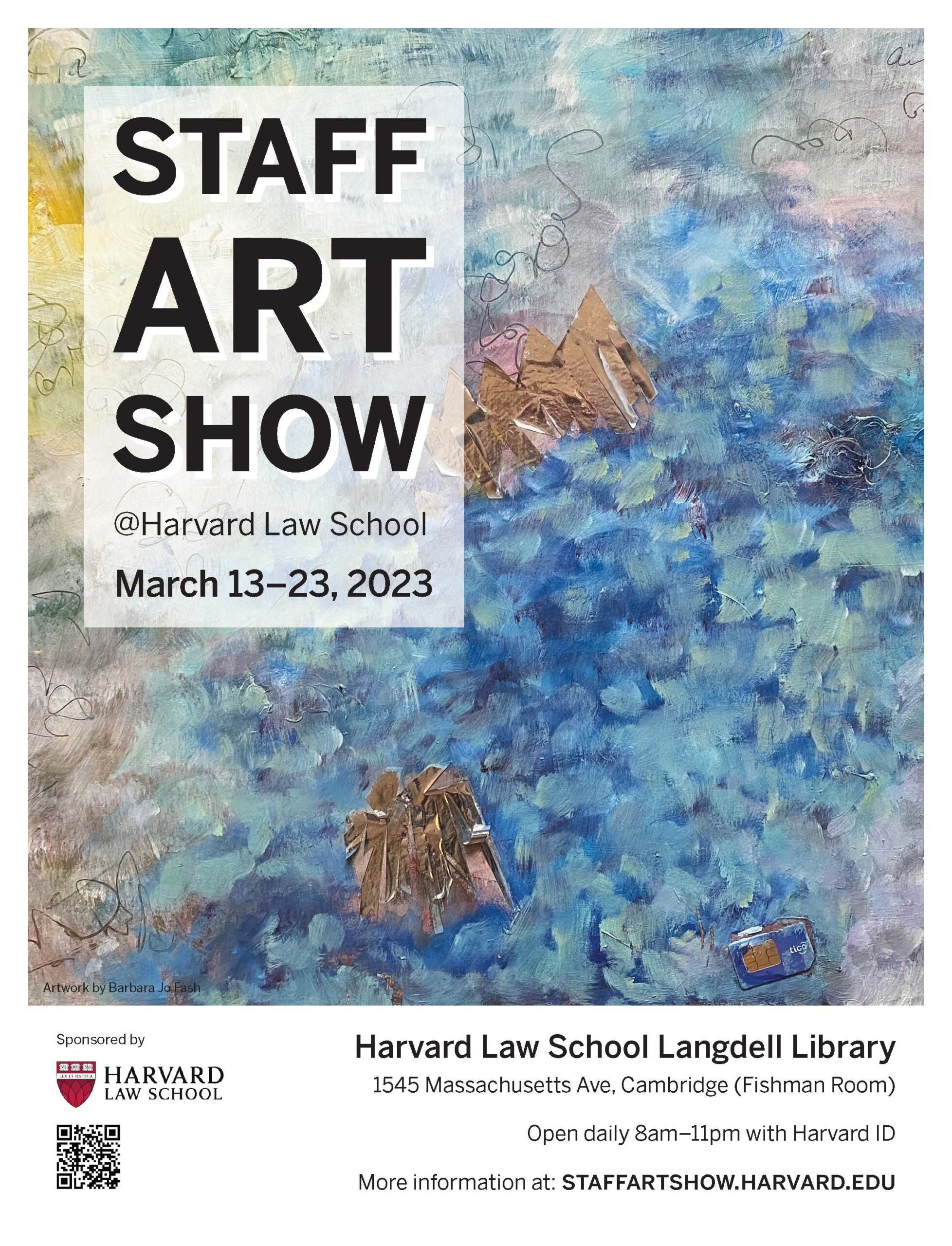 The 2023 Harvard Staff Art Show celebrates the creative work of Harvard staff through an online exhibition, six in-person shows, and artist events across campus. The online exhibition spotlights over 370 artworks by over 220 artists from across the University.
The Harvard Law School Langdell Library is pleased to host one of the six in-person shows, featuring a subset of the artworks submitted to the larger Staff Art Show, including works from five HLS artists.  You can see the information about the week-long gallery here.
We will be holding an opening reception at a special edition Festivities@4 to celebrate the featured artwork!
The reception is for the featured artists, their families, and the HLS Staff.
STAFF ART SHOW @HLS COORDINATORS:
Lisa Ananias, Tracy Blanchard, and Theresa Flaherty
SPECIAL THANKS TO:
Gloria Alonzo, John Arciprete, Stacey Goodwin, and Jocelyn Kennedy
PARTICIPATING ARTISTS:
Julia Adelman
Matthew Adelman
Jean-Paul Alexandre
Gloria Alonzo
Camilo Atehortua
Clint Attebery
Elizabeth Berndt
Nina Bhattacharya
Tracy Blanchard
Lindsay Blevins
Madison Faraut
Barbara Jo Fash
Neha Karlupia
John Kelly
Amy Mendelsohn
Juli Mikush
Uma Mirani
Jennifer Nova
Weiwei Pan
Kate Purvis
Nacho Sanguinetti
Roel Torres
Pamela Toscano
Maria Uriarte
Genevieve Wallace
Georgie Wilton
Add to Calendar
March 16, 2023, 4:00 pm - 5:30 pm