Digital Public Spaces for a Healthy Democracy: goals, values & aspirations
April 5, 2023
12:30 pm - 1:30 pm
This event has passed
Berkman Klein Multipurpose Room (Room 515)
1557 Massachusetts Avenue
Cambridge, MA 02138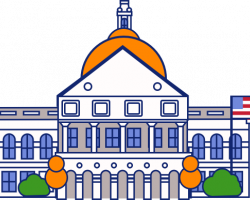 Join us for a moderated discussion among leaders in civic tech, ethics, advocacy, and journalism about how to reimagine the digital public square. We will explore how online discussion can be more constructively harnessed to improve public policy by helping people to productively exchange ideas and direct their perspectives, insights, and passions about policy issues to channels that influence policymakers. The discussion will address topics including digital infrastructure for democracy, the evolving role of social media and private platforms, content moderation, and the sensitivity of data generated by public debate.
The event is timed to coincide with the public launch of a new tool called MAPLE that helps people to direct their perspectives, insights, and passions about societal issues to channels that influence public policy. Specifically, MAPLE (the Massachusetts Platform for Legislative Engagement) makes it easy for anyone to submit written testimony to the MA legislature, and to see testimony written by others. MAPLE, has been built by a group of volunteer technologists at Code for Boston and has been incubated by Northeastern University's NuLawLab. They are operating as a nonpartisan, open source, and nonprofit (501c3) project operating under Open Collective and supported by Partners in Democracy.
About MAPLE
The Massachusetts Platform for Legislative Engagement (MAPLE) is an open source web platform that makes it easy for all stakeholders to submit testimony to the Massachusetts legislature and to read the testimony of others. MAPLE is a new digital public space for constituents to meaningfully engage in state government, learn about proposed legislation that impacts our lives in the Commonwealth, and to share their perspective, stories, and expertise. The platform was built as a public good and is publicly launching this April, free to use for all and developed and maintained by volunteer developers as a 501c3 nonprofit project.
Speakers
Recommended Resources
https://www.wbur.org/hereandnow/2021/02/08/tristan-harris-big-tech
https://www.axios.com/local/boston/authors/mike.deehan@axios.com
Add to Calendar
April 5, 2023, 12:30 pm - 1:30 pm