Class of 2023 Last Lecture Series
March 29, 2023
12:30 pm - 1:30 pm
This event has passed
Recurring
It's HLS tradition for the graduating class at HLS to hear from select faculty members who provide their guidance and advice for the upcoming sendoff moment of our careers. This year, the Class of 2023 Class Marshals have asked three professors to join us and provide their thoughts, which typically range from advice to reflections to charges. These lectures are an opportunity to glean some words of wisdom and encouragement from people who previously occupied the same seats!
Each of the lectures will take place in Austin Hall during the lunch hour (12:30 – 1:15pm ET). Lunch will be provided, and specific dates and times are listed below.
We hope to see you there!
Wednesday, March 29 | Austin East, 12:30 pm
Michael Klarman, Charles Warren Professor of American Legal History
Tuesday, April 4 | Austin West, 12:30 pm
Alexander Chen, Lecturer on Law­­­­­
Monday, April 10 | Austin East, 12:30 pm
Alexandra Natapoff, Lee S. Kreindler Professor of Law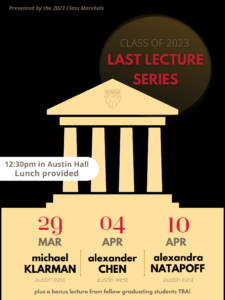 Add to Calendar
March 29, 2023, 12:30 pm - 1:30 pm