BAD AXE Film Screening and Q&A with Director David Siev
April 6, 2023
6:00 pm - 8:00 pm
This event has passed
Harvard Kennedy School, Bell Hall
B-500, Belfer 5th Floor
Cambridge, MA 02138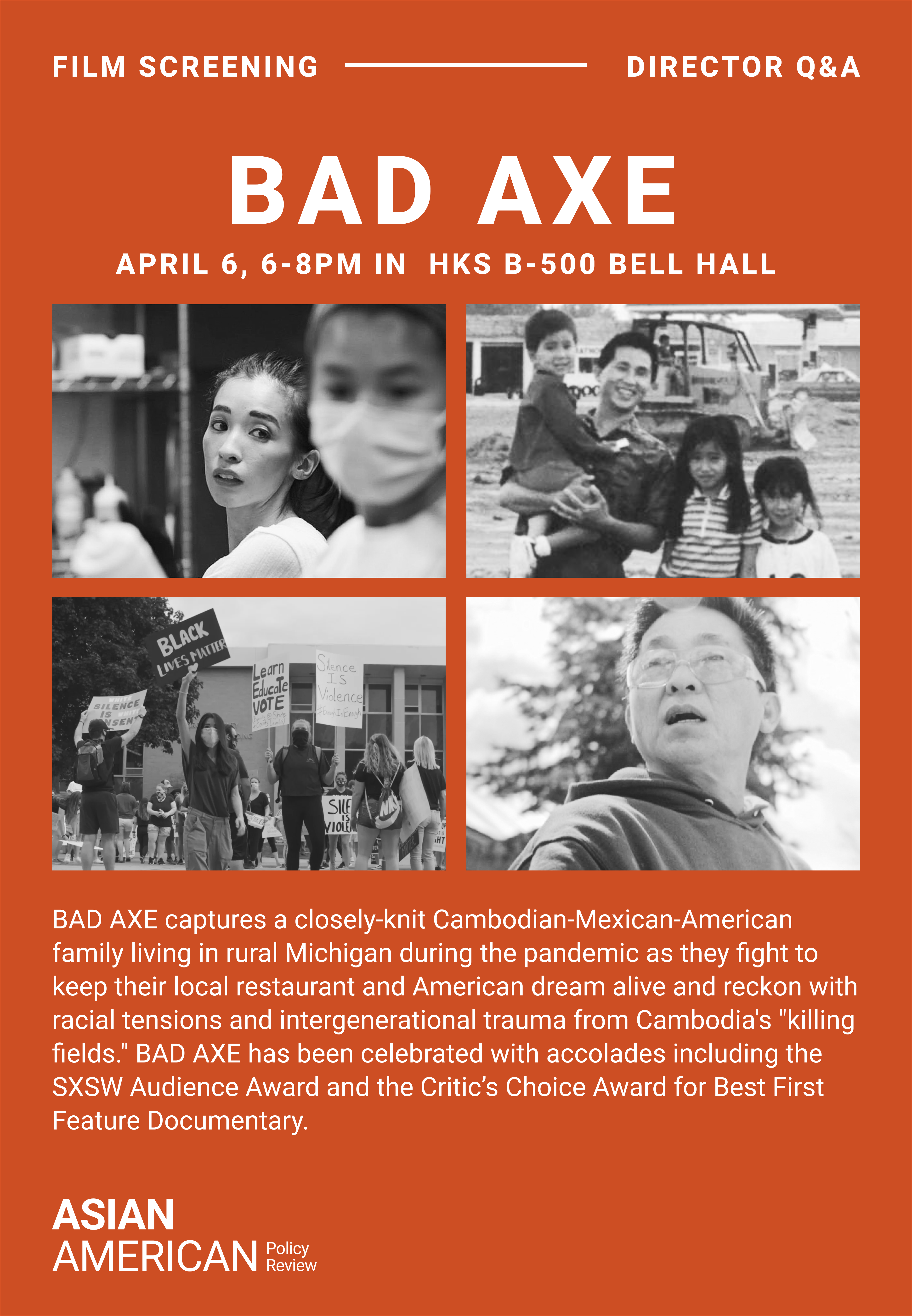 Join the Asian American Policy Review at the Harvard Kennedy School in partnership with APALSA at HLS for a screening of the new documentary film BAD AXE, followed by a discussion with SXSW award-winning filmmaker David Siev.
BAD AXE captures a closely-knit Cambodian-Mexican-American family living in rural Michigan during the pandemic as they fight to keep their local restaurant and American dream alive. With rising racial tensions, the family uses their voice and must unite as they reckon with backlash from a divided community, white supremacists, and intergenerational trauma from Cambodia's "killing fields."
BAD AXE has been celebrated with numerous accolades, including the SXSW Audience Award and the Critic's Choice Award for Best First Feature Documentary. RogerEbert.com described BAD AXE as "the most essential film made about this era." The San Francisco Chronicle called it "among the finest and most important films about the year." Watch the trailer here: https://youtu.be/t49CW-lZ25Y
Refreshments will be served, and the event is free and open to all Harvard community members (students, faculty, staff, fellows, and affiliates).
This event is hosted by the Asian American Policy Review (AAPR) at HKS in partnership with our cosponsors:
Asian American and Pacific Islander (AAPI) Caucus at HKS

U.S. Latinx Caucus at HKS

Asian Pacific American Law Students Association (APALSA) at HLS

Latin America Policy Journal at HKS

First-Generation and Low-Income (FLI) Caucus at HKS

Pan-Asian Coalition for Education (PACE) at HGSE
Add to Calendar
April 6, 2023, 6:00 pm - 8:00 pm