Advancing Platform Research through the EU Digital Services Act
April 6, 2023
12:30 pm - 1:30 pm
This event has passed
Berkman Klein Multipurpose Room (Room 515)
1557 Massachusetts Avenue
Cambridge, MA 02138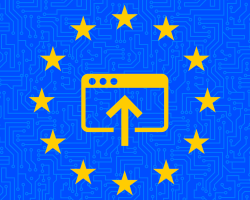 The Digital Services Act (DSA) presents the most ambitious horizontal regulation of online platforms to date. It is likely to set global standards for platform regulation due to the EU's market size and the corresponding Brussels Effect. In the area of platform research, it will have a global effect as soon as it becomes applicable in early 2024, by placing far-reaching transparency obligations on online platforms. In its conception, the European legislators have placed great faith in a vibrant civil society and academic community to contribute to a healthy platform ecosystem. Not only does the Digital Services Act give civil society legal standing to represent the interests of platform users, but it also requires online platforms of any size to explain their content moderation decisions and publish those explanations in an openly accessible database, inspired by the Berkman Klein Center's Lumen database of notice and action requests. In addition, a new research data access regime will allow international researchers to request information from very large online platforms such as AliExpress, Amazon, Facebook, TikTok or the Apple and Google app stores that is necessary for research into systemic risks posed by those platforms, in areas such as fundamental rights, dissemination of illegal content, electoral discourse, public health or hate speech.
On this panel, Felix Reda, former Member of the European Parliament and BKC affiliate, Malte Spitz, secretary general of German fundamental rights litigation NGO Society for Civil Rights (GFF) and Adam Holland, Project Manager of the Lumen project at BKC, will explore how researchers, journalists and activists from across the globe can make use of the DSA's provisions to improve our understanding of online communication and hold platform operators to account.
Speakers
Felix Reda (he/they) has focused his political work on copyright reform and platform regulation as a Member of the European Parliament 2014-2019. He leads the strategic litigation project control ©, designed to strengthen communication freedoms in relation to copyright law, with German fundamental rights NGO Gesellschaft für Freiheitsrechte (GFF). Felix is an affiliate at the Berkman Klein Center.
Malte Spitz (he/him) is co-founder and Secretary General of Gesellschaft für Freiheitsrechte (GFF)/ Society for Civil Rights, that defends fundamental and human rights by legal means. He is a member of the National Regulatory Control Council (NKR) since 2022. Malte Spitz was a Green Party politician from 2006 to 2022. In the 2021 coalition negotiations at the federal level, he chaired the "Digital Innovations and Digital Infrastructure" transition team for the Greens.
Adam Holland (he/they) has been the Project Manager for the Lumen database since 2012. Originally formed in 2002 as Chilling Effects, Lumen collects, studies and faciliates research on takedown notices and other legal removal requests concerning online content. In his role as project manager, Adam liaises with the platforms that contribute data to Lumen, with the researchers and others who make use of Lumen data, and works closely with Lumen PI Chris Bavitz, Lumen Research Fellow Shreya Tewari, and the BKC technology team to continue to improve the database, solidify its unique position as the Internet's only multi-platform aggregator of takedown notice data, and offer the knowledge it has gained through over two decades working in this space.
Recommended reading:
https://www.technologyreview.com/2023/03/06/1069391/safer-internet-dsa-dma-eu/
https://verfassungsblog.de/dsa-money-effort/
https://freiheitsrechte.org/en/ueber-die-gff/unsere-strategie
Cover photo courtesy of EFF
Add to Calendar
April 6, 2023, 12:30 pm - 1:30 pm