ACS Supreme Court Moot: Jack Daniel's Properties Inc. v. VIP Products LLC
March 20, 2023
4:00 pm - 5:30 pm
This event has passed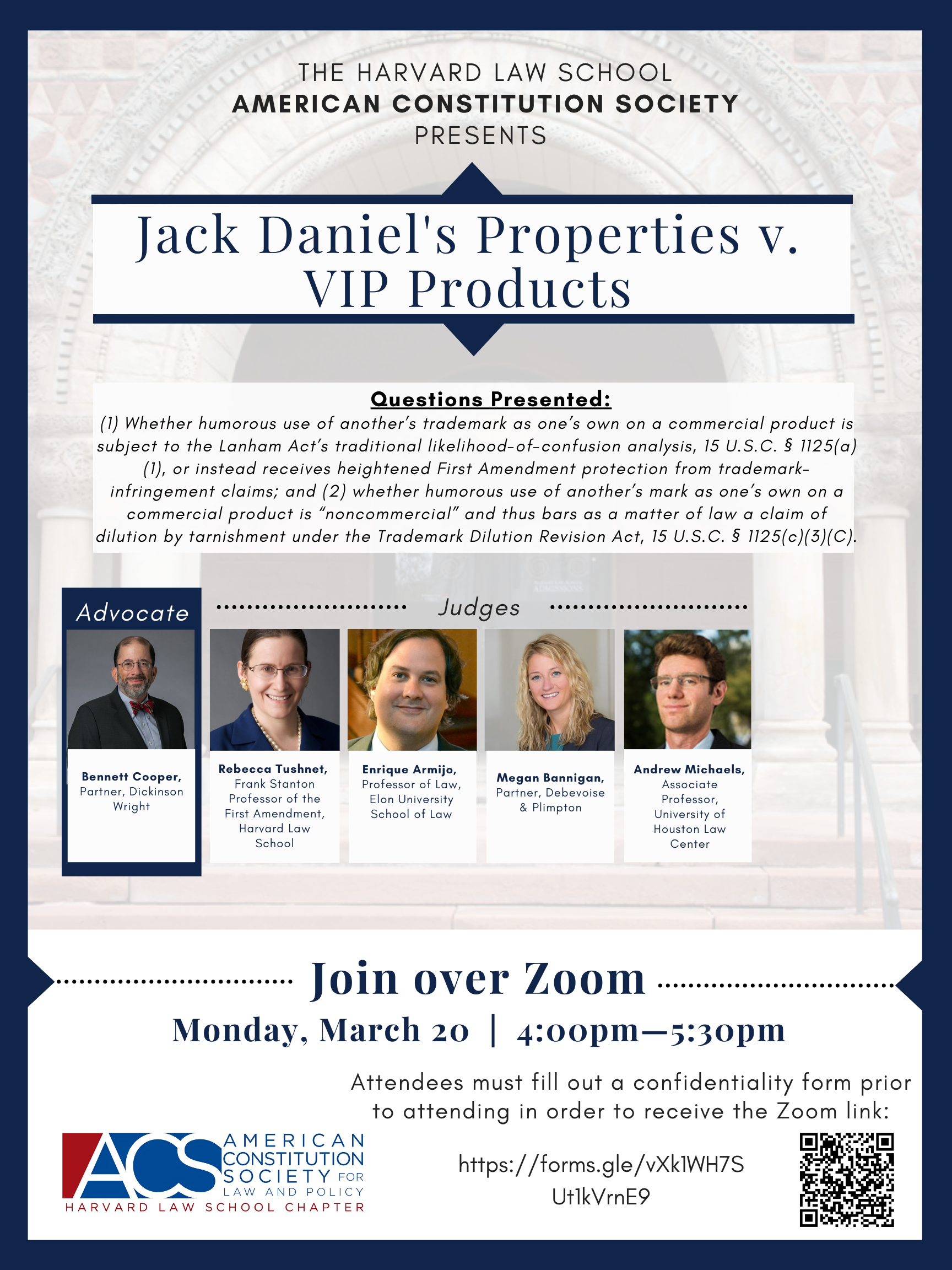 Please join the American Constitution Society in our first Supreme Court moot of the spring semester. On Monday, March 20th, from 4:00pm to 5:30pm on Zoom, ACS will be mooting Bennett Cooper (Partner at Dickinson Wright) on behalf of the respondent in Jack Daniel's Properties Inc. v. VIP Products LLC. The questions presented are: (1) Whether humorous use of another's trademark as one's own on a commercial product is subject to the Lanham Act's traditional likelihood-of-confusion analysis, 15 U.S.C. § 1125(a)(1), or instead receives heightened First Amendment protection from trademark-infringement claims; and (2) whether humorous use of another's mark as one's own on a commercial product is "noncommercial" and thus bars as a matter of law a claim of dilution by tarnishment under the Trademark Dilution Revision Act, 15 U.S.C. § 1125(c)(3)(C).
The case will be mooted by Professors Rebecca Tushnet (HLS), Enrique Armijo (Elon Law) and Andrew Michaels (University of Houston Law Center) as well as Megan Bannigan (Debevoise & Plimpton). This is a unique opportunity for students to learn about appellate advocacy and to engage with a pending Supreme Court case that represents the cutting edge of law.
Note that all planning to attend must fill out the following confidentiality form linked here in order to attend: link.
Add to Calendar
March 20, 2023, 4:00 pm - 5:30 pm