ACS Moot: Buchanan v. Barr / BLM-DC v. Barr (D.C. Cir.)
March 31, 2023
2:00 pm - 4:00 pm
This event has passed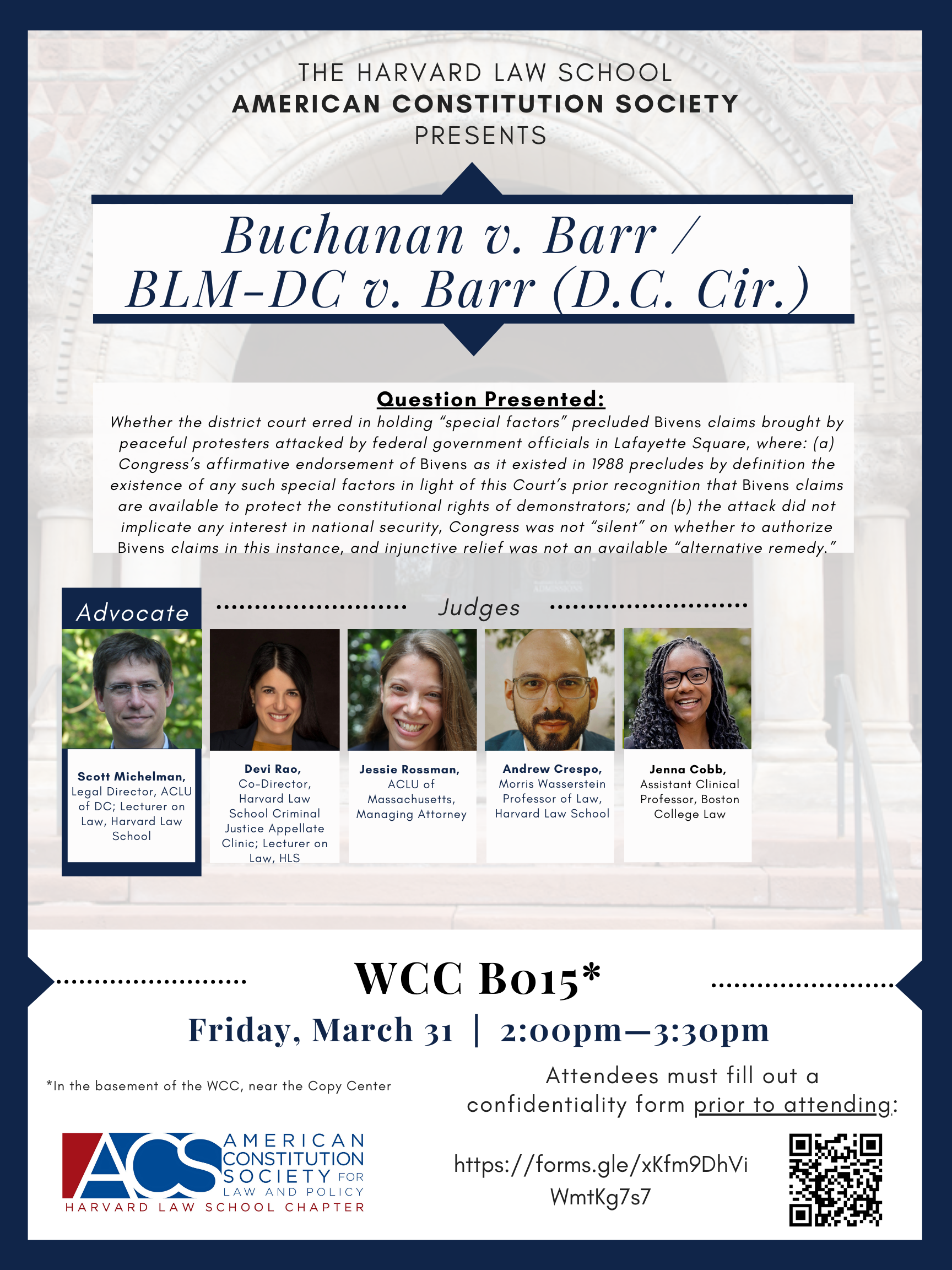 Please join us for another exciting moot this Friday, March 31st at 2pm in WCC B015 (in the basement of the WCC, near the Copy Center). ACS will be mooting (in-person!) Scott Michelman, who is the Legal Director of the ACLU of the District of Columbia, as well as the Shikes Fellow on Civil Liberties and Civil Rights and Lecturer on Law at Harvard Law School. He is representing the appellant in Buchanan v. Barr / BLM-DC v. Barr (consolidated for argument before the D.C. Circuit). See here for an ACLU article explaining the case below.
The case will be mooted by Devi Rao (Co-Director, Harvard Law School Criminal Justice Appellate Clinic; Lecturer on Law, HLS), Jessie Rossman (ACLU of Massachusetts, Managing Attorney), Andrew Crespo (Morris Wasserstein Professor of Law, HLS), and Jenna Cobb (Assistant Clinical Professor, Boston College Law School).
Question presented: Whether the district court erred in holding "special factors" precluded Bivens claims brought by peaceful protesters attacked by federal government officials in Lafayette Square, where: (a) Congress's affirmative endorsement of Bivens as it existed in 1988 precludes by definition the existence of any such special factors in light of this Court's prior recognition that Bivens claims are available to protect the constitutional rights of demonstrators; and (b) the attack did not implicate any interest in national security, Congress was not "silent" on whether to authorize Bivens claims in this instance, and injunctive relief was not an available "alternative remedy."
Note that all planning to attend must fill out the following confidentiality form linked here (before 2pm on Friday, March 31st) in order to attend: link.
Add to Calendar
March 31, 2023, 2:00 pm - 4:00 pm