Advisers
Catherine Pattanayak '04, Assistant Dean for Public Service
Judy Murciano, Associate Director and Director of Fellowships
Jillian Tuck, Associate Director for J.D. and LL.M. Advising, Programs, and Community Building
Elizabeth Shirey, Assistant Director for J.D. Advising
Joan Ruttenberg '82, Assistant Director for Government Advising and Director, Heyman Fellowship Program
Rachel Pemstein, Assistant Director for Alumni Advising
Virginia Corrigan '11, Seasonal JD Adviser
Marie Ndiaye '12, Seasonal JD Adviser
Administration
Micah Nemiroff, Assistant Director for Programs and Recruitment
Déborah Valero-Montijano, Fellowships Coordinator/Staff Assistant
Kelly Garvin, Communications and Systems Administrator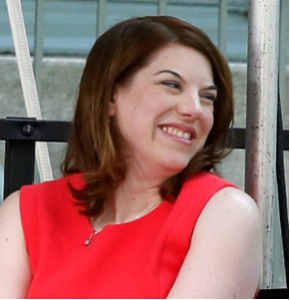 Catherine Pattanayak '04, Esq.
Assistant Dean for Public Service
Catherine Pattanayak (she/her) joined OPIA in 2009 after a career in health law. She has prior legal experience in the private sector and in government, having served as an attorney with the National Institutes of Health Branch of the Department of Health and Human Services' Office of the General Counsel. Before law school, she worked on bioterrorism policy with a small think tank in Washington, D.C. She received her B.A. from Georgetown University's School of Foreign Service and her J.D. from Harvard Law School, where she was a member of the BSA. She cares deeply about listening to students and supporting them in their individual career journeys and is a recipient of the Suzanne L. Richardson Staff Recognition Award from the Class of 2015 and the 2018 Student Government Teaching & Advising Award.
Ask me about: general career planning, imposter syndrome, following your own path at HLS, civil rights work, public defense, prosecution, carceral system reform, environmental law, government at all levels, health law, career transitions, and dual planning (between the public and private sectors).
In my free time, I enjoy: spending time with my son, jigsaw puzzles, visiting old school amusement parks (and in particular, Claw machines), watching Survivor and a healthy amount of HGTV, live comedy shows, and listening to music (let me know what's on your playlist!).
Types of Advising 
J.D. General Advising – Domestic
Post-Clerkship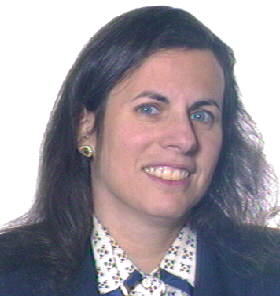 Judith Murciano
Associate Director and Director of Fellowships
Judy (she/her) holds a faculty position, advises on fellowships, and has served as a resident dean, supporting students' diverse academic and career trajectories. Prior to joining OPIA as one of its original team members, Judy worked as Legislative and Acting Exec. Dir. of ACLU-NJ, chaired the Bar's Juvenile Justice Comm., supervised the Farmworkers' Rights Project, clerked in the Bronx criminal courts, and led the National Comm. on Capital Punishment. Always encouraging creative contributions to the public interest, Judy wrote for The New Yorker, The New York Times, the International Herald Tribune, and Radio Free Europe, while working for Amnesty International in Paris, and helping to free political prisoners in Africa, Russia, and Asia. She taught at Harvard and Princeton, and researched her Ph.D. dissertation on censorship supported by fellowships at Cambridge and Oxford Universities. She has won numerous teaching awards, including the Conway Prize, and Faculty Innovation grants. Judy also received the Dean's Award for Excellence and the Suzanne L. Richardson Staff Recognition Award at HLS, and is a certified grant-writer, negotiator, and mediator.
Ask me about: general career planning, fellowships/scholarships, non-profits, entrepreneurship, civil rights/civil liberties work, academia, international clerkships, human rights work, medical/legal partnerships, dual tracks (clerkship/fellowships), cyberlaw, immigrant, racial justice work and thinking-outside-the box.
In my free time I enjoy: time with my son and daughter, connecting with friends (near and far), playing the piano, reading foreign-language newspapers, tennis, and ghostwriting books and scripts for famous people.
Types of Advising:
Fellowships
Post-Clerkship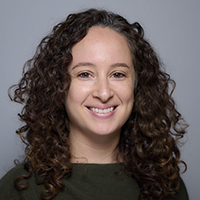 Jillian Tuck, Esq.
Associate Director for J.D. and LL.M. Advising, Programs, and Community Building
Jillian Tuck (she/they) joined OPIA in 2019 after a career in international human rights where she held both legal and non-legal roles. She has lived and worked in Guatemala, Southeast Asia, and the U.S., engaging in a diverse range of social change strategies, from grantmaking to policy advocacy to grassroots organizing. Insatiably curious and eager to engage in challenging conversations, Jillian is also a certified leadership coach and facilitator. She has a J.D. from Northeastern University School of Law (where she has taught immigration and refugee law), a B.A. from the University of Pennsylvania, and an Executive Coaching Certificate from the U.C. Berkeley Haas School of Business.
Ask me about: general career planning, movement lawyering, domestic and international nonprofits, doing public interest work as an international student, getting in right relationship with impacted communities, burnout, how to make law school feel relevant to your vision of a more just world.
In my free time, I enjoy: walks in the woods, reading fiction, dance parties, fighting the patriarchy.
Types of Advising:
J.D. General Advising – Domestic
J.D. General Advising – International
LL.M./International J.D. General Advising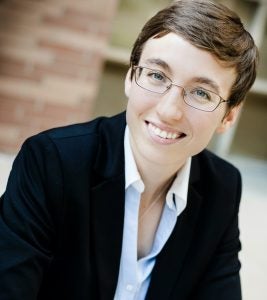 Elizabeth Shirey, Esq.
Assistant Director for J.D. Advising
Elizabeth Shirey (she/her/hers) joined OPIA in 2020 after serving on active duty in the U.S. Army Judge Advocate General's (JAG) Corps in central Virginia. She has prior legal practice experience in university in-house counsel and direct legal services settings in Los Angeles, and pre-law-school policy advocacy experience around the repeal of "Don't Ask, Don't Tell" in Washington, D.C. Elizabeth spent much of her time in law school dedicated to expanding clinical opportunities for law students to serve homeless veterans, and spent both summers in federal government. She holds a J.D. from UCLA School of Law and a B.A. in Political Science and French from Wellesley College.
Ask me about: general career planning, working in government, military service, student loan considerations, and going against the tide to stay true to your own goals.
In my free time, I enjoy: running, watching Turner Classic Movies, and taking my lovable Labrador on outings.
Types of Advising
J.D. General Advising – Domestic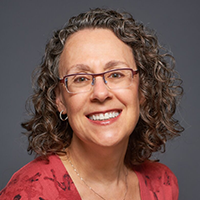 Joan Ruttenberg '82, Esq.
Assistant Director for Government Advising and Director of the Heyman Fellowship
Joan Ruttenberg (she/her) has been with OPIA since 2004. Prior to that, she was a Massachusetts Assistant Attorney General, taught health law, health care economics and legal studies, and completed a clerkship on the 4th Circuit Court of Appeals and a teaching fellowship at the University of Chicago Law School. She received her B.A. from the University of Illinois, where she was active in women's health care and rape crisis organizations, and her J.D. from Harvard Law School in 1982. Having experienced an HLS with virtually no support for public interest-minded students, Joan is passionate about offering information, guidance, and full-throated encouragement for all HLS students now.
Ask me about: general career planning, government work of all kinds, the U.S. Department of Justice, careers in health law, federal background checks and security clearances, how to combine public and private sector work, and the importance of life outside the law.
In my free time, I enjoy: taking modern dance classes, watching dance of every sort, looking at birds through binoculars, hanging out in the Berkshires, and spending time with my three grown kids (none of whom is a lawyer.)
Types of Advising
J.D. General Advising – Domestic
Government
Post-Clerkship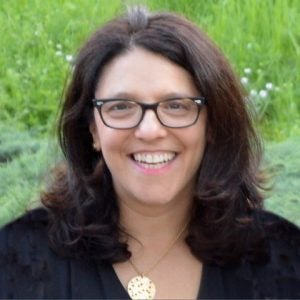 Rachel Pemstein, Esq.
Assistant Director for Alumni Advising
Rachel Pemstein (she/her/hers) joined OPIA in 2018 after having roles in a variety of practice settings including BigLaw (where she focused on healthcare work), a nonprofit, civil legal services and HLS' own Office of Career Services. She graduated University of Chicago Law School, where she devoted much of her time to the Mandel Legal Aid Clinic and the Illinois Clemency Project for Battered Women, and received her B.A. in economics from Barnard College.
Ask me about: post-graduate career planning, transitioning from private sector to public interest work or across issue areas, incorporating pro bono work into your practice or volunteer efforts, holistic work environments, working a part-time schedule and general career advice.
In my free time, I enjoy: taking long walks, volunteering with my synagogue and community groups, gardening, any kind of beach time, Law & Order (sorry, not sorry), New England day trips, spending time with my husband and two grown sons, and traveling anywhere!
Types of Advising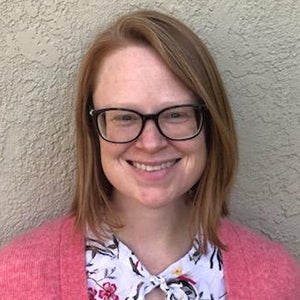 Virginia Corrigan '11
Seasonal JD Adviser
Virginia Corrigan (she/her) is currently a Deputy Attorney General in the California Department of Justice's Civil Rights Enforcement Section, where her practice focuses on children's rights issues. She began her career as a District Court clerk, and then completed an Equal Justice Works fellowship. During her fellowship, she split her time between a public defender's office and a policy and impact-focused nonprofit, where she later became a staff attorney.  Prior to law school, she was Fulbright English Teaching Assistant in Venezuela.  Virginia received her J.D. from HLS and her B.A. in English and Spanish from the University of Michigan.
Ask me about: general career planning, careers in state government and nonprofit organizations, children's rights, California, clerkships, fellowships, finding your path and building confidence.
In my free time, I enjoy: attending the opera, practicing yoga, trying to learn French, and hiking and eating my way around the Bay Area.
Types of Advising:
J.D. General Advising – Domestic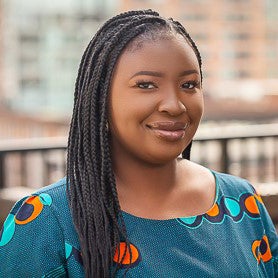 Marie Ndiaye '12
Seasonal JD Adviser
Marie Ndiaye is an alumna of Harvard Law School (Class of '12) with a substantial background in social justice and criminal legal reform. Over the course of more than a decade, Marie has worked extensively within the criminal legal system, fulfilling roles as a public defender and policy advocate.
Currently, Marie holds the position of Deputy Director at the Justice Project within the Advancement Project National Office. In this role, she co-leads a team of movement lawyers collaborating closely with grassroots organizations to advance critical policing and decarceral campaigns. In the past, Marie held the position of Supervising Attorney at the Legal Aid Society's Decarceration Project, where she oversaw a team working on pretrial detention litigation and systemic reform. She was also intimately involved in the statewide bail reform campaign during her tenure. Additionally, Marie has served as the Senior Policy Manager at the Katal Center for Health, Equity, and Justice, focusing on pretrial justice and parole legislative reform. Marie's legal career commenced at the Legal Aid Society in 2012 as a Staff Attorney (public defender) in the Criminal Defense Practice Manhattan trial office. Her dedication and advocacy skills have been constants throughout her professional journey. Marie is a graduate of the City University of New York's Hunter College and earned her Juris Doctor from Harvard Law School in 2012.
Marie Ndiaye brings a wealth of experience and a steadfast commitment to social justice to our team.
Ask me about: public defense, criminal punishment system, decarceration and carceral system reform, legislative advocacy, policy, direct services, loan forgiveness, imposter syndrome and navigating the pressures of HLS.
In my free time, I enjoy: traveling (beach > city), hanging out with my friends and family, fantasy TV and books (think witches, vampires, magic), superhero movies and shows (Marvel > D.C.), daydreaming and trying to tear it all down.
Types of Advising:
J.D. General Advising – Domestic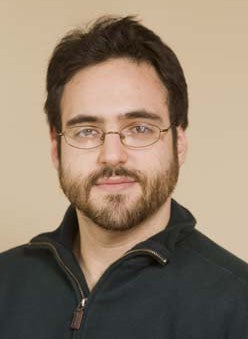 Micah Nemiroff
Assistant Director for Programs and Recruitment
Micah Nemiroff (he/him) joined OPIA from Harvard Medical School where he worked in a curriculum support office. Prior to Harvard Medical School, Micah worked on campaigns in Southeastern Pennsylvania and as a government relations intern with the American Red Cross of Greater Chicago. He received his B.A. in history and political science from Syracuse University in Upstate New York. Micah is an avid hiker who enjoys getting out to the White Mountains at every opportunity. He also enjoys music, and has played drums for over 20 years. Micah was also a 2014 recipient of the Harvard Heroes award.
Ask me about: collaborating, planning, communicating about events in and around HLS; assisting with any public interest recruiting activities you might want to hold on campus!
In my free time, I enjoy: seeing the world through the lens of my five-year-old daughter, exploring Mass Audubon and Trustees of the Reservation properties around Massachusetts, and all things related to music, including amateurish drumming.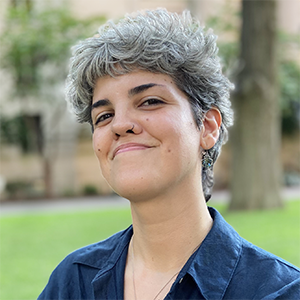 Déborah Valero-Montijano
Fellowships Coordinator/Staff Assistant
Déborah Valero-Montijano (she/her/hers) joined OPIA in 2023 after moving to the country from Spain, where she worked as an administrative assistant for a data protection company for more than five years. She holds two Master's Degrees, one in Comparative Literature & Cultural Studies and the other in Teaching Spanish as a Second Language, and a B.A. in Spanish Language & Literature.
Ask me about: any of our fellowships' deadlines or application processes, how to navigate the registration as a supplier in Buy-2-Pay, general information about drop-in hours and appointments with our advisers, and coffee recommendations from our coffee station.
In my free time, I enjoy: words and narratives, whether read, written, watched, spoken while sharing a café con leche, or inspired by a symphony. I am an art & food lover, an eternal traveler, an internet explorer. More often than not, you will find me consumed by a videogame.