It was our sincere pleasure to welcome back nearly 700 alumni and friends to Harvard Law School on April 21-22, 2023, to celebrate Spring Reunion. It was a wonderful weekend of celebration, reconnection, and conversation. Below we captured some of the weekend's most joyous moments to share with you – please enjoy!
Red Book (Class Report)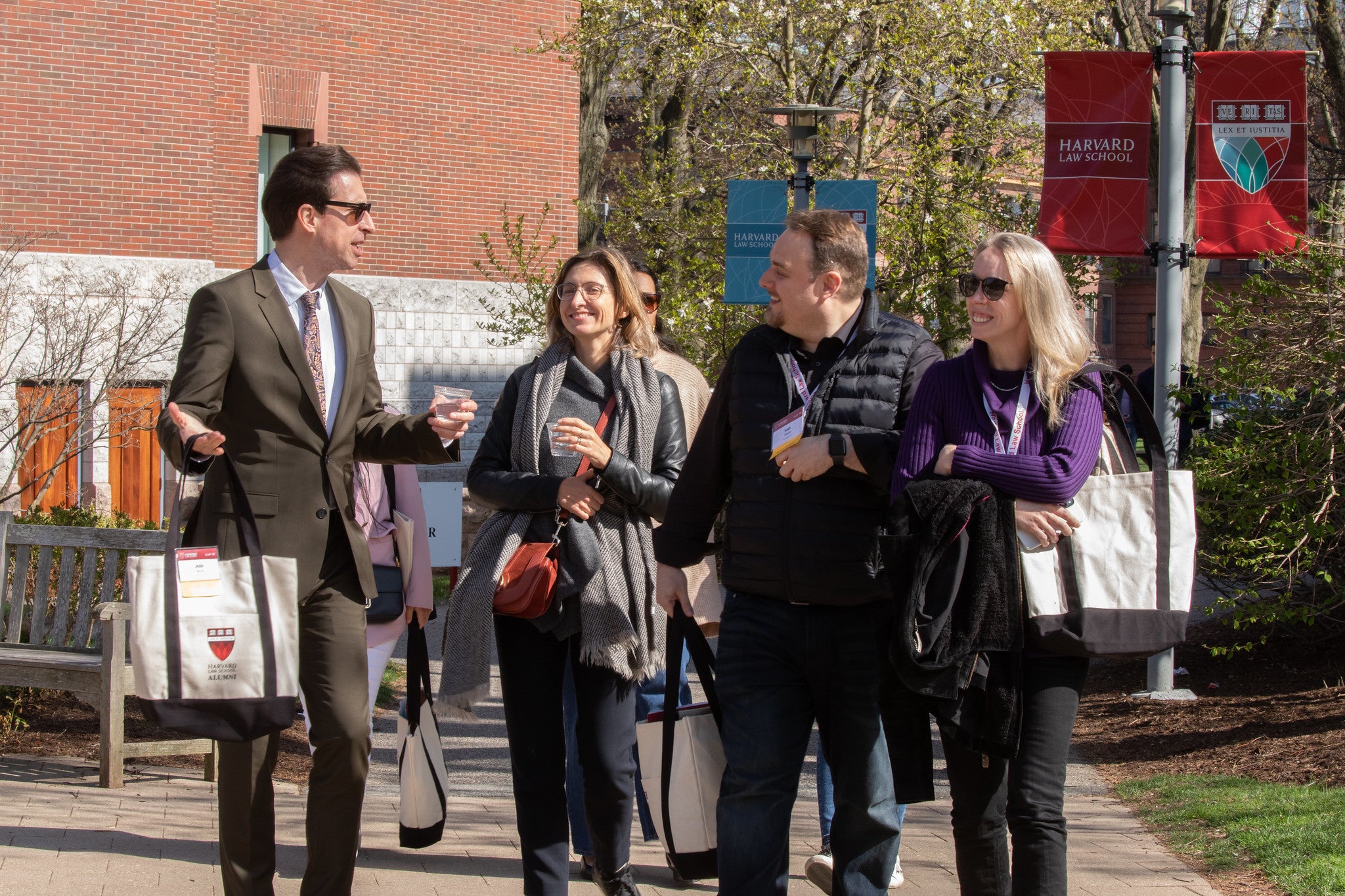 Click on one of the links below to access your password-protected Red Book (Class Report). Please note: Passwords are case-sensitive. Also, the reports are designed for reading only and cannot be printed.
Class Report Pages
---
A note for Safari users:
It's come to our attention that some alumni are having difficulty opening these password-protected files when using the Safari web browser. We apologize for any inconvenience this may cause.
Our IT experts recommend these steps:
Click on the appropriate link above.
When the document opens, you may see just a grey screen. If this happens, using the Safari toolbar, choose File, then Save As, and save the Class Report file to your computer.
Open the saved file. You should then see the password window and be able to enter the password for your class. Since the pdf is password-protected, you will need to re-enter the password each time you open the file.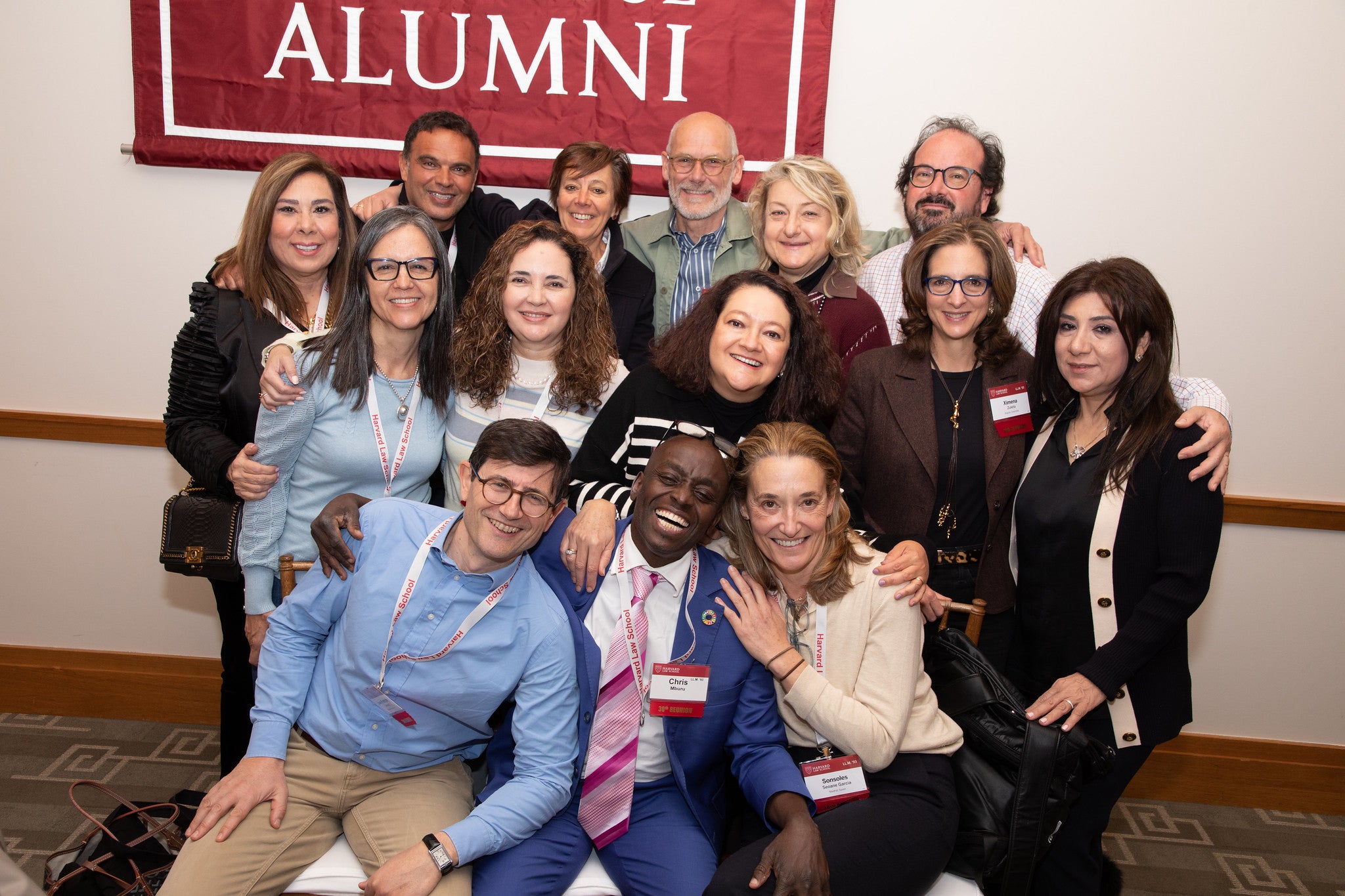 Program of Activities
Friday, April 21
8:00 am – 8:00 pm: Reunion Registration
9:00 am – 5:00 pm: Harvard Law School Library Open House
9:00 am – 5:00 pm: Optional Self-Guided Experiences (complimentary)

Harvard Art Museum
Harvard Museum of Natural History
Harvard Law School Self-Guided Campus Tour
Harvard Defenders Open House

10:30 – 11:30 am: Family Friendly Entertainment: Wild About Balloons Magic Show
12:00 – 1:45 pm: Reunion Luncheon

HLSA Award Recipient: Lori E. Lesser '93, Partner, Simpson Thacher & Bartlett LLP
Keynote: Let's Chat about ChatGPT

Jonathan L. Zittrain '95, George Bemis Professor of International Law
Vice Dean for Library and Information Resources
Faculty Director, Berkman Klein Center for Internet and Society
Professor of Computer Science, Harvard School of Engineering and Applied Sciences
Professor of Public Policy, Harvard John F. Kennedy School of Government

2:00 – 3:30 pm: Concurrent Sessions

The Present and Future of LGBTQ+ Rights

Moderator: Alexander Chen '15, Founding Director, LGBTQ+ Advocacy Clinic and Lecturer on Law, Harvard Law School
Panelists: Tyeesha Dixon '12, Clinical Instructor, LGBTQ+ Advocacy Clinic, Harvard Law School
Chris Erchull, Staff Attorney, GLBTQ+ Legal Advocates & Defenders
Luna Floyd '24, Student Attorney, LGBTQ+ Advocacy Clinic, Harvard Law School
Caroline Hatley '24, Student Attorney, LGBTQ+ Advocacy Clinic, Harvard Law School
Sean McDonough '23, Student Attorney, LGBTQ+ Advocacy Clinic, Harvard Law School
Geoffrey McGee '23, Former Student Attorney, LGBTQ+ Advocacy Clinic, Harvard Law School

Hot Commodities – Why Food System Challenges Are Dominating Policy Discourse

Moderator: Emily M. Broad Leib '08, Director, Food Law and Policy Clinic, Director, Center for Health Law and Policy Innovation, Clinical Professor of Law, Harvard Law School

Working Toward a World Without Mass Incarceration

Moderator: Andrew Manuel Crespo '08, Morris Wasserstein Public Interest Professor of Law and Executive Faculty Director, Institute to End Mass Incarceration, Harvard Law School
Panelists: Adam McGee, Managing Editor, Inquest
Zainab Kahloon '24, Student, Institute to End Mass Incarceration Clinic
Will Searcy '24, Student, Institute to End Mass Incarceration Clinic
Joan Steffen '22, Fellow, Institute to End Mass Incarceration

3:30 – 4:30 pm: LL.M. Class Social Hour
4:30 – 5:30 pm: Individual Class Social Hour
5:30 – 6:30 pm: 25th Reunion Champagne Toast – Class of 1998
5:30 – 10:00 pm: Welcome Back Alumni Evening Celebration Reception
Saturday, April 22
7:30 am – 8:00 pm: Reunion Registration
8:00 – 9:00 am: Continental Breakfast
9:00 am – 5:00 pm: Harvard Law School Library Open House
9:15 – 10:45 am: Concurrent Session

Legal Education Today

Moderator: John F. Manning '85, Morgan and Helen Chu Dean and Professor of Law, Harvard Law School
Panelists: Roger A. Fairfax, Jr. '98, Dean and Professor of Law, American University Washington College of Law
Richard E. Moberly '98, Dean and Richard C. & Catherine S. Schmoker Professor of Law, University of Nebraska College of Law
Christiana Ochoa '98, Dean and Herman B Wells Professor of Law, Indiana University Maurer School of Law

Harvard Law at the Cutting Edge of Medicine

Speakers: I. Glenn Cohen '03, James A. Attwood and Leslie Williams Professor of Law and Deputy Dean, Harvard Law School; Faculty Director, Petrie-Flom Center for Health Law Policy, Biotechnology & Bioethics
Carmel Shachar '10, Executive Director, Petrie-Flom Center for Health Law Policy, Biotechnology & Bioethics and incoming Assistant Clinical Professor of Law and Faculty Director of the Health Law and Policy Clinic, Harvard Law School

The Impact of the Election Law Clinic in Its First Two Years

Moderator: Ruth Greenwood, Director of the Election Law Clinic and Visiting Assistant Clinical Professor of Law, Harvard Law School
Panelists: Shao-Jia Chang '23, Advanced Student, Election Law Clinic, Harvard Law School
Delaney Herndon '23, Advanced Student, Election Law Clinic, Harvard Law School
Tyler Price '23, Advanced Student, Election Law Clinic, Harvard Law School
Lucas Rodriguez '24, Advanced Student, Election Law Clinic, Harvard Law School

Difficult Conversations: In Legal Practice, in Leadership, and in Life (especially the "Life" part)

Speaker: Sheila Heen '93, Thaddeus R. Beal Professor of Practice, and Deputy Director, Harvard Negotiation Project, Harvard Law School, Co-author of Difficult Conversations and Thanks for the Feedback, and Founder, Triad Consulting

11:00 am – 12:00 pm: Conversation with Dean John F. Manning '85
12:00 – 1:30 pm: Reunion Luncheon
1:30 – 3:00 pm: Social Break (Local Food Trucks serving coffee & sweet treats)

Uncle Joey's Cannoli
Zinneken's Belgian Waffles
Espresso Dave

2:00 – 3:00 pm: Class Photos
2:00 – 5:00 pm: Optional Self-Guided Tours

Harvard Art Museum
Harvard Museum of Natural History
Harvard Law School Self-Guided Campus Tour

3:00 – 5:00 pm: Class Symposia
6:00 – 11:00 pm: Class Cocktail Reception & Dinner

1993: The Charles Hotel
1998: The Charles Hotel
2003: Harvard Law School Campus
2008: Harvard Law School Campus
2013: The Charles Hotel
2018: Harvard Law School Campus