Together, alumni create a generous new scholarship fund to support the next generation of Harvard Law School students
In March 2017, Harvard Law School welcomed more than 200 alumni and friends back to campus for the third Celebration of Latino Alumni (CLA). Along with opportunities to reconnect and network, the event also marked the launch of a unique group fundraising effort: the creation of the HLS Latino Alumni Scholarship Fund.
A collective effort by numerous alumni, the endowed scholarship will support Law School students and financial aid. Eighty percent of J.D. students currently receive financial aid.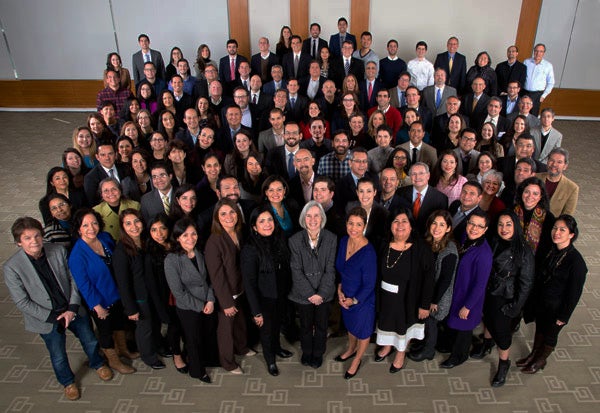 "CLA 2017, which was organized around the theme of 'Latino Leadership: Embracing the Challenge,' was the ideal moment to launch this effort," said Ricardo Anzaldua '90, the fund's lead organizer. "We have been thrilled by the generous response and the momentum that continues to build. We are proud that this fund represents the strength of the Latino community at HLS, and that it will extend opportunities to so many students."
From inspiration to action
The idea for the scholarship was sparked at CLA 2012, when a group of alumni started a conversation around a Latino alumni gift to HLS. They sought to recognize the progress of alumni, as well as Dean Martha Minow's hiring of the Law School's second Latino tenure-track professor, Andrew Manuel Crespo '08, in 2014.
The group also wanted to acknowledge a pioneering alumnus who graduated more than 160 years ago. At this year's CLA, information about the scholarship was accompanied by the story of Jose Angel Navarro LL.B. 1850, the Law School's first Latino graduate. Navarro was a leader who advocated in the years of Texas independence and early statehood for Latino rights. During his career, he served as Chief Clerk of the U.S. Land Commission in California, a member of the Texas Legislature and the San Antonio City Council, and both District Attorney and City Attorney in Laredo, Texas. Tragically, he was shot and killed in 1876 in an unsolved murder.
The HLS Latino Alumni Scholarship Fund represents both recognition of the past and confidence in the future. The fund organizers hope that the scholarship will encourage engagement between Latino alumni and HLS, and that it will help to identify and support future leaders.