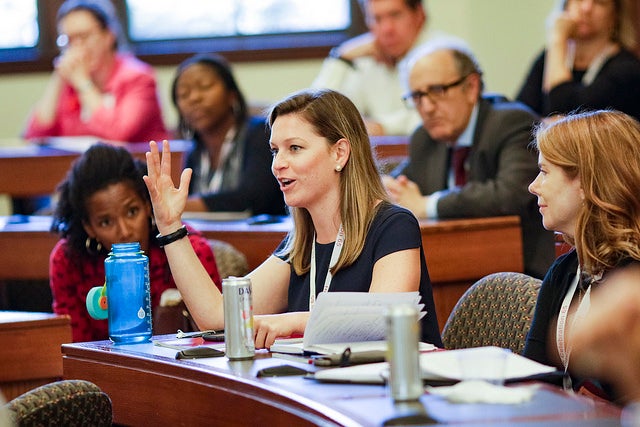 Workshops and Seminars for Students and Faculty
Harvard Law School offers several legal workshops and seminars focused on specialized fields of law. These workshops and seminars bring together students, faculty, and others to learn about emerging scholarship from leading thinkers, explore challenges in various fields of law, and engage in vibrant discussion.
Workshops and seminars have different attendance requirements, so please reach out to the relevant contact person to find out whether you will be able to participate.
Spring 2024
Health Law Workshops

The Health Law, Policy, Bioethics, and Biotechnology Workshop provides a forum for discussion of new scholarship in these fields from the world's leading experts. You can visit the Petrie-Flom Center for Upcoming Health Law Workshops. For information about the workshops you can contact David LeBreton.

Law and Economics Seminar

This seminar provides students with an opportunity to engage with ongoing research in the economic analysis of law.

Spring 2024 — Professor Louis Kaplow & Professor Steven Shavell
TUESDAYS,4:00-5:30 PM, Hauser 102

Schedule is forthcoming

Law and Political Economy Workshop

This workshop is devoted to reading and discussing new scholarly work on law and political economy. Outside speakers and members of the Harvard faculty will present forthcoming papers or recent work, both theoretical and programmatic, on the role of law in structuring social relations, power, and justice in market society. It is not designed to offer a systematic overview of the field of law and political economy, although there will be two sessions for students only when we will discuss the field as a whole, as it is reflected in the papers presented during this semester.

Spring 2024 — Professor Yochai Benkler
MONDAYS, 3:45-5:45 PM, TBD

Schedule is forthcoming

Law and Politics Workshop

This workshop is devoted to learning about, discussing, and critically evaluating new scholarly work on law and politics. A series of outside speakers, drawn from both law schools and political science departments, will present recent or forthcoming papers on election law and/or American politics.

Spring 2024 — Professor Nicholas Stephanopoulos
TUESDAYS, 3:45-5:45 PM, TBD

Schedule is forthcoming

For faculty or non-registered students who want to attend, please contact Kathy McGillicuddy.

Legal History Workshop

This workshop examines major works in the field of legal history, important historiographical debates and critical methodologies. Students will participate in workshop presentations by leading scholars.

Spring 2024 — Professor Anna Lvovsky & Bruce Mann
MONDAYS, 1:30-3:30 PM, TBD

Schedule is forthcoming

Papers will be distributed roughly one week before each session. For additional information, please contact Susan Smith, 617-496-2028.

Public Law Workshop

The Public Law Workshop reads contemporary work, in legal theory and adjacent disciplines, on the legal and political foundations of constitutional law, interpretive practice, and regulatory design. Invited speakers present papers each week on topics relevant to the workshop's themes. Students are required to prepare written questions for each workshop as well as a response paper on a presented work of their choosing.

Spring 2024 — Dean John Manning & Professor Daphna Renan
MONDAYS, 3:45-5:45 PM, TBD

Faculty are welcome to join the sessions listed below.

Schedule is forthcoming

Papers will be distributed roughly one week prior to each session. For more information, please contact Ellie Benagh at ebenagh@law.harvard.edu