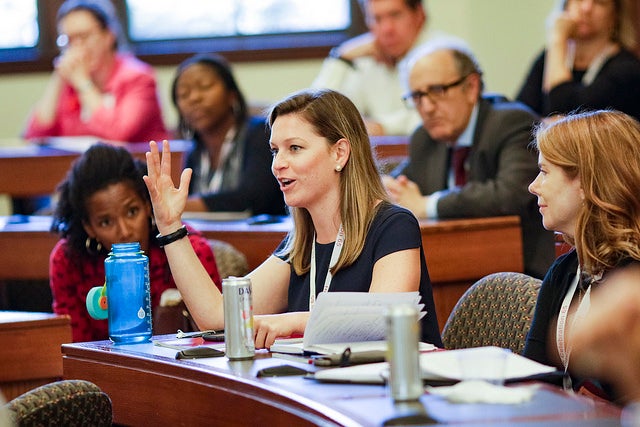 Workshops and Seminars for Students and Faculty
Harvard Law School offers several legal workshops and seminars focused on specialized fields of law. These workshops and seminars bring together students, faculty, and others to learn about emerging scholarship from leading thinkers, explore challenges in various fields of law, and engage in vibrant discussion.
Workshops and seminars have different attendance requirements, so please reach out to the relevant contact person to find out whether you will be able to participate.
Workshops and Seminars:
Global Justice Workshop

This workshop involves reading, discussing, and critiquing scholarly works broadly relating to the theme of Global Justice. Among the topics addressed are distributive justice across national boundaries; state responsibility for the international consequences of domestic policy decisions; and comparisons between legal and moral responsibilities among states and among individuals. The focus will be on the doctrinal and theoretical aspects of these questions rather than hands-on practice.

Spring 2023 – Professors John Goldberg and Gabriella Blum
TUESDAYS,1:30-3:30PM, TBD

Schedule forthcoming.

Papers should be available for each topic about 10 days prior to the scheduled class. If you would like to request a copy, or for more information on this workshop, please contact Deema Qashat at dqashat@law.harvard.edu. You can also visit our Global Justice Workshop Canvas page here for further information.

Health Law Workshops

The Health Law, Policy, Bioethics, and Biotechnology Workshop provides a forum for discussion of new scholarship in these fields from the world's leading experts. Harvard graduate students may register to take the workshop for course credit, but it is also open to the public. Upcoming Health Law Workshops

Law and Economics Seminar

This seminar provides students with an opportunity to engage with ongoing research in the economic analysis of law.

Fall 2022 — Professor Louis Kaplow & Professor Steven Shavell
TUESDAYS,4:00-5:30 PM, HAUSER 102

September 6    Oren Bar-Gill*, Cass Sunstein* (both of Harvard Law School) & Inbal Talgam-Cohen (Technion), Algorithmic Harm in Consumer Markets

September 13  Ryan Bubb, Emiliano Catan (both of NYU School of Law) & Holger Spamann* (Harvard Law School), A Functional Analysis of Shareholder Rights in Mergers


September 20  Jennifer Arlen* & Lewis Kornhauser (both of New York University School of Law), Battle for Our Souls: A Psychological Justification for Corporate and Individual Liability for Organizational Misconduct

September 27  Murat Mungan* (George Mason University), Erkmen Aslim (Grand Valley State University) & Yijia Lu (George Mason University), Inmate Assistance Programs: Toward a Less Punitive and More Effective Criminal Justice System

October 4        Steven Shavell (Harvard Law School), The Fundamental Divergence Between the Private and the Social Motive to Use the Legal System

October 11      No class—Monday schedule

October 18      Zohar Goshen* (Columbia Law School) & Reilly Steel (Princeton University), Raiders, Activists, and the Risk of Mistargeting

October 25      Merritt Fox & Joshua Mitts* (both of Columbia Law School), Event-Driven Suits and the Rethinking of Securities Litigation

November 1    Meirav Furth (UCLA School of Law; Tel-Aviv University School of Law), Retail Race Discrimination

November 8    Louis Kaplow (Harvard Law School), Entry and Merger Analysis 

November 15  Gary D. Libecap (University of California, Santa Barbara), Federal Lands, Opportunity Costs, and Bureaucratic Management 

November 22  Jesse Fried* (Harvard Law School) & Elisabeth de Fontenay (Duke University School of Law), The Dark Side of ESG

November 29  Victoria Angelova (Harvard University), Will Dobbie (Harvard Kennedy Sschool) & Crystal Yang* (Harvard Law School), Algorithmic Recommendations and Human Discretion

Two evening students-only sessions will be held from 6-9 PM, on Thursday, October 13, and Thursday, November 17 (both in Hauser Hall 102).

*Presenting

The course website is available at: https://canvas.harvard.edu/courses/108904.  Select "Syllabus" for papers and the course schedule,  or contact Irina Goldina.

Law and Philosophy Workshop

This workshop examines new ideas at the intersection of law and philosophy. Half of the workshop meetings will be devoted to discussion of pre-circulated working papers presented by invited authors. These sessions are open to the Harvard community. The other meetings, limited to enrolled students, will be devoted to discussion of other significant works in the field.

Fall 2022: Professor Benjamin Eidelson & Professor Christopher Lewis
WEDNESDAYS, 3:45-5:45 PM, HAUSER 105

September 14: Stephen Sachs (Harvard Law School)

September 28: Deborah Hellman HLS Visiting Professor fall 2022 (University of Virginia School of Law)

October 12: Mala Chatterjee (Columbia Law School)

October 26: Kimberly Kessler Ferzan (University of Pennsylvania School of Law)

November 2: Jed Lewinsohn (University of Pittsburgh)

November 9: Erik Encarnacion (University of Texas at Austin School of Law)

November 30: Mitchell Berman (University of Pennsylvania School of Law)

Papers will be circulated about one week ahead of time. Please contact Maureen Worth to request the paper for a particular meeting, or to join the mailing list for the workshop.

Law and Political Economy Workshop

This workshop is devoted to reading and discussing new scholarly work on law and political economy.

Spring 2023 — Professor Yochai Benkler
MONDAYS, 3:45-5:45 PM, TBD

Schedule forthcoming.

Law and Politics Workshop

This workshop is devoted to learning about, discussing, and critically evaluating new scholarly work on law and politics. A series of outside speakers, drawn from both law schools and political science departments, will present recent or forthcoming papers on election law and/or American politics.

 — Professor Nicholas Stephanopoulos

No workshop held in 2022-23

For faculty or non-registered students who want to attend, please contact Kathy McGillicuddy.

Legal History Workshop

This workshop examines major works in the field of legal history, important historiographical debates and critical methodologies. Students will participate in workshop presentations by leading scholars.

Fall 2022 — Professor Anna Lvovsky
MONDAYS, 3:45-5:45 PM, LEWIS 202

(Sept. 19): Tera Eva Agyepong, DePaul College of Liberal Arts and Social Sciences, "Constructing a Black Female Delinquent: Race, Gender, and the Criminalization of African American Girls at the Illinois Training School for Girls at Geneva"

(Sept. 26): Kate R. Redburn, Columbia Law School, "Before Equal Protection: The Fall of Anti-Crossdressing Law and the Origins of the Transgender Legal Movement 1964-1980"

(Oct. 3): Reva Siegel, Yale Law School, "Memory Games: Dobbs's Originalism As Anti-Democratic Living Constitutionalism — and Some Pathways for Resistance"

(Oct. 11): Aya Gruber, University of Colorado Law School, "Sex Exceptionalism in Criminal Law"

(Oct. 17): Mary Ziegler, UC Davis School of Law, On History and the Future of Abortion Rights after Dobbs v. Jackson Women's Health Organization 

Papers will be distributed roughly one week before each session. For additional information, please contact Susan Smith, 617-496-2028.

Private Law Workshop

This workshop explores the foundations of private law — property, contracts, torts, and restitution. Emphasis will be on theories that offer explanations, justifications, and criticisms of architectural features of these areas of law and of their connections to one another. Sessions will be devoted to paper presentations by outside speakers and to discussions of classic and contemporary works reflecting philosophical, historical, and economic approaches to private law topics.

Spring 2023: Professor John Goldberg & Professor Henry Smith
WEDNESDAYS, 1:30-3:30PM, TBD

Schedule forthcoming.

Papers will be available approximately 10 days before each presentation.  For any questions or request for papers, please contact Brad Conner.

Public Law Workshop

The Public Law Workshop reads contemporary work, in legal theory and adjacent disciplines, on the legal and political foundations of constitutional law, interpretive practice, and regulatory design. Invited speakers present papers each week on topics relevant to the workshop's themes. Students are required to prepare written questions for each workshop as well as a response paper on a presented work of their choosing.

Spring 2023 — Dean John Manning & Professor Martha Minow
MONDAYS, 4:15-6:15 PM, TBD

Faculty are welcome to join the sessions listed below.

Schedule forthcoming.

Papers will be distributed roughly one week prior to each session. For more information, please contact Ellie Benagh at ebenagh@law.harvard.edu

Research Seminar in Law, Economics & Organization

This seminar involves the presentation by speakers of papers in the fields of law and economics, law and finance, and contract theory.

Fall 2022 – Professors Louis Kaplow, Lucian Bebchuk, Oliver Hart, and Kathryn Spier
MONDAYS, 12:45-2:15 PM, HAUSER 105

Sept. 12:          Vyacheslav Fos (BC Carroll School of Management), The Political Polarization of Corporate America (with E. Kempf and M. Tsoutsoura)

Sept. 19:          Jared Ellias (HLS), Employee Bankruptcy Trauma

Oct. 3:             Raj Chetty, (Harvard), Improving Equality of Opportunity in America: New Insights from Big Data

Oct. 11:           Haggai Porat (HLS), Behavior-Based Price Discrimination and Consumer Protection in the Age of Algorithms [Please note that this is a TUESDAY.]

Oct. 24:           Alma Cohen (HLS), Judging Under Public Pressure (with Z. Neeman and F.  Auferoth)

Oct. 31:           Alon Brav (Duke Fuqua School of Business), Picking Friends Before Picking (Proxy) Fights: How Mutual Fund Voting Shapes Proxy Contests (with W. Jiang, T. Li, and J. Pinnington)

Nov. 7:            Christine Jolls (Yale Law School), The Administrative Procedure Act and the Supreme Court

Nov. 14:          David Thesmar (MIT Sloan) and Luigi Zingales (Chicago Booth), Private Sanctions (with O. Hart)

For additional information, please visit the course website, or contact Molly Eskridge, 617-495-4635.