Exchange Program Semester Abroad:
Fundação Getulio Vargas School of Law, Rio de Janeiro, Brazil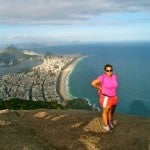 Samantha Glover Ferreira '14 spent the fall semester of her 3L year at FGV Direito Rio in Brazil. After living and working for several years in Brazil, she is now a foreign service attorney with USAID.
Why did you decide to study abroad?
I'm interested in corporate law and human rights law with a focus on Latin America. I had work experience in the region, but not in Brazil, which is such an important emerging economy with so much fascinating investment and development. At HLS, I worked on the Brazilian Prisons Project in the International Human Rights Clinic, and this experience made me want to spend more time in Brazil. I also wanted to perfect my Portuguese, and I liked the interactive, case-study/workshop teaching methodology that FGV Direito Rio offered.
How did you prepare?
The exchange program between FGV and HLS was really helpful. There were several FGV students and faculty members with experience in Brazil at HLS, so I could talk with them about my interests and what courses I should take.
I was already fluent in Spanish, and my Portuguese was good, too, but since all of the courses at FGV Direito Rio are in Portuguese, I cross-registered for an advanced Portuguese language class at the College the spring before.
What courses did you take at FGV Direito Rio?
I chose classes that fit with my educational objectives, studying corporate law and human rights law related to Brazil and Latin America: Environmental Concessions, Bankruptcy, Social Businesses, Olympic City, and Advanced Portuguese.
How was the experience?
It was great! I was actually the first student from HLS to go to FGV Direito Rio through the exchange program, so everyone was really excited I was there, and the professors and the international programs director were really helpful. I felt at home very quickly.
I really enjoyed the process of going to law school in Rio, learning about the Brazilian legal system, interacting with students and seeing how life for law students there was different from here and how it was similar. I had the option of taking my final exams in English or Portuguese, and initially assumed I'd choose English. But when the time came, I had learned all of the vocabulary and legal terms in Portuguese, and my fluency had improved so much that it was actually easier for me to take them in Portuguese.
How did the semester abroad fit in with your career plans?
My first job out of law school was working as an associate at Greenberg Traurig in Miami, where I focused on international M&A, specifically in Latin America. I also worked in Shearman & Sterling's Brazil office doing capital markets work for Brazilian clients, and as an associate in in the Latin America and Corporate practices of Paul Hastings, based in the firm's São Paulo office. My practice focused on capital markets, mergers and acquisitions, and general corporate matters in Latin America, with a focus on Brazil. In 2020, I joined USAID as a foreign service attorney.
Before I went to Brazil, I'd say my spoken Portuguese was low-intermediate, but I'm now fluent in Portuguese and speak with clients and provide legal advice in Portuguese daily.