The main Harvard Law School campus consists of 19 buildings and is located at 1585 Massachusetts Avenue, on the northwest corner of Harvard Yard, bordered by Massachusetts Avenue and Everett Street.
Additional Law School buildings are located at 1651 Massachusetts Avenue and at 122 Boylston Street in Jamaica Plain, MA, a neighborhood in Boston.
Map
In this map of the Harvard Law School Campus, HLS buildings are indicated in red. Other Harvard campus buildings are indicated in blue.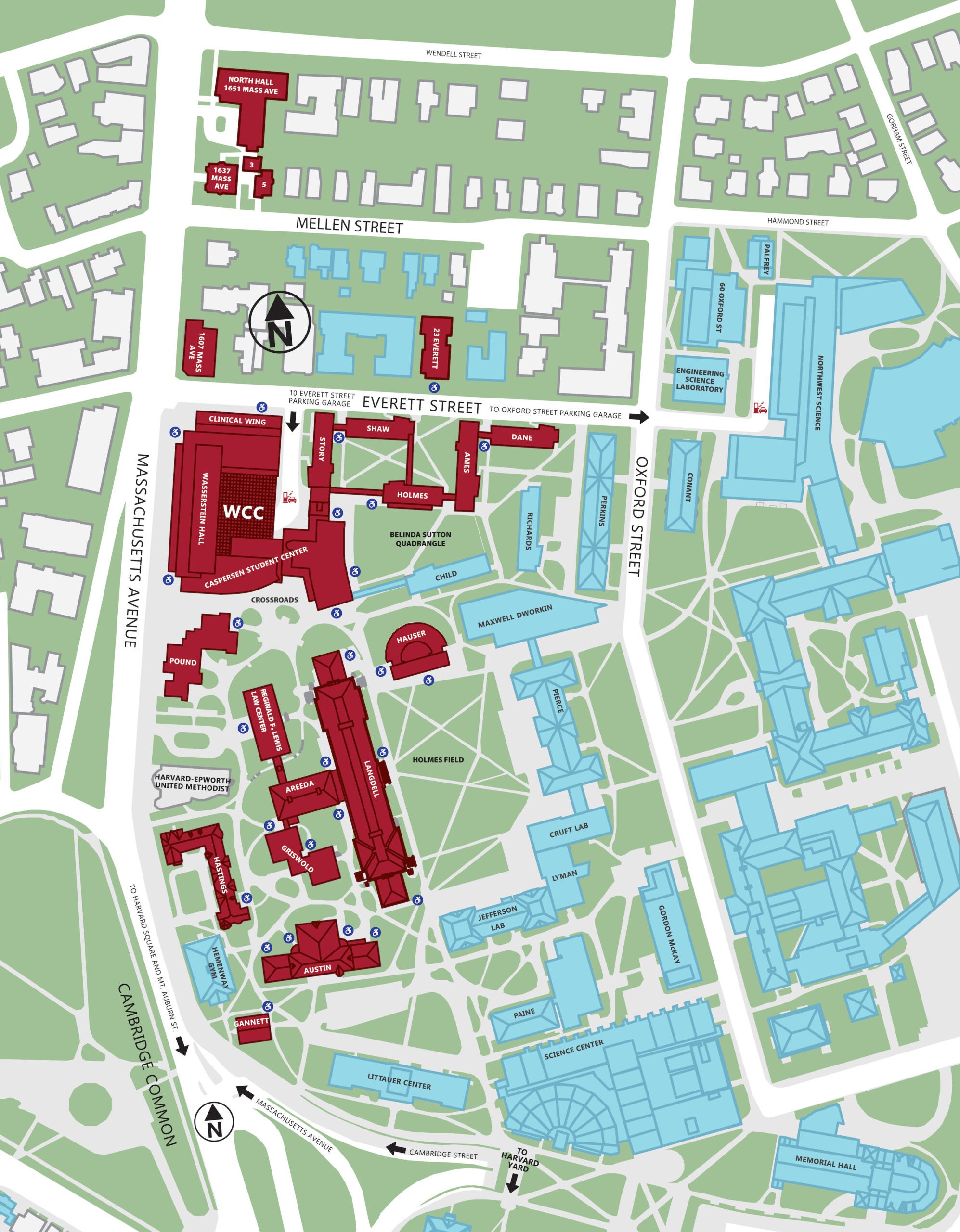 Click on the map to view a larger file
Directions
Driving
Please use the address 1563 Massachusetts Ave., Cambridge, MA 02138 in your preferred way-finding app (keep in mind parking is limited).
Visitor Parking
Parking is extremely limited around Harvard Law School campus and Harvard Square. There are metered parking spaces available, though they are usually quite full.
Via Subway (MBTA)
Take the Red Line train (towards Alewife) to Harvard Square. From Harvard station, either walk north through Harvard Yard to the Law School or take the Church Street exit from the T station, and walk north on Massachusetts Avenue to the Law School.
From Logan Airport
Take the Silver Line bus that stops outside all airline terminals to South Station. From here, take the Red Line train inbound to Harvard (train marked Alewife). Travel time: 45 minutes. More about Logan Airport.
From Amtrak
South Station is the final destination for Amtrak and some commuter trains. Take the Red Line inbound to Harvard. Travel time: 30 minutes.
From the Commuter Rail
Some commuter rail lines end at North Station. Take the Green Line inbound to Park Street. Go downstairs and take the Red Line outbound to Harvard. Travel time: 40 minutes.
Bus
Via bus (MBTA)
Several MBTA bus lines stop in Harvard square, refer to the MBTA website for routes and schedules.
Greyhound and Trailways
South Station is the final destination for most Greyhound and Trailways buses. Take the Red Line inbound to Harvard. Travel time: 30 minutes.
Shuttle
Using Harvard University Shuttles and Vans
The Shuttle Bus is designed to provide students, faculty and staff with safe, convenient transportation on the Cambridge and Allston campuses throughout the academic year, except during recesses and a slightly reduced service during the January Term. The service is free to members of the Harvard community. There are several routes that zigzag throughout Harvard University's campuses. View the complete Harvard shuttle schedule. You can also see in real time where the shuttles are anytime you want with Shuttle Tracker For the Web. Pocket-sized schedules are available throughout the campuses, including the Information Center located in the Richard A. and Susan F. Smith Campus Center arcade, House offices, libraries, dining halls, and shuttle buses. For more information, call 617-495-0400.