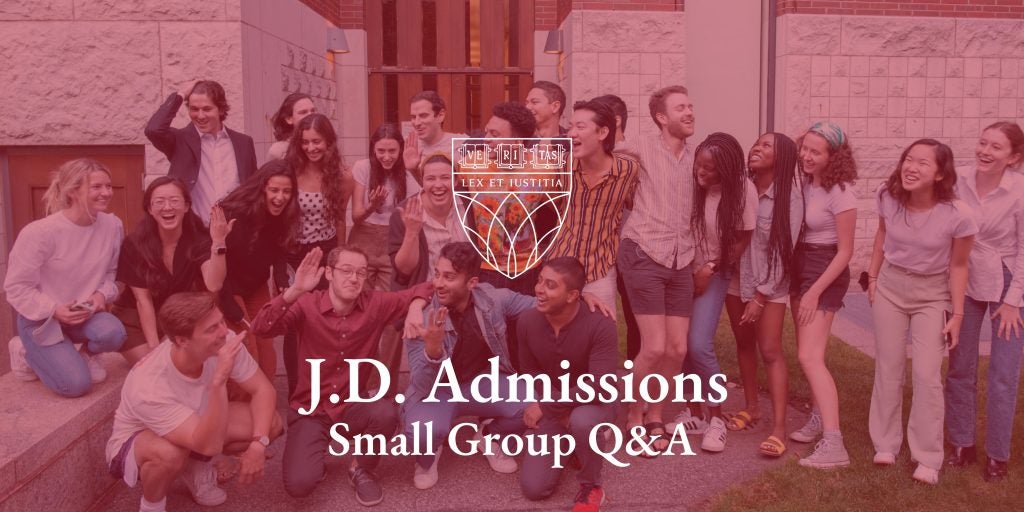 We will consider requests to connect directly with your university, club, society, or organization via a small group virtual Q&A session.
Before submitting a request, consider joining one of our regularly scheduled, public admissions Q&A sessions instead, which will mirror these small group sessions in format and content. Participants are encouraged to view our recorded J.D. Admissions Information Session prior to the event.
While we do our best to accommodate as many event requests as possible, we are not able to host a small group Q&A session with every group that requests one because of time constraints.
For more information on small group Q&A sessions with the J.D. Admissions Office, please review our FAQs below.
What is the format of a small group Q&A session?

All virtual sessions will be 45 minutes long and hosted via Zoom. Members of the J.D. Admissions team will begin each session by answering your group's pre-submitted questions before transitioning to open Q&A with attendees.  

When is the J.D. Admissions Office available for small group Q&A sessions?

The J.D. Admissions team is available to host small group sessions from 10:00 a.m. – 9:00 p.m. ET  on Tuesdays, Wednesdays, and Thursdays  beginning on Tuesday, September 20, 2022 and ending on Thursday, November 17, 2022.

Sessions outside of these timeframes cannot be accommodated.

Priority consideration for evening events will be given to groups located in time zones that do not align with eastern daylight hours. 

How far in advance of my desired Q&A session date should I reach out?

Requests should be submitted at least ten business days in advance of your desired event date. However, we encourage groups to submit requests as early as possible.

What can I expect after reaching out to schedule a small group Q&A?

Once a request is submitted, we will respond within five business days. Because of time constraints, we are not able to accommodate all requests. If your event request is approved, we will send a confirmation email with the event date and time as well as a link to a registration form that participants must complete in order to receive the session Zoom link. From there, we look forward to seeing you on Zoom for the session! 

If we are unable to schedule a small group event with your organization, we will send you resources to share with your group. We also encourage you to connect with J.D. Admissions via the assortment of virtual opportunities found on our website. 

I'd like a member of the J.D. Admissions team to join a panel or other programming, how should I reach out?

The guidelines for inviting our office to join a pre-scheduled event are the same as those for scheduling a small group virtual Q&A session. Please fill out the form below, and we will be in touch within  five business days.